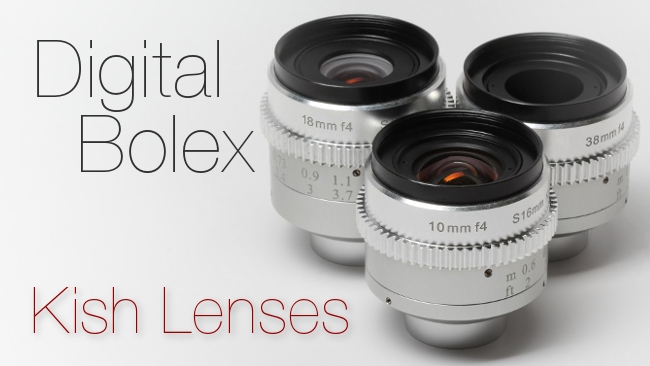 After two years of development, the long anticipated Kish/Bolex lens kit has gone on sale in the Digital Bolex store.
Digital Bolex has officially announced the price of its Kish lenses, which went on sale this past Monday.
The development of the lenses plays into the "democratic" history of Digital Bolex's development project. According to the Digital Bolex news page, "... as soon as our [Kickstarter] campaign ended, we surveyed all of our backers to ask what accessories they were most interested in, and overwhelmingly the winner was lenses."
The lenses were co-designed with Kish Sadhvani, and aimed to be "more affordable than a standard cinema lens, but still create [a] high quality, cinematic look." The team cites the fact that most of the c-mount lenses currently on the market contain low-quality glass and/or many plastic components, which produce an unpleasant image that doesn't "take advantage of the resolution afforded by our camera." The Kish/Bolex lenses, by contrast, contain only metal and glass components.
Initially, the lenses were both fixed focus and fixed aperture, but have evolved to meet the requests of the Digital Bolex community. While the lens set retained the fixed ƒ4 aperture, they now include follow-focus compatible adjustable focus. The lenses will have a lens filter size of 43mm, and will work great with variable ND filters to compensate for the fixed aperture.
The lenses are available either as a kit for $995, or individually at prices ranging from $350 (38mm), $375 (18mm), and $395 (10mm).
Digital Bolex is also offering special deals on the lenses for both Kickstarter backers and individuals who purchase new cameras. The first set of lenses are expected to start shipping in 8-12 weeks, with the following lots made to be "continuously in stock."
Watch out for a hands-on review coming soon!
Check out Digital Bolex's commercial, 'A New Kid in Town', shot with the new Kish lenses.