If you are a regular follower of RedShark News you would have seen our enthusiastic reports on the current state of LED lighting technology at NAB 2019 last month. Thanks to advances in LED technology, super-efficient and low-cost lighting products for video production are now mainstream.
This article contains links to products mentioned. These will take you to Adorama's product pages. They are safe to click on. Adorama has sponsored this article.
Just recently, my colleague Phil Rhodes took a look at the biggest and most powerful LED lights on the market right now (including the insane Sumolight Sumospace 3500W monster).
I started to wonder what you can buy with a more accessible budget? With that in mind, I've taken a look below at what you can get for less than $1000. It turns out that there's a huge choice!
(If I've missed something feel free to call me out and add it in the comments.)
Litepanels Astra 6X ($899):
The Astras have been a long-standing favourite of gaffers and DPs on-set, and you can see why. The 6X model is 50% brighter than the first generation of Astra and weighs only 7lb whilst kicking out 3200k - 5600k output.
Aputure C120d II ($879):
Disclaimer: We are big fans of Aputure. Their Instagram page (@aputuretech) is a great resource for lighting tips and they seem to keep producing seriously good lights at prices we can all get behind. Our filmmaker, Bas, owns a C300d and recently reviewed the new, upgraded C120d MK2 and ended up buying a pair. It weighs under 5lb and is 25% brighter (5500K) than the Mk 1. It comes with a superb carry case and is available with V or A mounts.
Fiilex S282 Mini All weather Interview Kit ($995):
This is a really nice set up that has genuine practical use. The lights here are good quality with a color temperature of 3000k - 5600k and only draw 40W. The case is perfect for anyone who needs to set up and pack down in a variety of outdoor/ indoor conditions.
Aladdin Micro LED Bi-Flex M3 (30W) Bi-Color Panel Kit $945:
There's lightweight - and then there's Aladdin's 3.3lb flexible offering! This kit is clearly extremely versatile and allows DPs to operate in extremely tight environments.
Creamsource Micro+ Bender High CRI LED Kit ($995):
This is a great example of where LED technology has taken us. Creamsource has a very high end, "Hollywood" reputation. When it recently announced a sub-$1000 model, it signalled just how affordable this technology has become. The build quality is outstanding and you get a 5.5lb piece of kit that offers a  very useful 2700k - 6500k color temperature. Definitely try one of these if you get the chance. It's the real deal.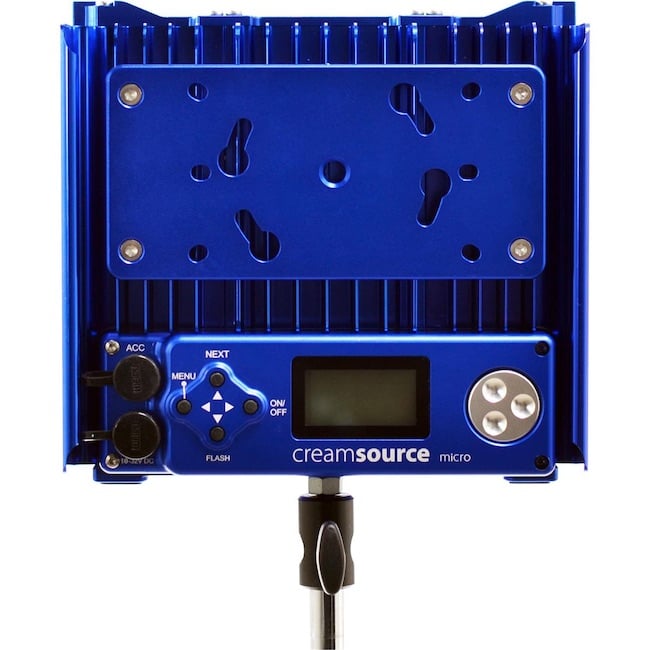 LITRA TORCH LitraTorch 2.0 ($89.95):
OK so yes, this is number 6 of 5. See it as a bonus add-on as, at this price, is exactly what this is! The wide angle this LED emits makes it versatile for all kinds of shooting conditions. We tried it out at NAB and absolutely loved it. Bravo Litra!
Tags: Production