Replay: The L-Mount from Leica, Panasonic, and Sigma aims to make lens design simpler and more versatile. But what is it, and what makes it different from other mounting types, and is it the future of lens mounts?
If anyone were to develop a new lens mount in 2019, that person would probably make it wide, so as to support fast lenses by letting lots of light in, and shallow, to allow the rear elements to get close to the sensor, making for easier designs. That's exactly what Leica's L-Mount seems intended to do, and according to the three companies who have become involved with it - Panasonic, Leica and Sigma - the "possibilities are endless."
Leica, Sigma and Panasonic share the L lens mount
The L-Mount was, as the name suggests, Leica's idea, and dates back to 2014 when it was released on the Leica T camera. It was initially described as the T-mount, but renamed to the (perhaps more memorable) L-Mount with the release of the full-frame Leica SL. The news, then, is the inter-company cooperation, rather than the engineering. For many people the popularisation of a new standard will always raise the possibility of muddying the water, a situation memorably lampooned by the busy biro over at xkcd. As such, the real question is whether or not the improved engineering is worth the potential dilution of the market, even if only among these three companies.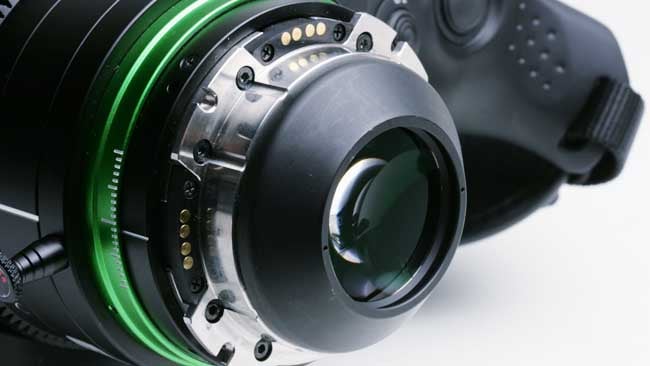 The PL mount, here on a Fujinon XK6x20, is sturdy, but has a very long flang focal distance. Notice the big black cone sticking out the back to place the rear element close to the sensor
The L-Mount is designed with a 20mm flange focal distance, which is certainly shorter than something like PL at 52mm or LPL at 44mm, but a hair longer than the common mirrorless mounts. Sony E and Canon's EOS-M are 18mm deep, while micro four thirds is a shade over 19mm. The L-Mount diameter of 51.6mm is still rather smaller than LPL, which boasts a generous 66mm internal clearance, and smaller even than EF or PL which are both 54mm diameter, but far larger than the high-portability mounts. E is 46.1mm, while micro four-thirds is around 38mm.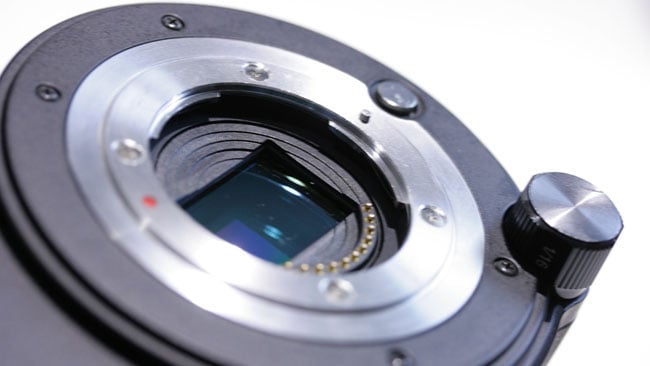 JVC's LS300, with its a widely-compatible micro four-thirds mount. It's shallow, but narrow
So, while the engineering tenets behind a short, wide mount are sound, the L mount that Leica, Panasonic and Sigma have agreed to use isn't hugely wide and is only about as short as several preexisting things. What's unusual is that it combines those two factors. It took a real effort for JVC to fit a super-35mm sensor behind a micro four-thirds mount in the GY-LS300 camera. They did it, but there will never be any larger sensor behind such a shallow mount; L is rare in its ability to potentially support a full-frame sensor at 20mm flange focal distance.
Rare, but not unique. From a pure engineering perspective, the L-Mount is a perfectly good idea, but it's perhaps no more a reasonable idea than Sony's FZ mount, which takes a very similar design approach. It has a 19mm flange focal distance and a positively gargantuan hole down the middle which exceeds 80mm; it is thus both (fractionally) shorter and (considerably) wider than the L. DPReview was calling FZ "the future" as early as 2013, and while it hasn't really become the future, it's certainly made for very wide compatibility of lenses with cameras such as the F3 and its more recent siblings at the top end of Sony's F series of motion picture cameras.
Compare the micro four-thirds mount, inside, with the larger EF mount on this MTF Effect lens controller and adaptor
Still, while capable and very suitable for movie cameras, FZ is far too bulky to be useful on most stills cameras, which appears to be Leica, Sigma and Panasonic's intent for the L-Mount. On a stills camera, L combines a reasonably large diameter, competitive with the largest common stills mounts, with a very short flange focal distance. OK, There are places it might not be appropriate. That short flange focal distance might complicate the inclusion of behind-the-lens accessories such an ND filter wheel, though Panasonic managed it on the LS300 and Sony on the FS5 and FS7, both of which have mounts even shorter than the L. The L-Mount is also designed to be sturdier – and thus probably more stable against back focus drift – than things like EF, which, from a mechanical perspective, has always been a dubious choice for motion picture work using calibrated prime lenses.
Leica has lent its name to a wide variety of lenses, including fixed types
In the end, any designer might choose any mount for any camera; the problem is that concern over compatibility and balkanising the market. It's notable that Leica, Panasonic and Sigma don't really tread on each others' toes very much – Panasonic don't make very high end, big-chip DSLRs, Leica don't make pocket cameras or video cameras, and Sigma makes lenses usable with either company's cameras. Assuming the licencing terms are good, particularly with regard to the electronics in the mount, it's quite possible we'll see this do well, especially with companies such as JVC who have a history of picking the best approach off the shelf rather than going it alone.
Tags: Production