Review: Canon's new EOS R caused quite the stir when it was announced, Phil Rhodes takes a close look at the first camera from the company that is defining the next generation of its products.
Canon were almost undeniably the founders of the DSLR revolution, and had at least as much influence as anyone else on the wider availability of cinema-sized sensors to the masses. Able competitors from Sony and Panasonic have since emerged, and stand separate from Canon's offering mainly in that they're mirrorless cameras. For stills people, that's an issue of taste and preference. For movie people, the choice between reflex or electronic viewfinding was no choice at all: use a true single-lens reflex stills camera for movies, and the eyepiece becomes redundant. That changes with EOS R.
The first RF-mount camera is broadly akin to the EOS 5D Mk. IV, in that both are 30-megapixel, full-frame stills cameras. As such it should be quite capable of taking on everything up to the most demanding jobs resulting in building-sized billboards,. As a moving-picture device, the controversy has been that the video doesn't use a scaled output of the whole sensor, so it specifically isn't a full-frame video camera. That is in some ways a shame, given the popularity of full frame at the moment, especially in the context of Canon having produced perhaps the first affordable full-frame video camera in the 5D Mk. II.
The EOS R's full-frame sensor is only a short distance behind its mount, making for easy adaption to other lenses
But.
One of the main problems of the Mk. II was aliasing, something directly provoked by the fact that it had to somehow derive a 2-megapixel 1080p image from its 21-megapixel sensor. Taking a 4K region of a 6.7K sensor, as in EOS R, is an approach that's likely to produce better pictures, and without requiring the camera to have a lot of scaling electronics it won't need for its principal purpose of shooting stills. Assuming some basics, the resulting effective sensor size is probably about 21mm wide. That's roughly the same size as the Academy 35mm aperture, as used on some of the best feature films ever made.
Does the sub-sensor pick mean there's more depth of field than a full-frame sensor such as the Alexa LF, Sony Venice or Canon's own C700? Yes, but good grief. How many people complaining about that have ever tried to focus pull on full frame video at high resolution? Get some f/1.3 lenses. Other than in very, very specific circumstances, this is a red herring. Clean HDMI output is, of course, available for people who'd like to squeeze every corpuscle out of the camera, and there's 10-bit 4:2:2 recording to devices such as the Atomos Ninja V. Internally, there's 4K recording at up to 480Mbps in an all-intra frame codec, which is very respectable for a stills camera.
The rear elements of the RF 28-105 zoom are closer to the sensor than an EF mount lens could manage, which eases some concerns in lens design
Viewfinder
The EOS R viewfinder is unusually good. It's roughly a 1.2 megapixel display and looks to have a 4:3 aspect ratio, so it's probably around the 1280 by 1024 pixel mark, but the latency performance is stellar. The viewfinder image seems locked to camera movement in a way that's very rarely seen in any sort of electronic viewfinder, and which has been a particular bugbear of low- to mid-range cinema cameras. This probably could not have been achieved without some specific efforts on behalf of the design and engineering people, and they deserve credit for such a capable job.
About the only problem with the viewfinder is some small amount of aliasing on fine detail, which is readily identifiable as a viewfinder artefact rather than a camera problem and therefore easy to overlook. We'd rather have aliasing than latency. In video mode, things inevitably look slightly less fluid as the camera must to run the sensor at a lower frame rate, though it's still great to be able to have an eyepiece viewfinder that works in video mode, out in the brightness of a sunny winter's day.
Optical stabilisation and focus control both rely on lens integration, though there is digital stabilisation in the camera
Potential compatibility
The shallow lens mount does make for much greater potential compatibility. Adapter supremos MTF Services are already talking about mounting options for PL, Panavision, Nikon, Canon FD and B4-mount lenses. One significant side-effect of this is that a lot of manufacturers (Blackmagic, for instance) offer the original EF mount as an option because a lot of people already own EF glass, and EF glass needs electronic control. That's convenient, but less than ideal from a compatibility point of view because the original EF mount is naturally fairly deep, given that it was designed to accommodate a mirror, so it's not very adaptable to other things.
The EOS R's RF mount is more flexible. It is, by adaptation, electronically compatible with EF lenses – but it's also capable of being adapted to many other things. Whether this was deliberately intended is hard to say, but it might plausibly draw more people into a Canon ecosystem. Shallower flange focal distance also makes lens designers' lives easier, and we'll wait with keen anticipation to find out what Canon choose to produce in RF mount.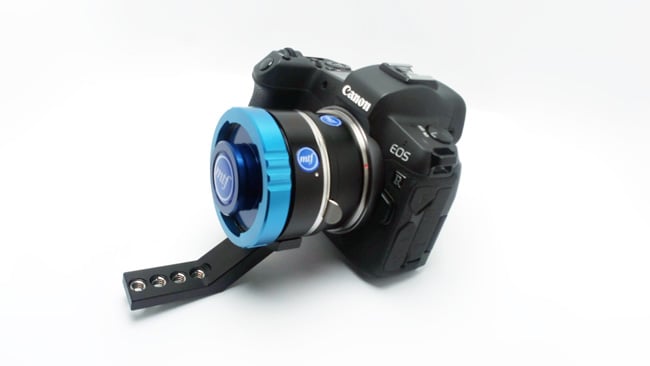 Canon EOS R with MTF Services' RF to B4 mount adaptor
Kit lens
The demo camera was sent out with the kit lens, the general-purpose RF 24-105mm f/4L zoom. There is no printed focus scale and everything's given in the viewfinder as an electronic readout. There are already 35mm f/1.8 and 50mm f/1.2 primes and a fast 28-70mm f/2L zoom. The EF to RF adapter, at £200, is a reasonably inexpensive way to protect an existing lens investment; there are also adaptors with interchangeable behind-the-lens polarising and variable ND filters, which beckons interesting rear filtration options for the future.
The 24-105 features very competent image stabilisation. As with any stabilisation system, it can sometimes try to stabilise-out intended camera movement and produce a slightly laggy beginning to a pan, but it works very well in general. There is digital stabilisation in the camera, though it's far less good and causes the camera to crop in a little further than normal.
The EOS R with images from the Canon HJ11ex4.7b broadcast lens. With the adaptor optics and the extender engaged, the lens covers the EOS R's 4K sensor area
So, does it all work? Part of the idea of a mirrorless design is to make the camera smaller and lighter, and the EOS R is smaller and lighter than a 5D Mk. IV. To be fair, it's not that much smaller or that much lighter than other, similarly-specified cameras, especially with an RF-EF mount adaptor, and it's larger than, say, the Sony A7 series. It's also worth bearing in mind that the clever focus features and the best of the image stabilisation are both dependent on Canon lenses, though that would go for any interchangeable-lens camera.
Conclusion
Otherwise it operates like any other high-end Canon stills camera, which is an achievement given the very different engineering approach. The video images are persuasive and the Atomos integration is nice to have, though at this point it's unlikely that many people will buy a stills camera specifically to use it as a video camera – there are better options for that. For people who want to take stills and sometimes shoot video, though, the EOS R is a very fine thing, especially since it can leverage an existing investment in EF lenses.
The EOS R body RRP is $2,458.00 .
Thanks go to Canon and to Mike Tapa of MTF Services for early access to the RF-compatible lens adaptors to Nikon and B4 mount.
Tags: Production