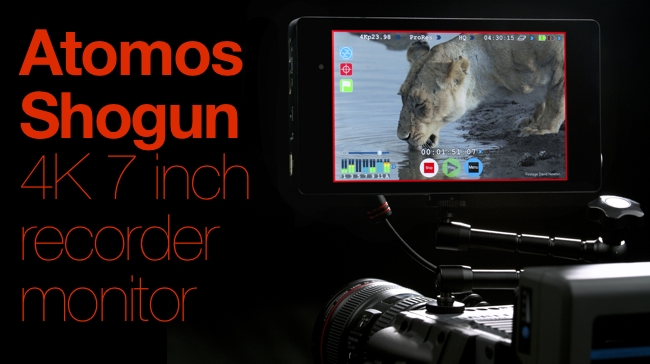 Right up to, well, now actually, Atomos has said that while it was looking at 4K, no 4K products were imminent because HD is still the current paradigm. Today, that all changes, as Atomos moves upwards from the HD era by announcing a totally new product that is natively capable of 4K.
There's a lot to like in the Atomos Shogun. For a start, it's bigger. It needs to be - it has to be able to support RAIDed disks. A bigger screen makes it a more effective monitor - and it has top specs as well.
And it records 4K.
The Shogun has both HDMI and SDI interfaces (a first for an Atomos recorder), but the SDI is described as 12G. We've come across 6G before (on Blackmagic devices) but 12G is new to us. 6G SDI can handle 4K up to 30fps, so we're assuming that 12G SDI will be capable of 4K at 60p.
The shape and form of the Shogun is quite different from its Ninja and Samurai predecessors; it's bigger but slimmer. It's quite clear that this is a radical and new design.
The screen is optimised for video monitoring. It's a SuperAtom IPS 7" Touchscreen with 325 PPI, a very wide viewing angle and extremely high brightness. The display refreshes at the exact rate of the video it's displaying.
As well as 4K recording the Shogun can capture HD at up to 120fps. There's XLR audio as well via a breakout cable.
Just like Atomos' 'Blade' products, monitoring includes waveform and other monitor assist tools. You can record to 4K and HD ProRes, uncompressed raw Cinema DNG or DNxHD
Delivery is estimated to be around the end of Q3 or the beginning of Q4 2014 and the price will be less than US$2,000.
We'll be talking to Atomos tomorrow for more specific details (which cameras this will work with, recording formats etc).
Atomos' press release is in full below:
Atomos Shows New 4K HDMI Monitor/Recorder at NAB 2014
Melbourne, Australia – April 7th, 2014: Atomos, the creator of the award-winning Apple ProRes Ninja and Samurai camera-mounted recorders, and the pocket-sized Connect converters, will launch the new 4K Apple ProRes and RAW capable 12G-SDI and 4K HDMI Shogun at NAB 2014, (7-10 April, Las Vegas Convention Center, booth number C9532).
"Shogun is the culmination of everything we stand for, amazing edit codec's from the sensor like 4K Apple ProRes and RAW Cinema DNG. Affordable 4K recording through Raided HDD's and SSD's and unbelievable custom panels for monitoring". said Jeromy Young, CEO and Founder of Atomos. "Super light and slim and at a price point under 2K. We offer a faster more affordable camera to timeline workflow with revolutionary 4K cameras from Sony, Panasonic and Canon".
The new Atomos Shogun is the world's first 12G SDI & 4K HDMI I/O monitor recorder and deck and, captured using 4K/HD Apple ProRes, Uncompressed RAW Cinema DNG or Avid DNxHD
features a stunning 1920x1080 SuperAtom IPS 7" touchscreen 325 PPI 179-degree viewing. 400nit brightness and multi frequency (48/50/60Hz) operation, depending on video input, giving super-smooth monitoring and playback.
The Shogun utilises both 4K and HD clean output from HDMI cameras such as the latest Sony A7S, Panasonic GH4, 4K SDI C500, and can record 24, 25 or 30p from the camera and up to 120fps HD if the camera is capable. It also has genlock in for synced playout and features optional Wifi for remote control from iOS or Android devices. Improved audio handling with the included Lemo breakout cable for XLR Audio gives balanced audio, mic and Phantom power.
Since the company was founded in 2010 Atomos have broken new ground in the design and functionality of recording, monitoring and playback devices. Atomos strive to set new standards by working closely with camera manufactures on essential features like auto record trigger, matching timecode and increased recording capability.
Like the Samurai and Ninja Blade, Shogun allows you to set up the shot with waveform and monitor assist tools, record pristine, 422 10-bit images straight from the camera sensor directly, all to inexpensive RAIDed HDDs codecs.
Pricing and Availability
The Atomos Shogun is slated for shipping end of Q3 beginning Q4 2014 for under $2000 USD and will be available through the Atomos Worldwide reseller network. See www.atomos.com for more detail
Tags: Production