VEGAS has always been a fast editor. Here we review the latest versions and find that it handles 8K footage with ease.

VEGAS Pro 17 interface.
The VEGAS Pro NLE has been around since 1999, when Sonic Foundry, then Sony Creative Software, developed the software. It gained a passionate following of editors and content creators, and the team aft VEGAS Creative Software (MAGIX) has continued to push the envelope with the editing software. For this review, I worked in version 17 and 18, which was recently announced.
Opening VEGAS Pro was like seeing an old friend. Although I edit with Final Cut Pro X, about 15 years ago, I was introduced to NLE by a colleague of mine, Douglas Spotted Eagle, as we were writing the second edition of his famous HDV book. I enjoyed the UI and versatility of VEGAS, and was able to successfully convince two friends to make it their NLE of choice.
Fast-forward several years, and VEGAS Creative Software has a new home in MAGIX, and fortunately, the great team behind it is still on the cutting-edge of what an NLE can do.
I used a customized Genesis Workstation from Puget Systems for my review of VEGAS Pro (check out my review of the Genesis here). No matter the content creation software you're using, a powerful system configured for the long haul is important as these apps continue to be refined - and certainly as higher resolutions of video are released. The right system, such as one from Puget, will keep on working without breaking a (virtual) sweat.
VEGAS Pro is optimized for Windows 10, GPU-accelerated, and built for speed. When it comes to any kind of software, be it an NLE, screenwriting app, etc., I want the app to help make my work easier, quicker, and essentially to 'get out of the way.' What I mean is, if the NLE struggles with HDR, or it can't handle Multicam in 6K RAW - even with a powerful system behind it - then the software 'gets in the way.'
The good news is, VEGAS Pro is fast, doesn't have issues with multiple tracks of video and audio, scrubbing hi-res clips, and helps me get my work done quicker, so I don't potentially miss an important deadline.
The software has plenty of features every editor needs, including support for multiple frame rates and video resolutions; color grading; sound editing; effects; nesting timelines; support for LUT exports; and much more.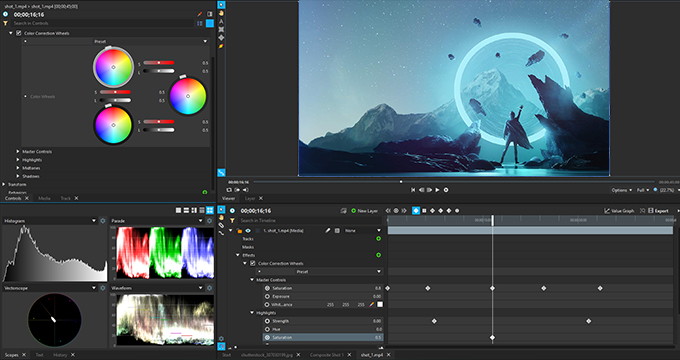 It's interesting that you can import projects from other file formats and NLEs, which includes Premiere Pro, After Effects, Final Cut Pro X (and 7), AAF, and more. AAF and and EDL are very successful file formats, but FCPXML tends to be tougher to translate. An editor friend of mine mentioned that DaVinci Resolve is the only NLE that best supports FCPXML.
The key here is not having to rely on other software outside of what VEGAS Post has to offer. It's much easier to stay within the suite of content creation apps, as opposed to worrying about round-tripping, or exporting and importing files. Plus, VEGAS Pro and VEGAS Post are affordable, while still being a powerful suite of apps.
Among those apps are VEGAS Image and VEGAS Effects, allowing you to handle non-destructive image editing and hundreds of customizable effects.
Vegas Pro 17 Speed Test
VEGAS Pro 17 and the Puget Genesis Workstation are both lightning fast, and can handle pretty much everything I threw at it. But I wanted to test both with some RED . MONSTRO 8K VV footage running at 48 fps.
I dropped the clip onto the timeline, and VEGAS Pro dropped the playback resolution to 2K. But there wasn't much of a slow down, and rendering was fast, thanks in large part to the Genesis' amazing GPU, the EVGA GeForce RTX 2080 Ti XC GPU with 11GB of VRAM.
I tried the same experiment in Final Cut Pro X and Premiere Pro on an iMac, without even a filter, and the apps really struggled to scrub and playback the footage. The iMac's Radeon Pro 575X 4 GB GPU struggled with the footage. No doubt a higher end system could handle the RED 8K footage.
You can also download RED footage and do some very basic speed tests in your NLE by clicking here.
VEGAS Pro 18 and VEGAS Post
The company has announced version 18 and an updated VEGAS POST suite of apps, which was developed in conjunction with FXHome.
Here is a quick rundown of some new features and enhancements in VEGAS Pro 18:
GPU-accelerated video editing, so your system doesn't slow to a crawl while scrubbing.
VEGAS Image (updated): Non-destructive image editing.
VEGAS Effects (updated): Over 800 customizable effects and filters.
Improved motion tracking.
SOUND FORGE 14 is included, with its multichannel audio editing.
VEGAS Hub: Centralized, cloud-based storage for your media.
VEGAS Prepare: Efficiently organize and tag your media.
VEGAS Transfer: Moves your mobile device images and video to the cloud.
Check out more on VEGAS Pro 18 and VEGAS POST here.
Conclusion
VEGAS Pro is still a fast NLE that really handled video editing perfectly, even when I added a clip of RED MONSTRO 8K VV R3D footage. And with the new VEGAS Pro 18 and VEGAS POST both available as a purchase, upgrade, or affordable subscription, it's worth considering the software to edit your next projects.
Tags: Post & VFX