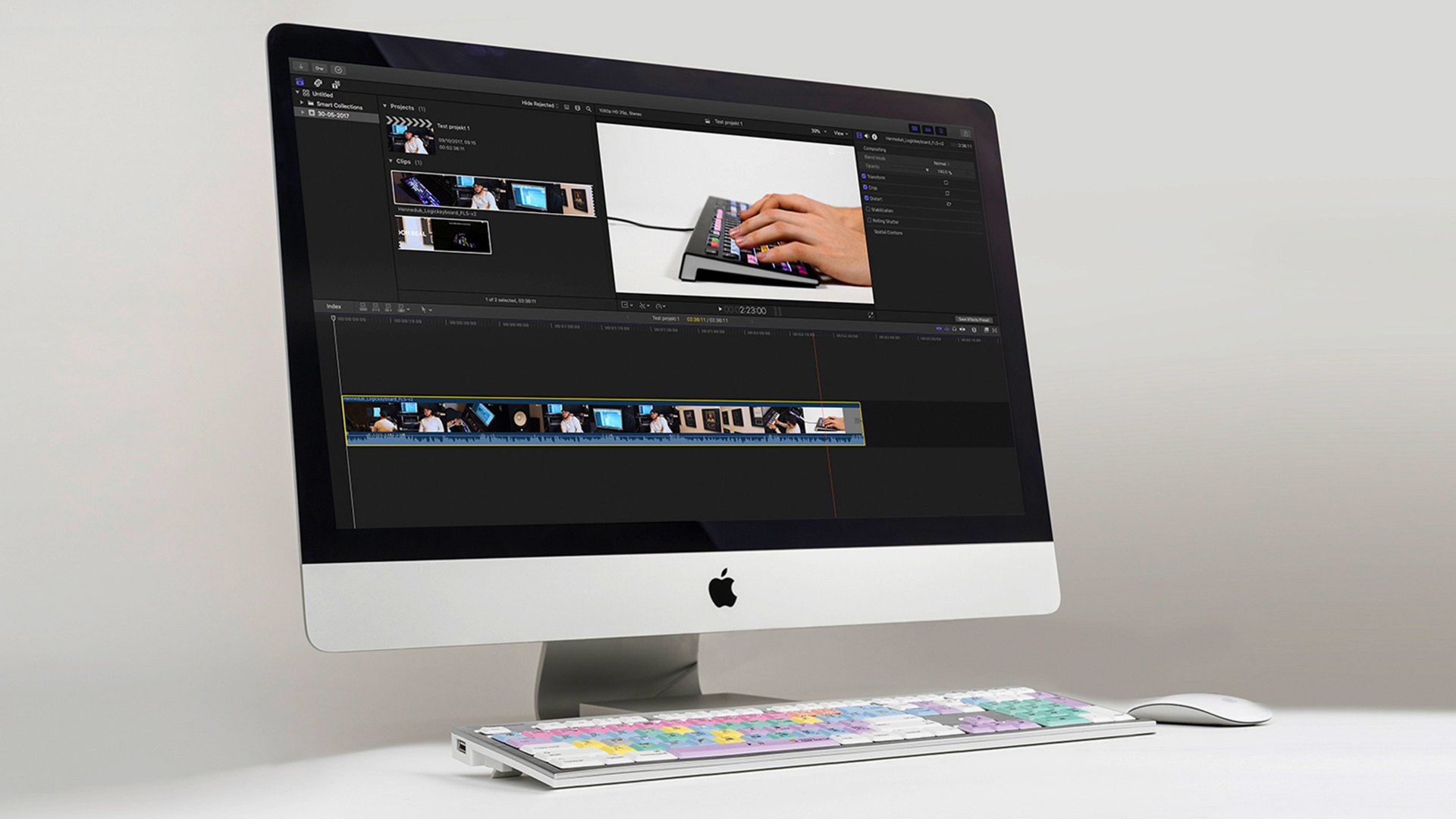 When you are working day-to-day in specific apps you want to make life as easy for yourself as possible. One way to do that is with a keyboard dedicated to the app you are using. Here's our review of the Logic Keyboard. If you edit video regularly and don't have one, you might want to read this.
As creatives, we all spend a large proportion of our time working at our desks, either creating graphics, editing videos or uploading content. As such, it's important that our workspaces are set up to complement the creative process rather than detract from it. I'm primarily a videographer, so I am frequently found deep inside a Premiere Pro or After Effects project; the interaction with these tools is an important consideration, as a workspace tailored to your needs can help you become more efficient and thus make more money.
One of the most effective ways to increase your productivity as a video editor is to become a keyboard editor. This means learning and utilising keyboard shortcuts to reduce the amount of time you spend navigating menus to find and apply effects, or to select the tool that you need.
The difficulty, though, is in remembering the many hundreds of shortcuts which you will need to master in order to become a true keyboard editor. This problem is only exemplified when working across multiple programmes, as each piece of software comes with a different toolkit and thus a different set of hotkeys.
As a videographer, I'm constantly working across both Premiere Pro and After Effects, for editing and motion graphics/compositing respectively. As such, there are many different keyboard shortcuts that I need to know, often utilising the same keys or group of keys to perform different functions.
How do I remember them all? I don't, because I don't need to. I remember those that I use most frequently so that I can edit quickly from muscle memory; the remainder are labelled right in front of me on my keyboard, so I can quickly identify and use them at a moment's notice. There's no trawling through menus, mouse travel or clicking required, just a quick glance down and I'm away.
I'm using the Logic Keyboard Premiere Pro CC & After Effects CC Astra PC Backlit Keyboard, and it's amazing. It's the first editors' keyboard printed with shortcuts for both Premiere Pro and After Effects, meaning you can hot-swap between applications with shortcuts immediately available at your fingertips.
Not only does this keyboard speed up my workflow, but it also looks and feels great. Premiere Pro shortcuts are displayed in the top half of each key, with the bottom half of the key displaying the After Effects shortcut. Just to be clear, each key retains the symbols that you would expect to find on a normal keyboard as well. Despite the graphically packed keys, the text is easily readable and the icons easily recognisable, with each element appropriately sized and spaced. Key combinations are colour coordinated, the function marked with a coloured circle which corresponds to one of the coloured keys — control, shift and alt, which are orange, pink and blue, respectively.
With a medium key press depth keystrokes are a breeze and with the built-in, brightness adjustable backlight, it's ideal for working in a dark environment or late into the night – as we editors often do! The build quality is fantastic too; with a dense plastic construction giving the unit a premium feel, as does the unboxing experience, it has to be said!
The keyboard also features a 'USB 2.0 Hub', although this only provides two ports which results in a net gain of zero ports, as the keyboard requires two USB connections into your PC or Laptop for full compatibility. This is to "avoid problems with installations that require a KVM extender", according to LogicKeyboard. It's designed to allow easy access for plugging in thumb drives, portable hard drives or a control device such as the Contour Shuttle.
This is the main downside of the keyboard for me, as it potentially means a USB port speed downgrade when connecting the keyboard via two USB 3.0 ports on your machine, as the replicated ports are of the 2.0 standard. Though I recognise the importance of this feature for some users.
The keyboard is plug-and-play, with no drivers required, and there's a translucent silicone keyboard cover included in the box, which can help to keep your keyboard free from dirt and debris.
This keyboard has been a pleasure to use and has made a huge impact on the speed with which I work. Having the shortcuts for the main tools of my profession at my fingertips is a huge benefit to my productivity and also helps to position me as a professional editor when meeting clients in my workspace.
Interested in finding out more about the PP/AE LogicKeyboard? Find out more here. Prices start at £109.