We reviewed Dell's Precision 7720 monster mobile workstation recently. This is clearly an impressive computer. Phil Rhodes gives us his second opinion as a PC user. And is it really a workstation?
Dell unblinkingly refers to the Precision laptops as a "mobile workstation", and by specification that's a pretty convincing claim. The 7720 laptop featured here has a quad-core 3.1GHz Xeon E3-1535M processor, 64GB of RAM and Quadro P5000 GPU, making it considerably more powerful than many desktop machines. There's no question that this is a capable device, so the purpose of this article is not so much to analyse the details of performance – lots of sites do that very capably – but to discuss exactly what to expect from a genuinely high-end laptop and the sort of jobs this one might do well.
Dell Precision 7720 mobile workstation
The machine under review isn't even the top of the range, at least by price. The priciest CPU option is a Xeon E3-1575M, although that's a v5 processor versus the v6 1535M in the machine under test. That's a reflection of Intel's gradual process of revising their designs, and there's probably not much reason to go for the more expensive 1575M, given that it's older and actually clocked slightly slower. The 1575 has better onboard graphics, but on a laptop with a Nvidia Quadro GPU in it, that's largely irrelevant.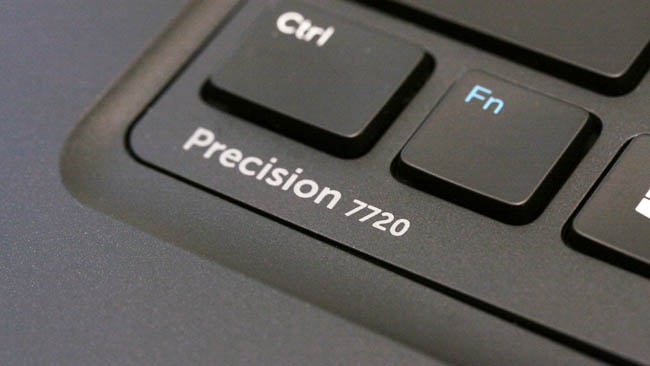 This can mean a lot of things, depending on which boxes you tick when ordering. Dell does not sell at retail, so you will have all the choices
All versions of the 7720 have either Quadro or Radeon Pro graphics. These are the versions of, respectively, Nvidia and AMD's graphics devices targeted at the professional market. The P5000 is from the same technological lineage as the GeForce GTX 10 series, making it a high-performance part. Questions are often asked about the difference between GeForce and Quadro, and Nvidia has a white paper comparing the two here. The differences are mainly in features that will be heavily used by CAD and other engineering applications, which often don't have much to do with film and television post production.
One thing that does matter is that Quadros usually have lots and lots of memory. The top-of-the-line option, as featured here, has 16GB of memory for the private use of the GPU, which definitely is something that will be leveraged by, say, Resolve, when rendering deep grades or using any feature which involves comparing frames, such as noise reduction.
The UHD display option covers the full Adobe RGB colour space, with options to switch to several other useful modes
The display itself is a UHD (that is, 3840 by 2160) TFT-LCD type. It's a high resolution on a relatively compact display, and the sheer pixel density probably isn't that useful other than simply to improve text rendering, but the other, lower-resolution options don't have the same colour performance. Dell tells us that this particular display covers 100% of the Adobe RGB gamut and their own built-in software offers modes including Rec.709 and DCI P3 emulation, which makes things a lot easier for film and TV people. It probably won't ever be a precision reference monitor, and perhaps the lack of an OLED option is a shame in such a determinedly high-end machine, but performance is otherwise comparable with other reasonable-quality laptop displays.
This is a closeup of the Nvidia logo on the taskbar. On a 17-inch display, UHD pixels are completely invisible, even at short viewing distances
This particular model has a 512GB Samsung SM961 NVMe drive that Dell rates in its "class 50" range. It's fast, and similarly fast options exist up to 2TB, albeit for a hefty £1050 over the base price of the machine (here "base price" means the default configuration on Dell's site, which isn't necessarily the lowest-cost option.) The machine under test benchmarks at 2961MB/s on sequential reads and 1672MB/s on sequential writes, which sounds fast – and is fast – though many modern laptops will achieve similar things with NVMe devices. As with many storage devices, solid state or not, the random read isn't quite so stunningly quick, but digital imaging technicians with a need for quickly producing verified backups can be heard cheering in the background anyway. Optionally, the Precision 7720 has space for up to two more storage devices, which may be either SSDs or spinning disks. The biggest options are 2TB disks or 1TB flash devices. There are two Thunderbolt 3 ports where more very fast storage or a video I/O device could easily be added.
A single NVMe disk is now capable of huge performance. The 7720 has room for up to three
Precision 7720 laptops vary wildly in price depending on exactly which options are chosen, and the price of the machine under review works out to around £4500. The Quadro P5000 adds £1067 to the base price and the large amount of RAM (£668), the big Xeon (£314), the fast storage (£368) and the capable display (£353) are responsible for much of the value. The performance of the Xeon processor and Quadro graphics hardware will not quite match those of their desktop equivalents, because the mobile part must control power consumption, especially when the machine is off mains power. Still, there is no doubt that the Precision 7720, in this configuration at least, is a no-compromise device.
That thunderbolt port is important. Connect video IO devices or fast storage here
For typical on-set workflows, the question is whether the Dell Precision 7720 is better than something like the up-spec Apple laptops usually seen in that role. It is, admittedly, not a like-for-like comparison. The Dell is not small or light, like a MacBook; it's not really trying to do the same job (it's 34 by 417 by 281mm overall and weighs 3.42kg before the options start going in). A MacBook is a portable desktop computer. The Dell is a portable workstation. It's a heavy lifter. But the best 15" MacBook Pro, with 32GB of RAM, a matching 512GB of storage and the 2.9GHz six-core Core i9, sells for about £3330.
That's 75% the value of the 7720, for a machine that's vastly less capable. To match the 7720, the MacBook would need more RAM (that it can't have,) an external GPU, possibly external storage, plus a tangle of Thunderbolt cables, and still wouldn't have a full UHD 17" display. It's also hard not to mention reports of MacBooks thermal throttling the biggest CPUs as the diminutive chassis struggles to dissipate the heat.
The off-centre trackpad isn't always glorious, but otherwise, the controls are fairly conventional
And, unlike previous comparisons of MacBooks with Dell's Alienware line, the Dell Precision range really is well-built and nicely presented, not low-cost gaming laptops pressed into service. In terms of getting a lot of power (really a lot of power) into one sturdy, reliable, portable box, it's a very solid option, in every sense of the word.