If you are building a PC you can just choose whatever motherboard fits into your case, right? Wrong, there's a lot more to think about.
For the first part of this series go here.
Anyone who's ever looked inside a computer will notice that there's one big mainboard that supports everything else. It's pretty instinctive that the motherboard would be the place to start talking about workstation hardware, and as such it's the first thing we're going to talk about. The thing is, it isn't usually the right place to start putting together a list of parts for a new machine.
Let's find out why.
The F-PANEL connector is where the power button and front panel indicator lights connect
What is a motherboard
The purpose of a motherboard is to give us sockets to plug everything else into, so all those things can talk to one another. Any motherboard will, at a minimum, include a socket for the CPU, slots for the RAM and any expansion cards (which is where the GPU goes), as well as places to plug hard disks in. Many offer a lot of additional things too. The USB ports, for instance, are usually part of the motherboard, though it's possible to add more with an expansion card. Most provide lots of hard disk connectors for storage, and perhaps sound, networking and other features which are needed so often that there's no point making people add plug-in cards for them.
From left to right, USB ports, more USB ports (yellow) with firewire and external SATA, network (with LEDs) and more USB ports, multichannel sound (round jacks)
Common motherboards conform to a sizing standard usually described with a code such as ATX, E-ATX, Mini-ITX, and others. The standards are (mainly) controlled by Intel, having been developed from the earliest days of IBM-compatible personal computers, the PC-AT, for Advanced Technology. Intel calls the specification ATX, for "extended." Various options exist, but the most common size, simply called ATX, is about a foot by ten inches (properly 305 by 244mm). This leaves space for five or six expansion card slots, four or six RAM slots and usually one CPU. The ATX standard controls where the expansion card slots and external connectors are, the configuration of power connectors and the location of the mounting screw holes so that cases can be standardised. Generally, smaller motherboards will go in cases designed for larger ones – the small ones represent a cut-down version of the large.
Common motherboard sizes. L-R - ATX, Micro-ATX, Mini-ITX. The widest board is about a foot across
There is no fixed relationship between the sizing standard and the hardware that will go on the board. In general, bigger boards (E-ATX, BTX) are designed for industrial use with higher-end CPUs and lots of memory, while smaller ones (ATX, Micro-ATX, Mini-ITX) are intended for desktop computers of more modest specifications. It doesn't always work that way, though. Sometimes very small boards are made for industrial installations too, making it possible to pack a lot of power in a small box. The manufacturer's website will describe what each board is compatible with and what features it offers.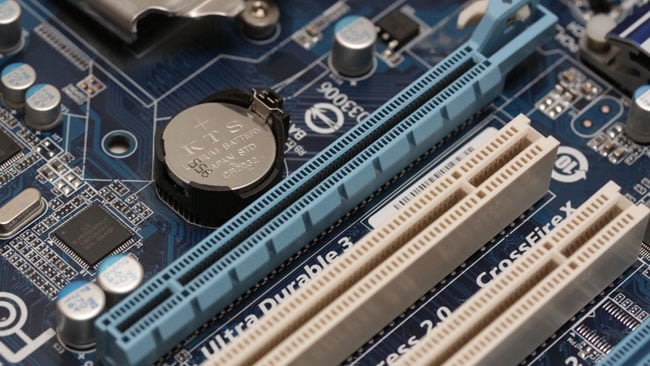 PCI Express (blue) and PCI (white) expansion card slots. Most modern motherboards omit old-style PCI
Desktop options
A motherboard will support one particular range of CPUs. ATX-sized motherboards generally support CPUs intended for desktop work such as Intel's Core series or the AMD Ryzen range, as opposed to the industrial-scale Xeon or Epyc CPUs. The most capable of these are often targeted at games enthusiasts, and because the workload of games and post production is often fairly similar, they can form the basis of a powerful, affordable workstation. Companies such as EVGA, Asus and Gigabyte make motherboards like these. Prices typically range from £50 to £200.
Since games often use surround sound, an ATX board might include fairly capable multichannel sound and enough hard disk ports to connect sufficient storage for a modest workstation. An ATX motherboard expects an ATX-compatible power supply. Related motherboard types included Mini-ATX, which is broadly equivalent but leaves out a few of the expansion slots in favour of a more compact, squarer layout, which may be useful for a portable machine. Micro-ITX is even smaller but maintains at least some of the same physical layout.
SATA connectors for hard disks
More power
Intel Xeon and AMD Epyc processors, built for really industrial-strength circumstances, tend to require bigger motherboards. Upscale workstations and servers may use E-ATX motherboards, which may be over a foot square and include room for more than one CPU and large amounts of RAM. These motherboards sometimes take a no-frills approach, omitting everything but a network port and a couple of USB sockets for a keyboard and a mouse – it's expected that users will install expansion cards for the features they need. A common exception is that some server boards will include very capable hard disk controllers, as devices such as web servers need lots of storage space.
E-ATX, Ultra ATX and other variations are made by companies such as Supermicro and Foxconn. They're more expensive than conventional ATX options, but if you really need to support the very capable processors of the high end, or if you need very large amounts of RAM, or lots of expansion cards, they may be necessary. Options start from a few hundred pounds to many hundreds, depending on what you need. Regardless of the choice of motherboard, key compatibility issues are CPU, RAM, and the physical layout constraints of the case and power supply. The manufacturer's data will make clear which boards support what options.
Memory slots
Since computers are usually specified based on the most capable CPU that's within budget, it's usually the CPU, rather than the motherboard, which is chosen first. So, we can't really pick a motherboard without knowing which CPU we're going to put in it. Next time, we'll look at the CPU, the heart of the system, and often the part around which everything else is selected.
Title image courtesy of Shutterstock.