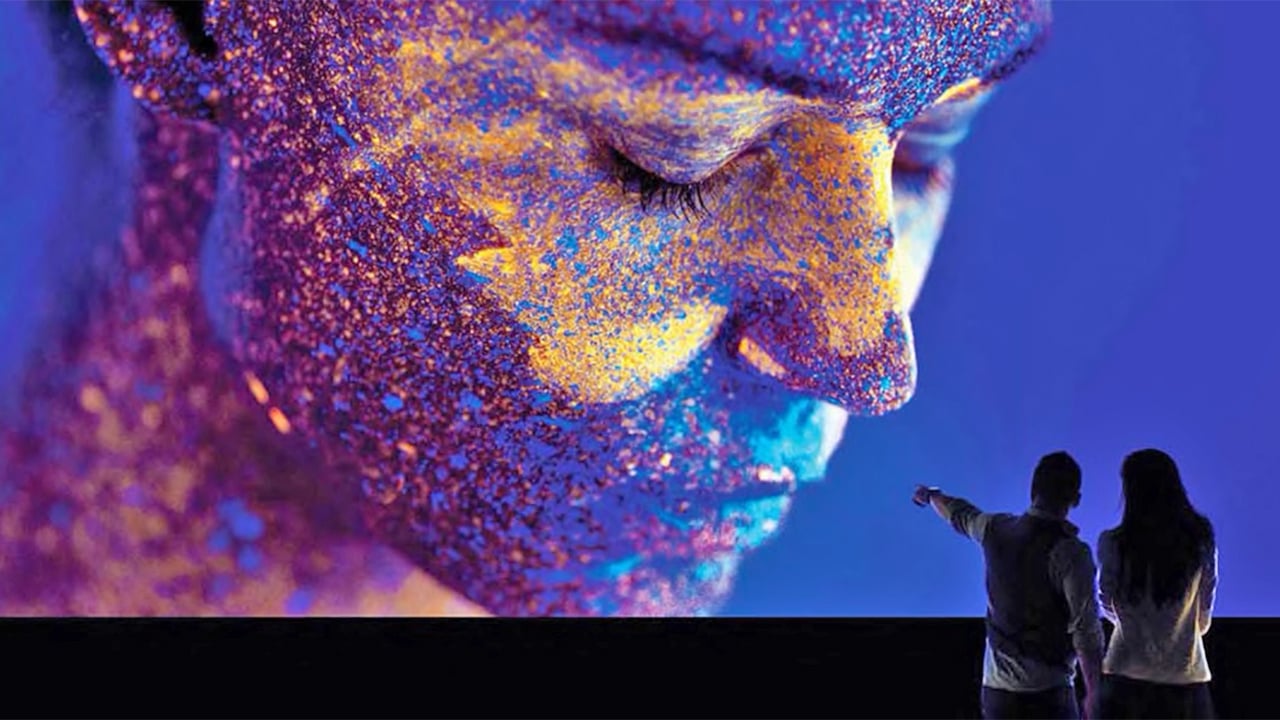 It is only when you view the latest in LED display technology that you realise just how good things are now. And they will only get better.
With NAB a little way behind and Cine Gear a little way ahead, now seems like an opportune time for what might be called the 2018 Spring technology review. Today, the subject is things which were either not much seen or which have interesting implications.
Crystal LED
8K, high dynamic range Crystal LED display from Sony. It is, regrettably, quite difficult to photograph since the LEDs switch so fast
At last year's NAB, Sony showed a spectacular LED video display which impressed everyone who came within viewing distance of it, which was a very long distance. The technology had been revealed at IBC the previous September, as well as at various cinema-related expos in the interim. It gets another mention here because this year, the small town set up by Sony in the corner of the Las Vegas Convention Center's central hall was dominated by an even larger installation of its Crystal LED display. This year's display measured 32 by 18 feet, creating an 8K wide display capable of displaying – for instance – recordings of the Venice camera's full sensor area, pixel-for-pixel.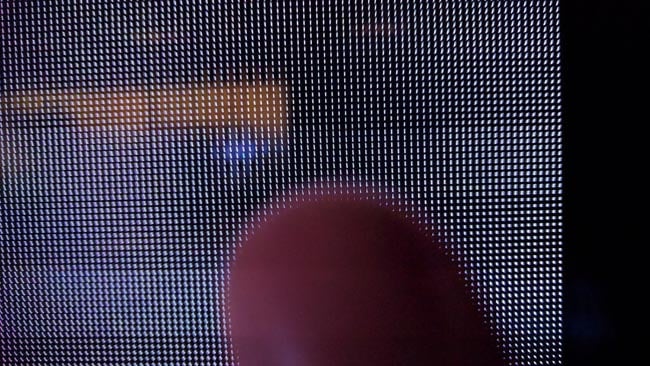 That fingertip is almost in contact with the display
LED video walls can be excellent, with very high brightness, superb dynamic range, and wide colour gamut. The combination of this display and the Venice camera probably created some of the very nicest moving pictures ever shown, and received RedShark's best-in-show award accordingly. To be fair, "nice" in this case is somewhat subjective and it was certainly very, very bright and colourful, understandably so for demonstration purposes but perhaps too much for some tastes. People on the booth weren't clear on what, if any, standard it was actually calibrated to for either the moving images or slideshows.
Unilumin technician demonstrating the removable modules in the boardroom display
Low fill factor
The display, like most LED video walls, actually has a fairly low fill factor, with a larger border around each pixel than a typical LCD. Sony has engineered the border to be a deep black, and the face of the display seems to be made out of some sort of physics-defying material that's both glossy and non-reflective at the same time. It shows no noticeable diffuse reflection and precious little specular reflection. LED displays don't typically struggle for contrast performance, but this one certainly isn't hampered by unwanted reflections.
There is talk of taking LED display technology in general into the cinematic exhibition environment, so, should we look out for Sony's LED display technology in a multiplex near you?
Probably not quickly. It's far too expensive, and in any case, far too good: most digital cinema installations are currently 2K, representing one-sixteenth the pixels on Sony's demonstration display, and less than a tenth of the Crystal LED's brightness.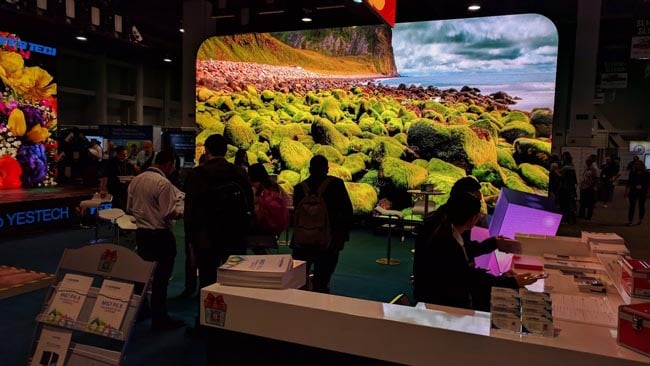 It's not the exhibition hall that's dark. It's Yes Tech's video wall that's eye-meltingly powerful
Unilumin
Yes Tech, Leyard and Unilumin also showed very attractive LED displays at the show. Unilumin, in particular, showed a wall-sized display representing more or less the home cinema enthusiast's idea of heaven. The company feels that the minimum viewing distance for an effective LED display is the distance between the pixels, in millimetres, expressed in metres. Many displays hover around the 1mm mark - Sony's is around 1.2mm, while sub-millimetric displays exist, so these displays should be viewable from just a few feet away. It therefore makes sense that Philips have been talking about replacing the largest LCD screens with them.
Unilumin's display on a more comprehensible scale
Cost will prevent this technology from displacing LCD and OLEDs, but it's not impossible to imagine it becoming a little more accessible at some point.
Tags: Technology