HP has unveiled revamped versions of its leading entry-level workstation and may have accidentally leaked some other rather exciting info. By Leo Waldock.
HP has announced two new entry level workstations that are expected to be available in the UK in November. These are the Z240 that replace the existing Z230 workstations and and Z240 SFF (Small Form Factor), which claims to be the world's first small form factor workstation.
Z230 and Z240 are powered by a single Xeon processor with Intel integrated graphics and are better suited to life as an audio workstation, rather than a graphics powerhouse.
Thoughts on product bullet points
First, we'll take a quick tour through the points that HP raised as highlights. Next, we'll come to the good stuff they probably didn't mean to reveal for another week or two.
1. An integrated M.2 slot (for expansion cards and connectors on both the SFF and tower) frees up a PCIe slot and provides customers more flexibility and expandability to use HP Z Turbo Drives without having to make a trade-off on additional graphics cards, an additional HP Z Turbo Drive or other devices like Thunderbolt.
2. Optional dust filters can be added to both the HP Z240 Tower and Z240 SFF to help reduce the ingress of dust in the system. With up to 66 percent reduction in dust, this option provides customers in all work environments where dust is an issue with added reliability and longevity.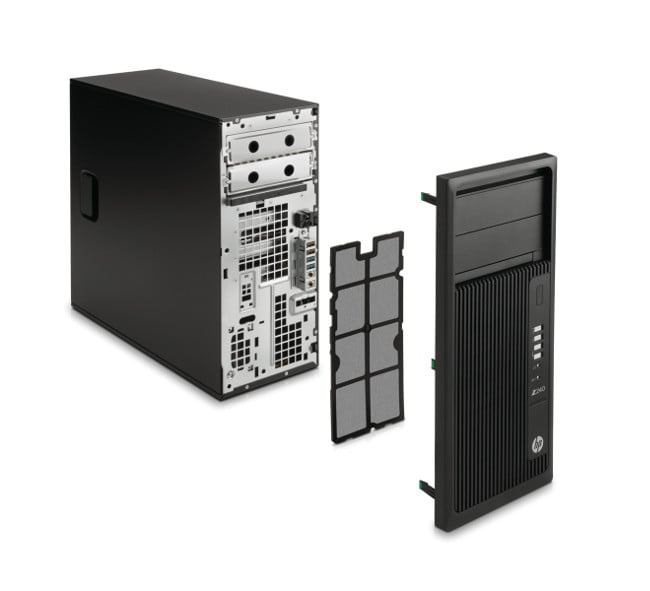 HP Z240 Removable Dust Filter
HP Z240 SFF Removable Dust Filter
3. Removed the legacy PCI slot, which is used by less than 2 percent of customers today, from the motherboard and designed a plug-in card for effortless installation for customers that still use the legacy slot. Removing the slot from the motherboard allowed HP to reinvest in other product innovations (M.2 slot, dust filter).
4. Despite adding new features to the motherboard, HP engineering was able to reduce the size of the motherboard on the Z240 Tower by 10 percent and simplify the cable layouts inside the systems, continuing to push for more efficient product designs.
HP Z240 Interior
5. The Z240 Tower now features integrated front and rear handle ledges to enable every customer to easily move and position his-or-her system around the office.
6. HP re-engineered the hard drive cage for the Z240 SFF and engineered a custom air duct around the processor, allowing more efficient air flow, better acoustics and a cleaner layout of internal cables.
HP Z240 SFF Interior

7. HP integrated ambient temperature sensors on the motherboard of both systems and increased control of the system fans to include the power supply, giving even better management of system thermals and acoustics, including the power supply (as compared to previous generations).
An accidental leak?
These are significant changes, however, they sound more like refinements than the basis for a new family of workstations. Adding M.2 for SSD storage is good. Indeed, if you are using dual graphics cards and have no PCI Express slots free, then M.2 could be a life saver. Removing legacy PCI is really a matter of house keeping as PCI has been effectively dead for many years. The idea that dust filters are optional extras is just plain silly. As a point of principle, every PC or workstation should be fully filtered to exclude dust and keep temperatures to a minimum.
The final paragraph of the press release, just above 'Pricing and availability', lists the processors in Z240 as Xeon E3-1200 v5, which is interesting as Intel hasn't yet announced v5.
The current v4 chips use Intel Broadwell architecture and we know that v5 will be based on Skylake (check out our recent coverage of Intel Skylake HERE). While Intel has launched Skylake on the desktop and in mobile form, it has not yet launched Skylake for servers and workstations. If there was any doubt that v5 might be a typo of some sort, it is clear that HP has blown the gaff by telling us that Z240 "features up to 64GB DDR4 ECC memory." While HP is focussing on the 64GB part (double the previous maximum RAM), the fact it is DDR4 rather than DDR3 makes it clear this is Skylake technology.
Everything is new
The change to a new Intel processor along with DDR4 means we are looking at a new motherboard chipset and, when you add in M.2 and take away PCI, we are basically talking new everything, although you do have the option of running Windows 7 or Linux if you don't fancy making the move to Windows 10.
The other interesting part of the Z240 announcement is the reference to HP Z Turbo G2. The original Z Turbo is SSD storage in PCI Express form factor. Z Turbo G2 (2nd Generation) uses an M.2 form factor and can either connect directly to the motherboard or sit in a PCI Express adapter card. Z Turbo G2 connects via a PCIe 3.0 x4 interface and supports NVMe for a claimed doubling of performance over original Z Turbo. The downside is that a 512GB card costs £866 from HP (it is also available in 256GB)
Allow us to offer you a tip. HP specifies that you need to use a Samsung driver to get the correct level of performance from Z Turbo G2 and the reason is that the SSD looks exactly like Samsung SM951, which can be bought for around £220 for 512GB.
You can buy a decent graphics card with the £640 saving or most of another Z240 workstation (or an iPhone 6S if you're feeling frivolous).