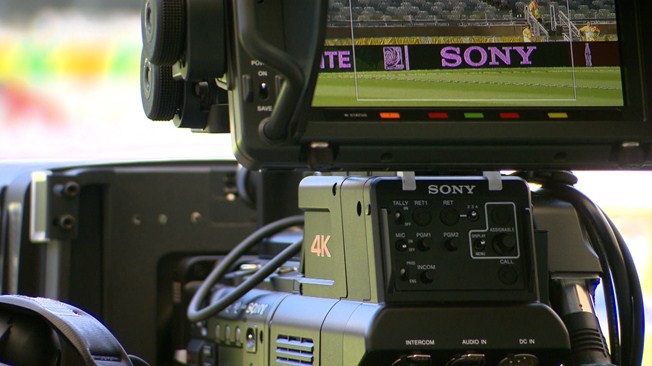 The European soccer season climaxes on Saturday with the UEFA Champions League final between Juventus and Barcelona in Berlin's Olympiastadion, and Sony plans to capture it in 4K with the HDC-4300 taking a major role in the production.
This is the second time that European club football's most prestigious match has been produced in 4K, but, of course, the first one that will feature the HDC-4300, which launched at NAB.
It will be coupled with proven PMW-F55 4K Live System cameras and UEFA's end-to-end live production workflow also includes Sony's PWS-4400 4K servers and the MVS-X series multi-format switchers, while Sony 30-inch BVM-X300 OLED 4K monitor will be used for live monitoring within the OB truck. Outside, where there's a bit more space, an 85-inch FWD-85X9600P BRAVIA Professional 4K LED screen will also show 4K footage from the match in the dedicated UEFA showroom in the broadcast compound.
The EBU is going to distribute the match in Ultra HD (various broadcasters are taking the feed, apparently) while several locations across Germany will also be screening it in 4K too.
UEFA is a hard task master when it comes to its broadcasts, and a lot of eyes will be on the 4300 ahead of its wider availability at the end of June and seeing if it fits in as neatly as Sony hopes to what has necessairily to date been an F55-dominated workflow. Given its ability to support the standard industry B4 lens mount and compatibility with all existing HDC accessories, a lot of the rest of the industry will hope it does too.