This is a very small camera, but - make no mistake - it's broadcast quality. Panasonic Guru Barry Braverman looks at it in detail
Given its versatile wide-range compensated optics, variable frame rates, and 10-bit 4:2:2 on-board recording Panasonic's new AJ-PX270 camcorder reflects the fabulous new era of compact camcorders delivering very high performance; the PX270 model in particular being even lighter weight, more compact, and better performing in low-light, all of this in a camera that can be slipped easily into a small sack and carried aboard airplanes, across international borders, and through public places without attracting a scintilla of notice or an askew glance.
A mere 2.2 kg
The PX270 weighing a mere 2.2 kg bears Panasonic's prestigious AJ broadcast prefix and is in fact the company's first P2 camera to support AVC-ULTRA recording at 200 Mbps. This level of performance available with a paid upgrade - grr! - is enabled by the new and faster P2 media, including the microP2 card, which at speeds approaching 2.0 Gbps throughput allows for capturing truly remarkable images, even if one has to pay a little extra for the highest bitrate capability.
Alfred in field w/270

Recording to P2 AVC-ULTRA at up to 200Mbps 10-bits 4:2:2 the AJ-PX270 continues the Panasonic push to high-power more compact camcorders. The new model reflects a 12% reduction in weight and size compared to the HPX250/255.
Camera left side
Zoom Rocker

The PX270 features a new 1/3-type 3-MOS sensor and 22x macro zoom. The result is lower noise apparent in low light and improved onboard compensation for common lens artifacts like chromatic aberrations, barrel distortion, and tracking discrepancies. The mechanical function of the new camera is also improved, especially the zoom rocker control which is much smoother engaging than previous models.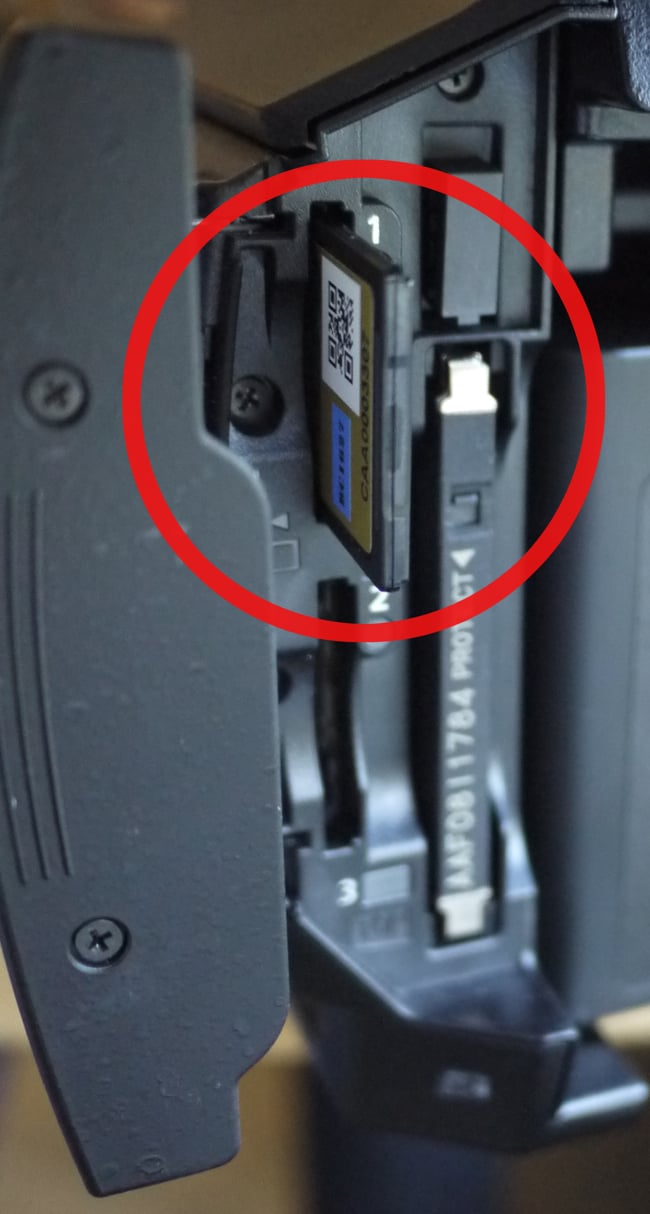 MicroP2 card in camera
New faster express P2 and microP2 cards are the keys to the PX270's enhanced performance. Besides the normal P2 card slot the camera accommodates two microP2 cards 32GB/64GB, permitting dual codec and simultaneous backup but not at all frame rates and resolutions.
The PX270 menus have expanded exponentially to embrace a more comprehensive broadcaster approach. The 12-axis color corrector supports three skin tone configurations enabling easier setup of multiple cameras. The matrix adjustable in +-63 increments is full and complete and more professional. Master Gamma can be numerically set just like the big boys.
Remarkably the diminutive camera also features the Film-Rec option formerly found only on the priciest Varicam models. Like the previous HPX2700 and 3700 Varicams the Film-Rec dynamic level in the PX270 may be raised to 600%.
In keeping with the latest trends the new camera features wireless connectivity and streaming to multiple laptops, iPhones or iPads via LAN. The option to stream LongG25 or LongG50 at 10-bits 4:2:2 will be particularly compelling to broadcast folks aiming to maximize video quality in mobile applications. For shooters and broadcasters especially in Africa and parts of Asia the PX270 continues to offer DVCPROHD/DVCPRO and good old fashioned DV.
Incredibly the AJ-PX270 features a full broadcast menu array, identical to the company's top-of-the-line £18,000 PX5000 model. Among the daunting options available the PX270 offers a comprehensive color corrector, matrix, and Film-Rec recording to 600%. Not too shabby for a sub-£5000 camcorder!
Despite its small sensor the PX270 captures remarkably clear and clean images in low light. This scene captured in a Singapore eatery exhibits excellent shadow detail despite the poor mixed illumination and high contrast
The Author shooting at waist level
The PX270 supports simultaneous output via HDMI, 3G-SDI, and HD-SDI at 10 bits 4:2:2 to an external monitor or recording device. An optional USB WM30 module allows wireless LAN connection to up to three devices laptops, iPads or iPhones, simultaneously. Panasonic states support for other devices is forthcoming, along with a new 3G/4G/LTE capable dongle.
The PX270 pushes the envelope with respect to what is possible and practical in such a compact package. The real estate available for the many controls is severely limited; the second XLR audio input seems particularly forlorn and inconvenient placed on the back right side of the camera.
Tags: Production