Here's a full-length, in-depth look at Resolve 10 and the background to its development. RedShark reporter John Burkhart has been talking to Blackmagic about this seminal post production application.

It's only been three years since Blackmagic Design took NAB 2010 by storm, announcing that the once formidably priced Resolve, would now be a mere $995. They soon after released a lite version for free. Since then they've aggressively reinvigorated the software and it's come to dominate the color correction market.
Resolve 10, which is to be ready in the third quarter of 2013, is set to be their most ambitious release yet. A wide variety of feature enhancements, additions, and refinements will be rolled out. And while Resolve is still primarily a color correction application, Resolve 10 adds a load of new features designed to bridge the gaps between different post production software, and to take its place as an online finishing tool.
I talked with both Richard Lim, Blackmagic's Director for Asia, and Bob Caniglia, Blackmagic's Senior Regional manager for Eastern North America (and former DaVinci employee), to see if they could give some insight into where Resolve came from, expand on some of Resolve 10's new features, and also talk about what direction Blackmagic was taking the new software.
Blackmagic Reimagines DaVinci Resolve
Initially Blackmagic Design's reimagining of DaVinci Resolve sent shockwaves through the post production industry. Color correction had always been the domain of high priced, big-iron systems. And though Apple had included Color in Final Cut Studio since 2007, they didn't really do much with the software in terms of development and integration. I was curious about the challenges involved in taking software designed for high-end professionals, and successfully reworking it for a broader scope of users.
Having full control over the hardware and software that goes into a system makes it much easier to develop for, but the downside is that it can become obsolete rather quickly. By reworking Resolve to a standards based software instead, it broadened the reach of Resolve greatly, but added in the complexity of writing for a huge variety of different operating systems and hardware. It's the difference between writing code to support one particular graphics card, and writing code to support the OpenCL or CUDA standards, which let you use a broad base of graphics cards of your choice. It's not as bulletproof as having a dedicated known hardware and OS, but over time the user wins out in terms of performance increases and flexibility.
According to Richard Lim, "The hard part was reaching out to the new group of users, educating them on what color correction was and where they could learn color correction, and to assure them that because a $250,000 system was now $995 didn't mean that any of the features were gone, that all the features were still there. But after four years Resolve has gained a very strong traction with video users, and has improved the quality of knowledge of color correction out there."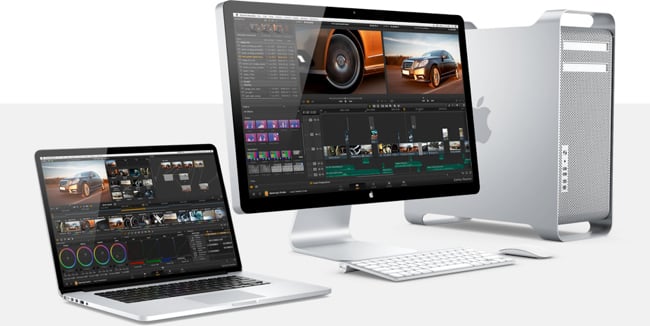 Richard continued, "Now we see the ecosystem of Resolve expanding from the larger post production houses to the smaller studios that co-exist together, and that there's more emphasis on talent rather than tools, which we're quite happy to see because it's all about talent in the first place. We are just making tools to empower talent."
Bob Caniglia told me that this type of development wasn't so strange at all. "Since Blackmagic's purchase they've put in a tremendous number of resources growing the team significantly in R&D so that it's becoming what Blackmagic wanted it to be under the former ownership, because they were originally customers as well. One of the things most people think is that it was a weird fit for Blackmagic, but in actuality they were as familiar with Resolve as anyone because they owned two systems."
Blackmagic proceeded to rapidly develop Resolve, and the current version 9 is a far more refined product than the one they took over. Version 10 now seeks to dramatically expand the scope of what Resolve can do, and while previous releases certainly added new features, the real improvements were significant developments under the hood and to the UI to make this new version possible.
Bob Caniglia told me, "There's been some database work that's been completed over the last few years that will allow it to continue to grow, and a lot of the new features in 10 show the benefit of that, some of the features that were in 10 would have been impossible before."
"Resolve's really gone through quite a bit of evolution over time, and I think that sometimes people confuse the price with the actual value. I think that when people get a hold of 10, they will realize that Blackmagic's done the opposite of standing still with the product. They've put more time effort and people on it than the software's ever had".
What is Resolve 10?
Resolve is already a formidable color grading tool, and while there are several new features in version 10 that are all about color correction, Resolve is also branching out into other post-production categories, attempting to bridge different applications in the post process.
Traditionally the NLE has been the central hub of post production, but with the release of version 10, I get the impression Blackmagic wants to make it Resolve. That's not to say they're aiming to replace the NLE; you still would edit in Avid, Premiere, or Final Cut Pro - but the place where you assemble the final version of your film, with mixed audio, visual effects, and of course color corrected footage, would be in Resolve instead.
Resolve Live
One of the ways that post has changed dramatically since the wide spread use of digital cinema, is that post functions are actually appearing now in the production process. Once upon a time an edit suite was millions of dollars of gear in a specialized room, now a $2000 laptop can largely replace it, and it's portable.
There are plenty of benefits to having your post pipeline start in production itself. The most direct benefit is to have color corrected dailies completed on set, so that the director can review what they've put in the can that day. However Resolve 10 takes this thinking a step further with Resolve Live, letting you get an idea of what you will shoot before you roll.
Resolve Live allows you to perform a full grade on live incoming video, including nodes, power windows, LUTs etc. This lets the director and DP sit with the colorist on set in real time, and see directly what they're getting as an end product before they actually shoot it.
According to Bob Caniglia, "Resolve Live gives you the ability to have a live input and grade while the camera is set up so that you can actually adjust lighting and whatnot to be able to fix it in production rather than post"
"That kind of feedback to the director, DP and DIT, is something that will become significant, especially if you create a look on set, you can save those files and send it on to the final grade, they can see what the thought process was on set and carry it through."
"The lower budget shoots, can really take advantage of this, because often times the lack of staffing, money and time, can get them in trouble. So if they had better insight into what they were exactly getting when they were shooting, and this would give them an opportunity to make up for some of the lack of personnel."
Open FX Plugins
One of the most talked about features in Resolve 10 is the OpenFX plugin support. This allows a wide variety of visual effects plugins to be used directly within Resolve, and will allow you to add and modify simple effects shots without having to go back out to your motion graphics or compositing software. This has the benefit of bringing the effects into the rest of the Resolve toolset. Being able to limit the effects with power windows and to grade the source material independently of the effect itself will be a great timesaver. Again Resolve won't be replacing After Effects or Nuke anytime soon, but by moving some plugins to the online finishing process, you have the benefit of always seeing the final master output, and the ability to make last minute changes.
I asked Richard Lim about why they chose to use OpenFX plugins, and he replied, "To build an entire effects library would be a huge task to undertake, due to the long to-do list already in Resolve. It was only doable because last year we did a major face lift on the GUI to create more room in the interface. Last year was setting the foundation so we could add in features like this.."
Editing Tools
Another major new feature in Resolve 10, is the expanded editing tools. Again the object is not to replace the NLE, but to make simple editing functions available without having to go back into your editor. There's no such thing as a truly locked timeline in my experience: people always want to make changes.
The basics are there: three-point multitrack audio and video editing, a trim tool, a simple titler, matchframe linking, and transform, crop, and opacity effects. One notable exception to the simple basic editing tools is Optical Flow image processing which allows the very high quality re-timing of video, and fits in perfectly with the notion of an online editor.
Conform Improvements
In order to be an effective hub, you need to be able to move sequences and projects in and out and in between applications in an easy and accurate manner. Resolve 10 has improved its XML and AAF support in this release.
Bob said specifically, "It's the better ability to handle EDLs and XMLs from all of the grading systems, so that if you have someone editing on Avid, and someone on Final Cut, and someone on Premiere, they can all send their projects over and Resolve can handle all of them and create one master timeline that can be sent back to whomever needs it in whatever format they need it. It will certainly help speed up the process and also eliminate the bottleneck of what editor they're using, editors can use whatever application their most comfortable with."
DCP Output
Finishing and final output choices are more complicated now as digital cinema becomes mainstream. Files, film, and video tape, are rapidly being superseded by Digital Cinema Packages (DCP). DCP output is now a necessity for theatrical release, and film festivals. Resolve 10 has added some new features to make that process more streamlined. They now offer JPEG 2000 encoding, so you can make a DCP compliant video stream straight out of Resolve. However making a DCP package is not as straightforward as just outputting a video stream, and Resolve 10 will have a way to interface directly with the third party EasyDCP software to create the actual package of files to make the DCP a one stop process.
Bob told me, "What we've done is put in some hooks to tie into Easy DCP, so if you have the license for that, then Resolve will be seen by Easy DCP so that you can send over the file and hooks into the deliverable toolset that Easy DCP has. You can bypass the export part of Resolve, it cuts down the time and money needed to make a digital deliverable."
Color Correction
With all these new features branching out to make a Resolve the hub of post production, it's main function is still, of course, a color corrector. The lion's share of new features are color related, both in terms of workflow and the algorithms themselves.
Blurs and noise reduction all saw a major overhaul in this release.
The standard Gaussian Blur from version 9 remains, but its range has been expanded ten-fold, letting you effectively turn the entire frame into an unrecognizable blurry mass (and we've all seen shots that may well be improved by this treatment).
Resolve 9's Spatial Noise Reduction has been enhanced by allowing the independent noise reduction of the chrominance and luminance channels of the image. This feature will help greatly in reducing the speckled noise in the color information while keeping the edges nice and sharp in your luma channel.
Temporal Noise Reduction has been added, allowing Resolve to remove noise based on previous and future frames of video, and contains motion range and threshold controls. It also lets you to adjust the reduction on the chroma and luminance channels independently as well.
Motion Blur has also been added in version 10, and like temporal noise reduction, looks at the previous and future frames around the current frame, and detects what part of the image is in motion or not, and adjusts the blur based on movement. This is useful to mimic the effect of shooting at longer shutter speeds.
The majority of these Blur and Noise Reduction features will only be in the full version, and are a result of the technologies from Blackmagic's other recent acquisitions.
Bob Caniglia explained, "If you look at what we've acquired in terms of intellectual property over the last four years with Resolve, Revival, and Teranex with their own knowledge of noise reduction and motion blurs. We're seeing the collective intellectual property used to focus on tools for today's products. "
In terms of Resolve's color correction workflow, more flexibility has been enabled by shifting many controls from being clip based to being node based. Individual PTZR (Pan, Tilt, Zoom, Rotate) controls for nodes, multiple power windows per node, and RGB selectors in nodes, have all made the color correction process much more customizable and powerful. Open FX plugins are also applicable on a per node basis.
For example using the PTZR controls on the node level, you could copy and paste a cloud in your shot to make the sky look darker, or copy a bit of clear sky to hide a boom mike in shot. This node-based approach takes things much further than simple primary and secondary grading tools, to an almost compositing level of control.
Multiple Power Windows per node
I asked Bob what he thought was the best new workflow feature was, "To me, the feature that will appeal to current users will be the multiple power windows per node. This has been a longtime request from users moving from the old 2K." He said.
Resolve 10 also has a slew of general workflow improvements. Project folders can now be re-arranged, nested, and "cut and pasted" between. The split screen and lightbox views can now be seen on the SDI monitor, and there's now a global grade bypass for a quick on/off reviewing without turning off the nodes, as well as dragging and dropping stills between gallery pages. While some of the new features are much more sexy in terms of marketing, simple workflow enhancements like these are where you see the most productivity gains working with the software day in and day out.
Resolve 10's new features will require more computing power to pull off with real time performance. Generally adding more or faster GPU's to your system will be the best performance improvement for your dollar. And the top results are still to be had with multiple GPU's and PCIe expansion chassis. However if you're thinking of working in 4K and above, you will need to pay special attention to your drive speeds, and perhaps add a second CPU into the mix as well.
Who is Resolve 10 for?
Resolve used to be for colorists only, and it still is primarily a color correction application. But with the Resolve 10 release, the software has expanded to dip its feet in a lot of post production pools. Live grading, effects, editing, and delivery enhancements make this a much more versatile tool. I asked Bob and Richard, who is Resolve for now?
Richard noted, "Resolve is for any video and film user. DaVinci is the name behind more feature films, television commercials, documentaries, television production and music videos than any other grading system."
Bob said "It's for everyone and anyone. More so now. I've heard of directors and DP's having a copy just to play with it, to get the look they think they want to get. It helps them translate what they're thinking to the post team directly. Resolve has evolved tremendously in the last few years, to something that's not just used for color grading, but in version 10, also for dailies and finishing tools, it's evolving to become a complete finishing software."
Tags: Post & VFX