Imagine you need to start/stop two or more GoPro HERO action cams ranging from a HERO 7 to a HERO 9 Black from any device — Mac, PC, iOS, or Android and even Raspberry Pi 3. You could do it all manually, which is tedious and in some cases, impossible. Or you could operate all of them simultaneously from one control app. The Camera Tools for GoPro HEROs app lets you do just that.
When you start the app, you'll be greeted by an empty window with buttons that let you add GoPro cameras (HERO5, 6, 7, 8 and 9 Black, HERO5 Session, GoPro Fusion and Max), connect to them, remove them, tag while shooting, record and stop recording, create time-lapse schedules, change capture settings, as well as power them off. Once you've added one or several cameras, you pair them via Bluetooth — on the cam you need to enable connections to the GoPro app — and can subsequently connect to Wi-Fi if you want to download footage, get a live preview and a live video feed.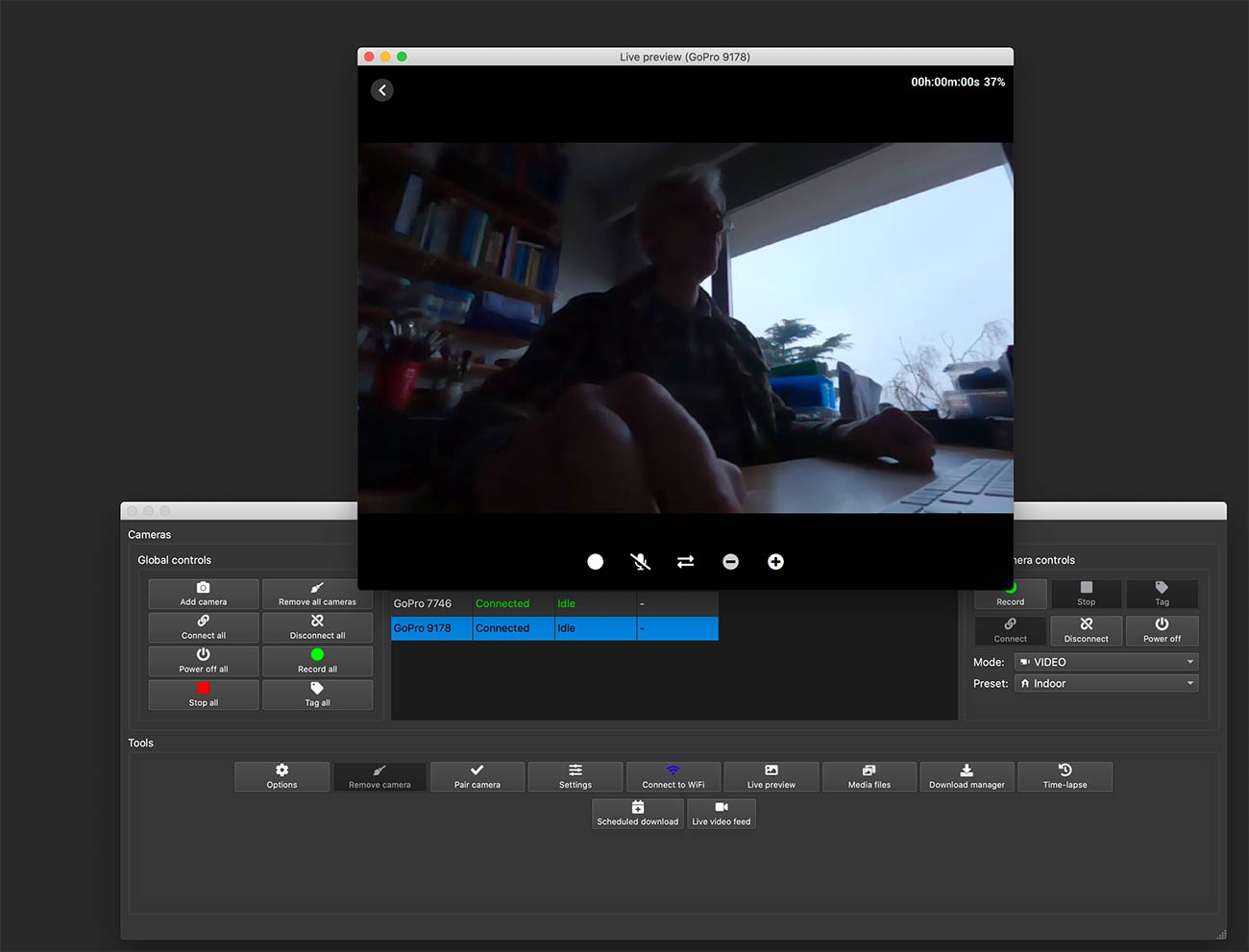 The latest version includes some advanced features, including a HTTP command server and a scripting tool to control the app and the cameras. Both are for people who want to do complex things such as capturing a series of pictures with different settings, a photo-booth, and time-lapses.
I tried the app for more simple things like start/stop the cameras simultaneously, get a live preview, and download footage directly via Wi-Fi. I tested both the macOS and iOS app. They both work more or less the same way, only the interface differs and the Wi-Fi connection capability works better on iOS than it does on macOS Catalina.
The first thing you'll do to enjoy using Camera Tools for GoPro HEROs is make sure your cameras all have the latest firmware installed. The cameras are all controlled via Bluetooth LE version 0x6 or higher. When you add a camera, you need to set your HERO's connection feature to ON, and go into the Connect to GoPro app menu. The connection process took less than two minutes on all three GoPro's I have — a HERO 7, 8 and 9 Black.
From then on, you are in control of multiple GoPro's. I could start, stop and tag recordings, set all cameras to the same capture preset and even power them off all together.
Wifi troubles
Problems were all over the place, though, when I tried to connect to any of the cameras via Wi-Fi and get a live preview or download footage directly from each of the cameras, so I emailed the developer. He got back to me instantly and for the rest of the afternoon we were in an exchange of messages trying to fix the Wi-Fi enigma. Finally, he sent me a non-Apple-Store version with associated serial and my Wi-Fi connection troubles were over as by magic. A plus for support, a minus for Apple's sandboxing policies.
By the way, I actually could connect to the camera via Wi-Fi, even with the Apple Store version; I just couldn't do it from within Camera Tools for GoPro HEROs. For it to work on my system, I had to first connect using the System Preferences > Network interface and then switch back to the app. That, of course, is not very user-friendly, and it also means you need to manually switch between networks whereas, when I ultimately could do it in the app, the app would release the GoPro Wi-Fi network and System Preferences would automatically switch back to my Internet router's Wi-Fi connection.
Camera Tools for GoPro HEROs works really well to control multiple supported GoPro cameras, which is great for anyone who wants or needs to control multiple GoPros — I'm thinking of nature documentary makers, for example, but also vloggers who want to shoot multiple angles.
The cameras almost synchronise when you start recording — there's a lag of about a second for each to react — which makes audio sync afterwards much easier than when you have to manually activate them one by one, increasing the lag considerably. The price of the app should not be a stumbling block at €8.99.