The smartphone in your pocket is one of the most powerful devices for high resolution 4K live streaming. Here's why.
Audience engagement depends on top-quality video
Audiences are constantly demanding top-quality video. Engagement and stickiness are primarily determined by the video quality, sound quality and live video content, which is perceived as much more authentic than recorded and edited content. But live video faces numerous challenges, particularly high costs and interruptions to live streaming. All this and more can be overcome by utilizing your smartphone as your gateway to live, interrupt-free professional broadcasting.
A paradigm shift – live broadcasting from any smartphone
Israeli start-up Omnistream turns your smartphone into a live broadcasting station by utilizing its powerful streaming capabilities, 4K camera, H.265 encoding and even uplink bonding. The company's patented technology packaged in an intuitive, easy-to-use app enables you to broadcast 4K quality simultaneously on multiple social networks, your website, or as SRT to your studio. Uploading videos to social networks - Instagram, TikTok, YouTube, Facebook - is a daily, trivial task, and even basic editing can be performed in minutes, on the smartphone itself. Omnistream lets you do all that - Live!
"If an external camera is still required, our Omni Capture device enables you to capture and stream content live, leaving your smartphone to function as the streaming hub. This eliminates external and expensive hardware, as well as studios for editing titles and logo overlay, making Omni Capture a valid alternative for TV and digital broadcasting."
Hagay Avraham, CEO, Omnistream
Omni Capture USB-HDMI Capture Device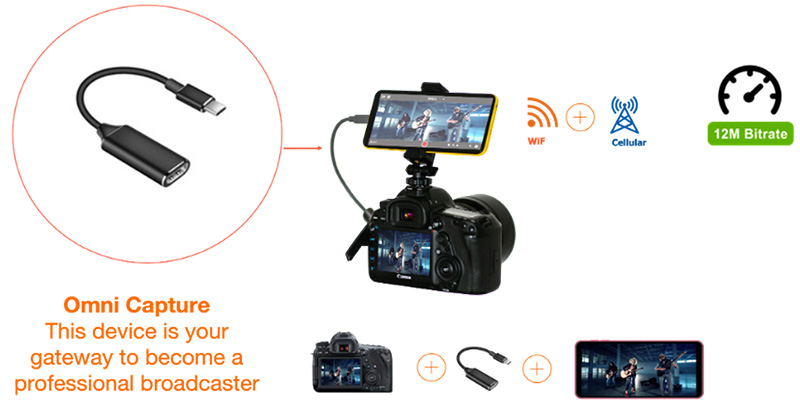 Allowing professional live streaming from any DSLR or camcorder using your smartphone, Omni Capture enables you to share your video to social media accounts at up to 4K quality. This stable, high-quality live streaming from the transformation of your smartphone into a broadcasting station includes a series of technological benefits:
Encoding:

More efficient video encoding (H.265 and H.264) over your smartphone, and video streaming over cellular and WiFi, ensuring top-quality, live video superior to any other option.

More than one internet connection:

Omnistream splits the video packets between several cellular providers and WiFi connections, reconstructing them in the cloud to a usable video stream.

Bit rate variations:

Omnistream technology initially responds to bit rate variations by compressing the video and maximizing the transmission quality.

Live editing:

Addition of titles and logo as an overlay on the video, from your smartphone.

Cloud technology:

Secure streaming directly to the studio or internet streaming platforms such as YouTube Live and Facebook.

End-to-end latency:

Can be less than 1.5 seconds from site to studio, ensuring video quality, stability and uninterrupted transmission to your viewers.
Live remote production using SRT
The combination of cellular bonding and SRT to a remote studio offers a fundamental change in how you can produce live video. Overcoming the challenges of professional field production without compromising on video quality, it is a plug-and-play solution that eliminates the need for any kind of expert knowledge.
"SRT enables videographers and production houses to improve their live coverage experience, save precious time and resources, and provide more engaging live video content, particularly since it enables editing and overlays in their natural environment."
Hagay Avraham, CEO, Omnistream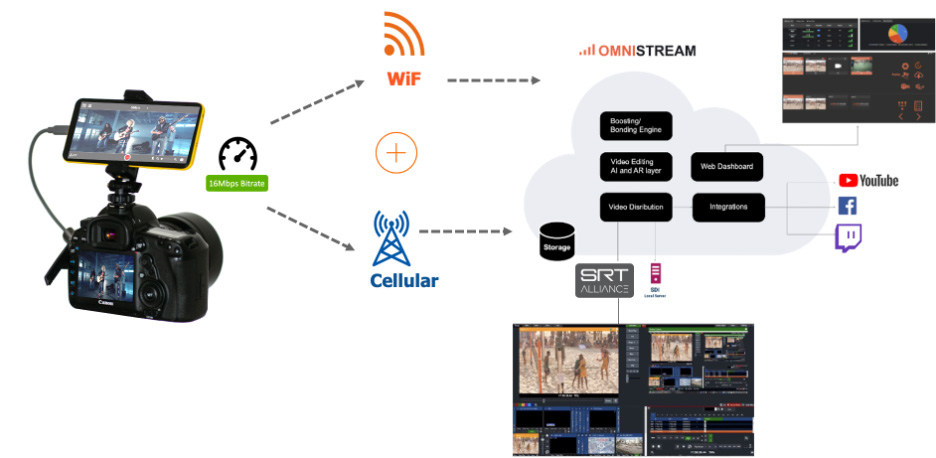 Several cellular channels are bonded into one boosted uplink channel. Using the SRT video transport protocol, a powerful cloud streams the HD-quality video footage at a high bit rate directly to the studio, for the entire duration
of any event. Multiple modems from different cellular operators, as well as WiFi, can also be utilized for the bonding effort. And in the studio, no special software installation is required. Using the SRT Listener provided on the Omnistream Dashboard, the streamed link is simply copied and pasted into the vMixor OBS live video production software, ready for real-time production - overlay of titles, replays and scores - performed in a remote airconditioned studio.
About Omnistream
Omnistream offers professional broadcasters and media enterprises a paradigm shift in engagement, leveraging the power of phones for the transmission of high-quality, live video, audio and data in real time, from anywhere with cellular coverage. This results in a cost-effective, easy-to-use and reliable software-based cellular bonding solution.
Tags: Post & VFX Production Live Remote workflows live streaming