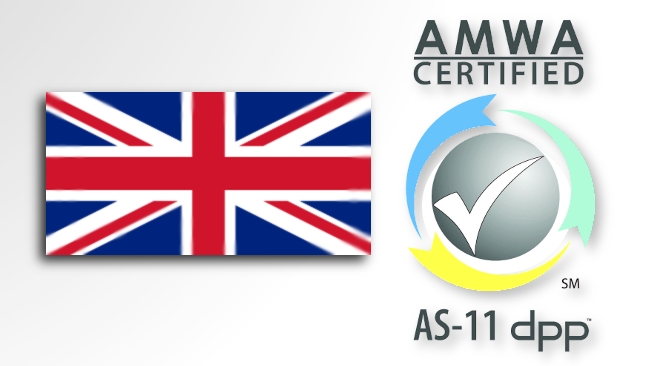 Guest author Neal Romanek examines UK's switch-over from tape to one standard file format, DPP AS-11, and how it challenges the broadcast industry at home and abroad.
The first day of October is a landmark day for UK broadcasting and perhaps a step forward for the rest of the broadcast world. October 1, 2014 is FDDay, the day British broadcasters, and by extension the rest of the UK industry, were to dump tape forever and move to a single file-based delivery spec, DPP AS-11.
The reality is much more subtle, of course. The film and TV industry are very slow to change. Proprietary hardware and lack of the mass consumer pressure driving innovation in other tech industries has meant that film and TV have lagged behind in moving to digital capture, workflow and delivery methods. The industry has sometimes been ridiculed for still clinging to production methods learned from the earliest days of film and radio.
But with budgets and schedules being what they are, who has time and money – and chutzpah - to migrate everything to a new spec? That might be easy for start-ups or an indie production company, but can be a monumentally challenging proposition for a big broadcaster, who has to churn out hundreds of hours of content every single week, no excuses.
When the industry is forced to change (when revenue and time are threatened) it does, and sometimes very rapidly, although it did take a natural disaster for the industry to finally loosen its grip on tape. The 2011 Japanese earthquake and resulting tsunami forced Sony to shut down its digital tape manufacturing plant in Sendai. The damage caused by the disaster also stressed the Japanese infrastructure to the point that even when tape was available, there was still no efficient way of shipping it to the broadcasters and production companies who needed it. Frustrated and frightened, many companies took the cold plunge into file-based production. But the move to file-based workflows has brought its own set of problems: a proliferation of file types and a lack of consistent standards.
Enter the DPP
Nothing focuses the mind like a deadline. The UK's DPP (Digital Production Partnership) announced at the 2013 IBC (International Broadcasting Convention), that October 1, 2014 would be the deadline by which UK broadcasters BBC, ITV and Channel 4 would move to fully file-based program delivery, and it would be one common standard, AS-11. The new AS-11 spec is a vendor-neutral subset of the MXF file format and was created in cooperation with the US standards body, AMWA (Advanced Media Workflow Association).
DPP introduced the new standard format back in January, 2012.
The deadline was, in some ways, the fulfillment of DPP's entire reason for existence. The DPP had been created in 2010 by the BBC, ITV, and Channel 4, with representation of other UK broadcasters, Sky, Channel 5, S4/C, UKTV and BT Sport. The Partnership's purpose was "to help speed the transition to fully digital production and distribution in television."
At this year's IBC, one year after the deadline announcement, the DPP reported that the transition to the new AS-11 format was not entirely complete, but was well on the way.
Channel 5 and BT Sport had already been expecting file-based delivery for several months, and ITV and Channel 4 had made a full transition, with file-based delivery now the default standard for programme delivery for all their suppliers. The BBC was also said to be "on track to meet its commitments" with a phasing in of file-based delivery as the preferred method of program delivery. BSkyB said they would start adopting AS-11 DPP deliveries from the beginning of October 2014 and planned for a complete migration by the end of October 2015.
"It's gone as well as we could expect," says DPP technical standards lead Kevin Burrows, also the CTO of Broadcast and Distribution at Channel 4 and one of the prominent figures educating the industry about the file delivery switch-over. "Obviously, for shows in mid-commission, there's a view to take concerning whether you disrupt the show half-way through the run or start it with files the next time up. We're basically taking a very pragmatic approach to it."
The transition hasn't been nearly as rocky as some had feared, says Burrows. "Initially, when we first set the standard out, there was a lot of 'Oh, this is difficult. We can't get the equipment. It's going to make our productions more expensive.' But we worked through a lot of that. And where we've been successful is people have come out of it with no extra costs. At the end of the day, people have natural tech refresh cycles and this has been a part of that. Once people realized last year that it was going to happen, they kind of accepted it and got on with it."
The switch-over by UK broadcasters will have (and is certainly intended to have) a knock-on effect to the rest of the industry. Suppliers, vendors, and production companies working for the broadcasters will have to adapt to a single file-based standard when they deliver final material, which will encourage productions and suppliers working for those companies to adopt similar standard workflows.
Ignorance is Not Bliss
Awareness of the transition is not as ubiquitous as one would think, especially given the massive education campaign DPP has mounted over the past year, with online videos and white papers, seminars and conferences, and even giving file delivery day its own Twitter hashtag, #Fdday. According to a poll earlier this year by a leading UK industry trade magazine, only two-thirds of TV producers said they would be able to deliver digital compliant files to broadcasters by the October deadline, and there were some companies that weren't even aware of the switch-over.
Some of these companies may be in for a shock the next time they try to send over rushes in ProRes files – or, God forbid, tape.
Production companies and post houses, once they finally become aware of the issue, are likely to adapt quickly. This is, after all, an offer they can't refuse. But how does this migration to tighter delivery standards affect freelancers, sole traders who may have very narrow margins?
Freelance editor Peter Booth works primarily on promos and interstitials for a variety of broadcasters and productions companies, including Discovery and Fremantle Media.
"Dealing with different file formats can be a pain, and it's trial and error sometimes," says Booth, "Luckily, I have a nicely specced Avid and can output about anything, but I have other friends who are freelancers and haven't got that spec, and it's harder for them to adapt."
In Booth's case, finished work goes to a facility which is then responsible for delivering the final product, in the appropriate format. For him – at least so far – file format requirements have been less draconian, but are still tricky to negotiate. Booth notes that even the big broadcasters he works with have been unclear about which file formats to employ and seem in no hurry to progress leap forward.
"I have major clients who still deliver on tape. There's a lot to learn about the new spec. I know I'm going to have to know more in future."
The Wild File West
Getting rid of tape is only a part of the problem the DPP AS-11 spec aims to solve. Anyone working in post-production will tell you what a minefield file-based workflows have become, with dozens of different file types being stuffed through dozens of divergent workflows.
The problem is international and, with the ongoing proliferation of different file types and different formats, is getting only more complicated. As a result, the new AS-11 DPP standard – and the work it took to create it – have been scrutinized carefully from outside Britain, by an industry wrestling with the problem of too many choices when it comes to file formats.
"We met up at IBC with quite a few international broadcasters, from the US and Europe," says DPP's Kevin Burrows, "and there's quite a lot of interest from other people in adopting our standard or a version of it, because we've been through all the pain of getting there and maybe they can ride on the back of what we've done.
"We've been talking with the US studios and broadcasters in particular, because the UK takes a lot of US content. We've been working with a few of them to move to our format. Fox has been quite proactive, and Disney has been working along with us, so there are companies that are working with us, which is good news. Hopefully that will happen more over the next year. It will take a little while, because they have to integrate it into their global workflows."
"It's not just about setting up a standard and giving it to the manufacturers and saying 'Off you go.' It isn't likely that the likes of Avid and Adobe would just go and globally implement that standard. It really needs to be a kind of territory-based solution. So we've been working to try to get other territories to adopt a single standard, and if it's not the same as our standard, that there's at least good business reasons for that. The AS-11 standard is a global standard, and the UK is a subset of that, so obviously another territory could have their own subset. It's quite flexible from that perspective."
"These things take a long time. We first published the DPP AS-11 standard in January 2012. It's two and half years later, and we're just now getting everyone onto that standard. Finally, it's not just about producing the standards. It's a huge business-change program really."
Across the Pond (from the UK)
Chris Lennon is CEO of US-based consultancy and software systems integrator, MediAnswers and is SMPTE Standards Director and a member of SMPTE's Joint Task Force on File Formats and Media Interoperability. Lennon is intimately familiar with the international nature of the file delivery problem. The purpose of the Joint Task Force is to try to come up with a uniform way of communicating file delivery requirements from the media companies to those who deliver to them.
"There is a huge motivation to correct a lot of the ills that exist right now in the US in this area," says Lennon. "When we started out this Joint Task Force several months ago, we initially thought we might get a dozen or two dozen members, but it just exploded. We have about 75 people involved in it now - pretty much all the major media players in North America.
"One of the things the group has looked at pretty closely on this side of the pond is what the DPP is doing. A lot of people have pointed at it as a pretty successful way of dealing with the problem. It's not exactly what's needed in North America, but it's not a bad model to start out from."
North America has a great deal more diversity in file formats and practices than the UK, and even Europe. Lennon thinks that if the industry had attacked the problem several years ago, there would have been a chance of dictating a single file format.
"But now people have diverged enough and there are enough diverse requirements that getting an agreement on a single file format is probably not doable at this point…But we can certainly constrain all the variables that people have right now that go into file delivery, and find a common way of exchanging that type of information. That would get us way beyond where we are right now, which really is the Wild West, with everyone doing what they want."
The Joint Task Force has looked at dozens of existing practices and standards and has kept a particularly close watch on the DPP. "I expect the DPP to be a key input for what we end up recommending for in North America," says Lennon, "It's probably not fair to call what we're doing 'DPP North America', because it's not exactly the same, but we're certainly looking closely at DPP, and we don't want to have to reinvent anything that they've already done."
Will the DPP switch-over be a success? Or will we reside in the twilight zone between tape and files, wading through a soup of different formats, for some time to come. Tune in on October 1, 2015 to see.
For more information on the switch-over to DPP AS-11, check out these links: