Heath McKnight trawls through the specs and offers some advice to those lucky enough to have the budget for one of Apple's new top-end machines.
Apple unveiled quite a lot of hardware and software at WWDC 2023, with the new Vision Pro leading the way. Apple also released the new Apple silicon Mac Pro powered by the M2 Ultra, along with an updated Mac Studio with the same M2 Ultra chip at a lower cost. But which is the best high-end Mac for editing, color grading, graphic design, and visual effects? We offer some suggestions to help you decide.
Mac Pro vs. Mac Studio: Nearly identical specs
If you followed recent rumors, then you know that for the longest time Apple was thought to be releasing the silicon-powered Mac Pro, at WWDC 2023, thus finally saying goodbye to Intel in its line-up. Also, it was planning to wait until 2024 for an updated Mac Studio with an M3. Then the rumours shifted and the Mac Studio was to be released this year and the Mac Pro later, but, in the end, Apple decided to release both the computers at the same time with nearly identical options.
While the $1999 'base model' Mac Studio features an M2 Max system on a chip (SoC), the $3999 model has an M2 Ultra available with a few options:
M2 Ultra with 24-core CPU, 60-core GPU, 32-core Neural Engine.
M2 Ultra with 24-core CPU, 76-core GPU, 32-core Neural Engine.
64GB, 128GB, or 192GB unified RAM options.
1TB, 2TB, 4TB, or 8TB SSD storage options.
Starts at $3,999 USD, full maxed out at $8,799 USD.
Lots of ports to connect devices like Thunderbolt 4 drives and a combination that allows for three 8K displays, six 6K displays, or eight 4K displays, all at 60Hz.
Interestingly, the Mac Pro offers the exact same options as above. The difference is, there six Gen 4 PCIe slots, which means it's easier to go with a RAID configuration. Apple also says the M2 Ultra's GPU and Media Engine is the equivalent of seven After Burner cards ($999 for one with the last Intel model). There are plenty of I/O ports, including eight Thunderbolt 4, including two on top of the system. So, you're getting a lot of performance with the new Mac Pro, but you're also getting the same with the Mac Studio.
The Mac Pro is definitely the pricier option, maxing out at $11,799
The Mac Pro's starting price is $6999 (non-rack mount and without wheels), and fully maxed out at $11,799, which makes it a full $3000 pricier than the Mac Studio.
The biggest downside to both the Mac Pro and Mac Studio is a lack of upgradability. Aside from the PCIe expansion slots on the former, and plugging in Thunderbolt 4 devices into the latter, you can't upgrade RAM, CPU or GPU after purchase, not even a PCIe Radeon video card. These are still beasts of systems that will tackle anything you throw at them, but that is a definite drawback to some, especially when parting with that amount of money.
Check out the GeekBench results of the M2 Ultra here. And yes, it looks like the M2 Ultra is only 17-20% faster than the M1 Ultra in certain tasks. That's something to keep in mind.
So which Mac should you considering buying?
If you're looking for maximum performance on a budget, consider the 'base model' Mac Studio M2 Ultra for $3999. You'll be getting everything you need for the most demanding editing, graphical, or VFX task, and with less processing times than the previous generation Intel Macs. Even maxing it out, the Mac Studio is $3000 less than the Mac Pro ($8799 vs. $11,799) with just as much power.
But there is something to be said about the fast SSD cards connected inside the Mac Pro in a RAID configuration. Gen 4 SSDs can get up to 26GB/s, and that's something very valuable for an editor dealing with a lot of 8K footage, complex VFX and animation, images, etc. You don't want your performance to drop based on slow drives.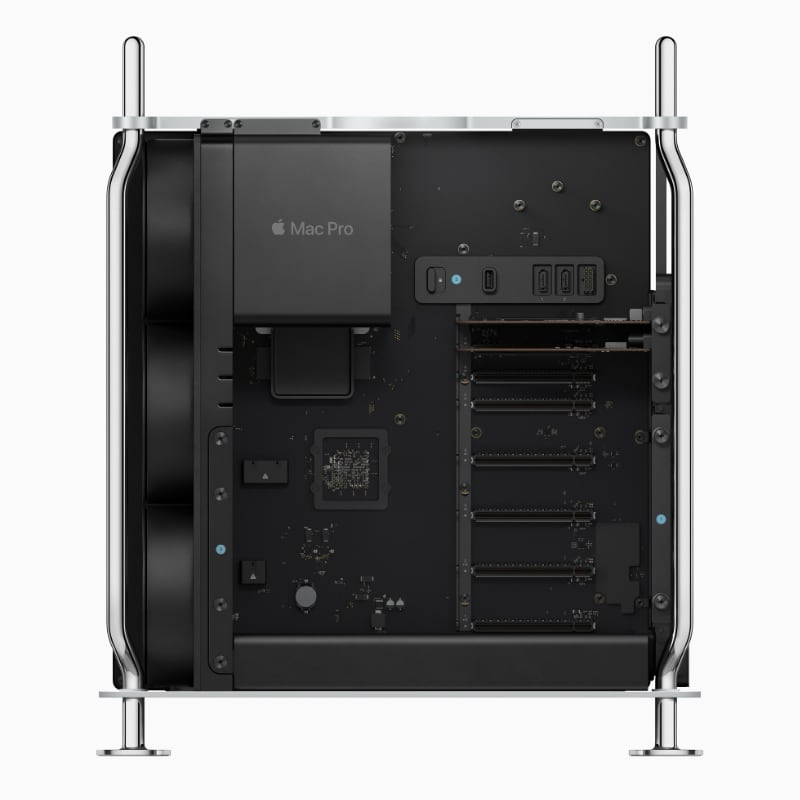 The Mac Pro expansion slots are a big draw, but they're an expensive one too
However, budget is always something to consider. If you're getting an identical system in the Mac Studio M2 Ultra, at roughly 25% less cost, save the money and get that system. Use the extra cash for Thunderbolt 4 drives, perhaps a SONNETTECH Mac Studio Expansion, software, etc. You'll likely be on or under budget and have everything you need for your current and future projects.
Ultimately, it really depends on your budget and what you're doing on the one hand, and whether or not you want to add internal drives on the other.
Parting thoughts
No matter which system you decide to purchase, you'll be getting a powerful, quiet, and cool machine. When the 2019 Intel Mac Pro launched, pros were left wondering why many of their content creation apps — those not created by Apple — weren't as fast as promised. A lot of it had to do with Intel.
But with Apple silicon, many of our favorite software packages — DaVinci Resolve, Photoshop, and others — absolutely scream on Apple's Arm-based silicon. I was surprised two and a half years ago when testing the late 2020 MacBook Pro 13-inch with an M1 processor with 8GB of RAM against a fully loaded 2019 Intel iMac (read my review here), and the difference is still stunning. So, even though you can't upgrade the CPU, GPU, or RAM post-purchase on an Apple silicon Mac, you're still getting a powerful machine that will hold up for years.
If you decide to save some cash with the Mac Studio, you can use it to buy peripherals and a great monitor like an LG, Dell, or, Apple's own $1599 Studio Display.
One final thing, and it's a little bit of outside the box thinking here: If you need a lot of power and don't have the budget, consider purchasing the Mac Studio M1 Ultra at a bit of a discount vs. the M2 Ultra unit. While admittedly it's not as fast as the M2 Ultra, it also isn't that much slower. Apple still has them listed on its refurbished page starting at nearly $1000 less than the new model.
Tags: Technology Apple