Apple's Mac transition from 'Intel Inside' to its own M-series silicon was announced at WWDC 2020 and now, a year or so behind schedule, it is finally complete.
Read the rest of our WWDC coverage here: Apple's $3499 Vision Pro headset finally revealed at WWDC 23

The final piece of the M-series line-up is the flagship Mac Pro, available in both tower and rack configurations. There had been rumours that it might be scrapped as uneconomic given the performance of the Mac Studio range, but it's now shipping in less than a week.

At the heart of the Apple Silicon Mac Pro is a new chip, the M2 Ultra which is essentially two M2 Max chips glued together. This means a 24-core CPU, a GPU with up to 76 cores and 800GB/s bandwidth. Integral to its performance is vast amounts of unified memory on a single chip, up to 192GB of it, which means it can handle up to 22 streams of 8K ProRes video playback and support up to 8 Apple Studio displays.

The last Intel Mac Pro achieved then stunning media processing by virtue of an optional Afterburner card. According to Apple, the M2 Ultra is capable of performance equivalent to seven Afterburner cards built-in. A 32-core Neural Engine is capable of 31.6 trillion operations per second.

Although Apple Silicon is defined by this integrated design, the M-Series Mac Pro retains the chassis of the previous Intel device with an elaborate cooling system to serve not just the CPU/GPU, but also seven expansion slots, six of which are PCIe gen 4 - doubling the bandwidth over the previous generation. There also are two high bandwidth 48Gb/s HDMI ports supporting 8K and 240Hz refresh rates.

Compared to the baseline 8-core Intel-based Mac Pro, the new machine is capable of 7.6 faster render performance in OTOY Octane X, 2.7x compared to the 28-core Intel. The age of the Intel Mac Pro makes these comparisons limited, but for certain applications the vast amount of unified memory will challenge anything on the market.

Pricing starts at £7,199 for 64GB / 1TB and scales up from there with 8TB storage costing £2,200 extra and 192GB memory £1,600. The infamous steel wheels remain a £400 optional extra, while the rack mount chassis adds £500 compared to the tower. The base level M2 Ultra is a 24-core CPU, 60-core GPU, 32-core Neural Engine. For an extra £1,000 you can get the M2 Ultra with a 76-core GPU.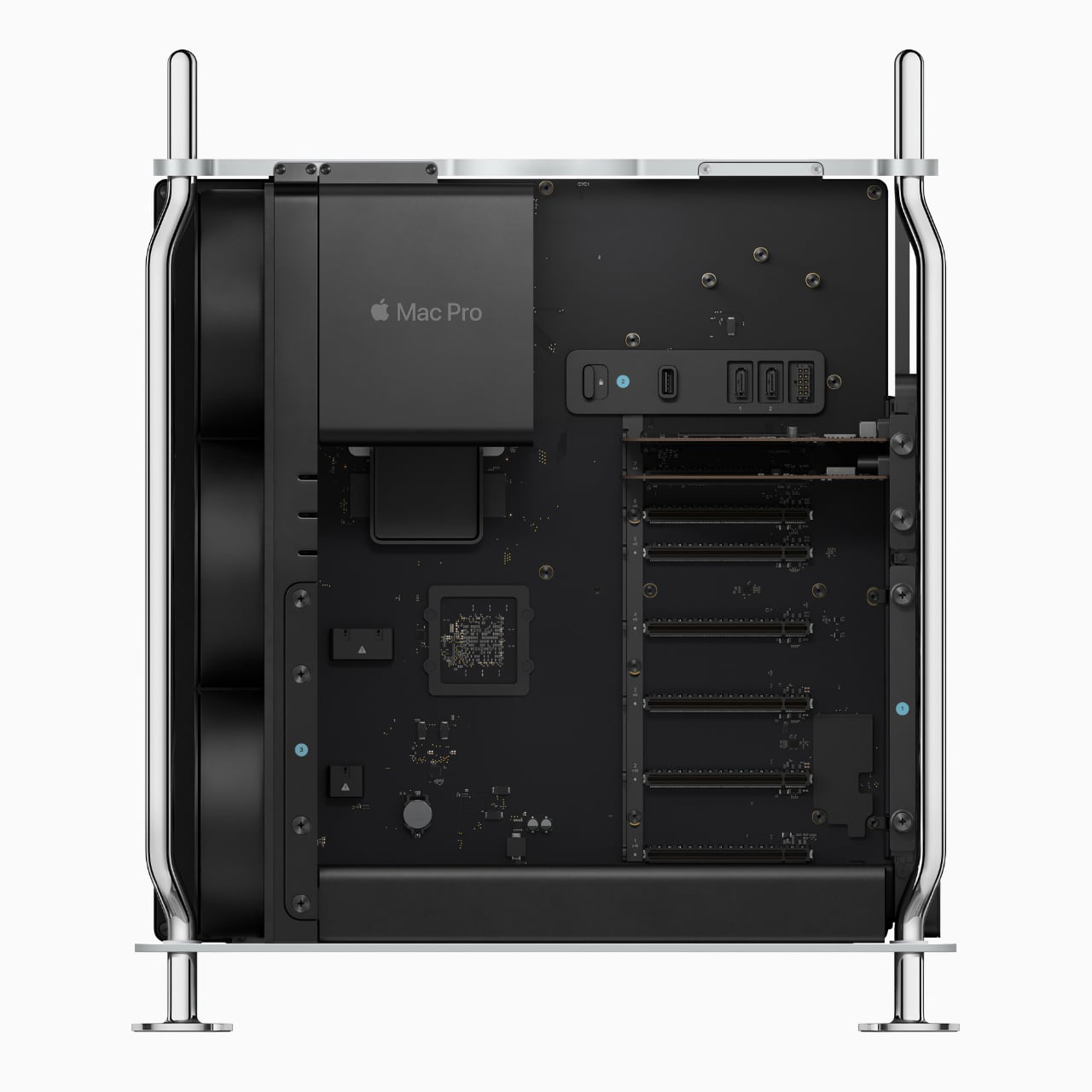 What do you get? Amongst other things seven PCle expansion slots — with six open expansion slots that support gen 4, which is 2x faster than before


M2 Mac Studio
Launched just over a year ago with M1 Max and M1 Ultra chips, the Mac Studio range resembles pumped up Mac mini's. Rather than keep the M2 Ultra exclusive to the Mac Pro, Apple has updated the Studio models with M2 Ultra and M2 Max chips. The chassis is essentially unchanged, but there's the higher spec HDMI for 8K / 240Hz, WiFI 6E and Bluetooth 5.3.

According to Apple, the M2 Max offers a 50% boost in After Effects compared to the M1 Max, while the M2 Ultra offers a 50% boost in video processing for colourists using DaVinci Resolve compared to M1 Ultra.

Mac Studio pricing starts at £2099 and £1899 for education with the 12-core CPU, 30-core GPU, 16-core Neural Engine M2 Max 32GB / 512G storage model. M2 Ultra with 24-core CPU, 60-core GPU and 32-core Neural Engine 64GB / 1TB storage starts at £4199.


15-inch MacBook Air

The MacBook Air has long been Apple's and, indeed, the world's bestselling laptop. It was the first to get an M-Series chip and last year it got a new chassis with a squared off pro-look that diverged from the classic wedge design and was the first with the M2 chip.

The new 15-inch model expands out this design with a 15.3inch screen, slim 5mm borders. Apple claim it's the world's thinnest 15-inch laptop at 11.5mm depth and offers 18 hours battery life. Other than that, it's much the same as the 13-inch model with 500 nits display, a 1080p camera, three microphones, and a six speaker array.

Compared to the best-selling 15-inch PC laptop with i7 processor, Apple claims the Air is up to twice as fast and offers 50% more battery life. As always, the devil is in the details, but the we've learnt from other M-series laptops that Apple's focus on power per watt is difficult for Intel to match.

The 15-inch MacBook Air is available to order now with first deliveries from Tuesday June 13. Pricing starts at £1399 and £1289 for education with midnight, starlight, silver and space grey. The entry level model is 8GB unified memory / 256 GB storage and it's an extra £200 to double memory or storage, so prices ramp quickly and there's no way to upgrade later.

In terms of the wider laptop range, its starting price is marginally more expensive than the M2 MacBook Pro at £1,349 with the old Touch Bar chassis from the Intel era. It does, however, have active cooling, while the 14-inch M2 MacBook Pro starts at £2,149.


Value for money?

While the Mac Pro will get the headlines for its flagship pricing, the 13-inch MacBook Air with M2 falls to £1,149 from £1,249 while the M1 MacBook Air is still available at £999 and £899 for education. Tim Cook boasted of Apple now offering its most capable Mac line-up ever with a powerful range of desktop and laptop devices for professional / consumer, all recently updated.
Tags: Technology