Canon shook the ground today by officially announcing the development of its new full-frame EOS R5 mirrorless camera, which will be the first of its kind to shoot 8K video. The effect of this could be profound. Also announced today is a new DSLR and two new lenses.
The new camera, Canon claims, will offer a step-change in performance, and from the specifications it's easy to see why this might be the case.
From a stills perspective the EOS R5 is fast. Very fast. 12fps is on offer while using the mechanical shutter, while a pretty stinking 20fps is on tap while using the electronic one. The company is also stating that the camera features an all new in-camera stabilisation system as well.
But while the current drip feed of information regarding stills capabilities is interesting in itself, the real headline here is that the EOS R5 will be able to shoot 8K video footage.
At present it looked like 6K was to be the new interim standard. A resolution that gave tangible benefits in terms of deriving a true 4K image after debayering had taken place, yet not requiring the sheer processing overhead on your edit machine as 8K. But after this latest announcement from Canon it appears the cat is now well and truly out of the bag, and it's difficult to see how rivals will be able to resist the numbers game when faced with this.
No matter, this is well and truly a big development. No final video specifications have been given in terms of codecs and bitrates, or whether Canon RAW is on offer. A cynic might ask if the video will be cropped, but with the number of pixels 8K video requires it is pretty much certain that the image will be derived from the full-frame sensor area. No word on what the full megapixel count is has been released yet, but considering that 8K is around 33 megapixels, the EOS R5 will be recording video frames at a higher resolution that a sizeable portion of top end stills cameras!
The new camera will inevitably stir more debate about whether we need 8K, but having a system that is capable of this in the size of a handheld stills camera offers some intriguing possibilities. For example this could be a step-change in terms of the capability of video image stabilisation if electronic stabilisation is combined with optical. A highly effective digital zoom for 4K output is also a possibility. More resolution gives you more flexibility all round.
We eagerly await the final specifications, price, and release date, but the EOS R5 is clearly going to be one of the landmark releases of the year.
New DSLR
Canon has also reaffirmed its ongoing commitment to its traditional EF mount DSLR line with the announcement of the 24.1MP EOS 850D. The £819.99 / €989.99 camera is aimed at photography enthusiasts who are looking to step up their game.
While the specifications are not going to shatter the earth, they are quite respectable for a DSLR of this level, with 7fps continuous shooting on offer with object tracking and Dual Pixel CMOS autofocus. Face detection has been improved over previous models, helping to deal with tricky exposure situations such as when a person is backlit.
Canon says that the 850D has inherited the Intelligent Tracking (iTR) automatic focus feature from its professional range, and that the system makes automatic face tracking through the optical viewfinder possible.
There's no 8K video here, obviously, but the camera can record HD up to 60fps and 4K video at up to 30fps, and it can make use of a 5-axis Movie Digital image stabilisation system.
Live View can take two forms. One on the camera, which lets users select their focal point from up to 3975 points in manual selection and 143 points in automatic. But the camera can also take advantage of a remote Live View mode, which allows photographers to fully control the camera from their phone, and to see the image framing.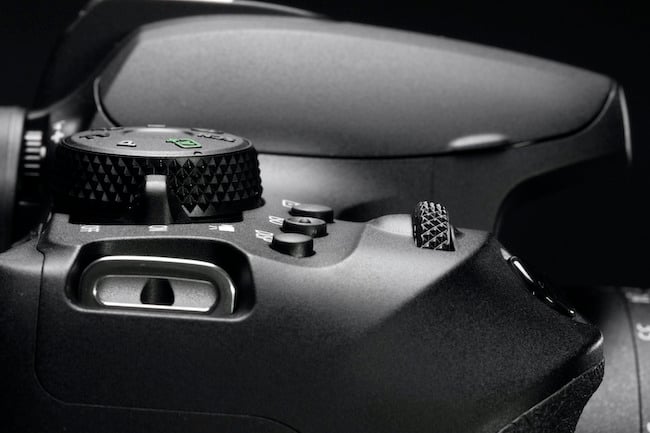 The 850D will shoot stills in C-RAW format, which allows it to double the continuous shooting buffer from 40 images to 75.
Cameras like the 850D are further proof that the DSLR isn't dead. With Canon's ultra high end 1DX MkIII on the horizon as well, fans of mirror slap have plenty to keep their eye on, and EF lens owners can still be assured that their investments will last a good while yet. Speaking of which...
New RF lens
It's been a big day for Canon, and owners of the new RF system who need an extremely lightweight lens might want to look at the newly announced RF 24-105mm f4-7.1 IS STM.
Okay, okay, I know, f/7.1 on the long end is going to kill the idea dead for some users right off the bat. But what you have to remember here is that fast full frame glass, especially with a wide focal length range such as this will be heavy. The new lens weighs in at just 395g, so you have to expect compromises to be made somewhere. At just 88.8mm long, this is a lens that you might take with you when portability and lightness is more important than having the most capable glass. In fact when the lens is mounted to an EOS RP camera, the full weight of the system is only 880g.
The focal length is highly versatile, as any photographer or video user will appreciate. Macro wise it can reproduce 0.4x life size magnification, as well as a newly developed 0.5x Centre Focus Macro mode. And yes, 'true' macro isn't really until you hit 1x magnification, but this lens does allow a 13cm minimum focus distance at 24mm.
The lens contains its own DLO lens correction data profile, which is yet another demonstration of how such glass is possible now that camera bodies and software can use this information to correct any distortion and CA that might be present.
Canon states that the new lens features a quiet STM autofocus motor as well as 5-stop image stabilisation. The company has also announced that alongside the 24-105mm lens it is also developing a 1.4x and 2x extender for it, and a RF 100-500mm F4.5-7.1 L IS USM telephoto lens, as well as announcing that five more RF lenses will be announced in 2020.
The newly announced RF 100-500mm F4.5-7.1 L IS USM telephoto lens
The Canon RF 24-105mm F4-7.1 IS STM will be available from April with an RSP of £459.99 / €549.99.