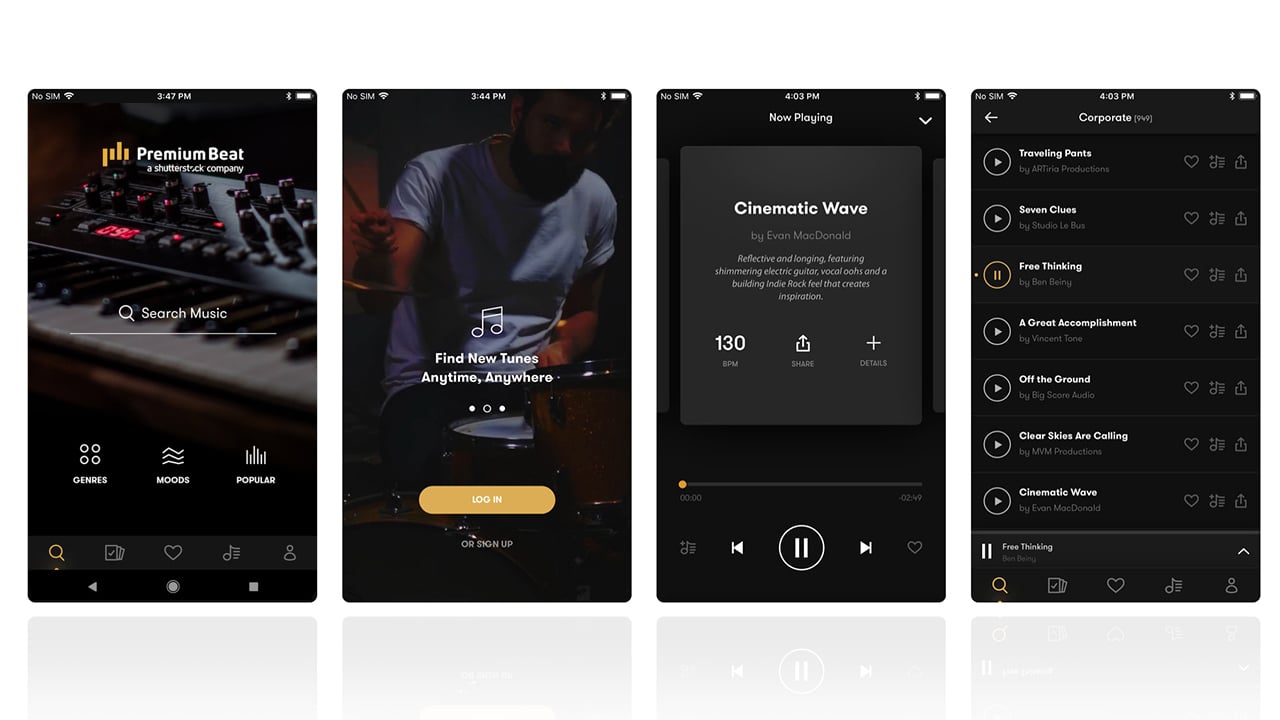 App showcase: PremiumBeat's new music app frees you from your workstation and lets you find your perfect royalty-free soundtrack, wherever inspiration strikes.
PremiumBeat is well known as a provider of high-quality stock music. By collaborating with musicians and music producers around the world, their curation team has amassed an impressive collection of royalty-free cues for use in video and film projects of all sizes - from Hollywood productions to in-house corporate presentations.
Last year, PremiumBeat entered the mobile app world. With their free app, filmmakers and video editors are able to find music for their projects while on the go. Thanks to a recent update, the app now boasts a whole range of new features too.
Let's dive in and see just how this time-saving tool can give your productivity (and creativity) a boost.
Music discovery reimagined
With this app, over 8,500 original and exclusive tracks are available right from the palm of your hand. Because inspiration can strike at any time, the app is great for those moments when you're not anywhere near your workstation.
With a new discovery tool, the app can also recommend great music tailored just for you. With a quick finger swipe, you choose what tracks you do and don't like. As a result, the app will show you more of the music you're looking for, and none of what you're not. It's a great time-saver and lets you quickly discover hidden gems from within the collection.
Collaboration made easy
Another great aspect of the app is how it speeds up your workflow with useful tools like the playlist builder. For each of your video projects, you can create your own personal 'album' containing all your favorite tracks. Then you can send each playlist off to team members or clients. It's particularly helpful if you need to get sign-off on your music picks before purchase.
Plus, because the app syncs with your PremiumBeat account, playlists you build on your device are available on the full website as well. It's a super-useful feature if you share your account with others in your company - or for people who like to keep their work well organized!
Little details make all the difference
The updated version of the app also includes a number of seemingly minor but handy new features. Not only have the track details been greatly expanded, but when searching for music, any song that you haven't listened to yet is marked with a gold dot. It's a great way to keep track of what songs you have or haven't tried out yet.
Again, this feature is synced to the full PremiumBeat website for a totally unified, smooth experience.
Get the app now
In a nutshell, the PremiumBeat app is a particularly useful tool for any video editor or content creator - particularly those who find that their most creative bursts often happen when away from the editing bay.
Interested in trying it out for yourself? The app is available from Google Play or Apple's App Store. Download now and start building your perfect soundtrack!
Tags: Production