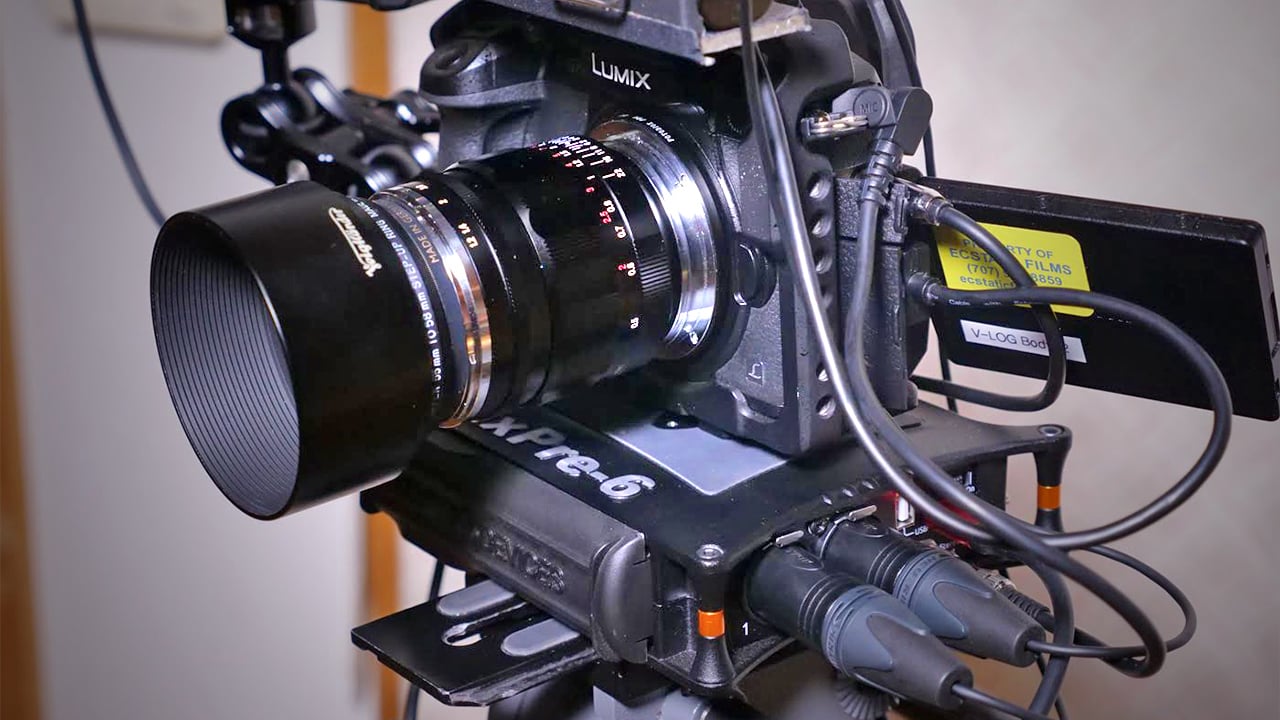 It's always good to have an insight into what others do when it comes to putting together equipment for easy travel. Ken Martini from Ecstatic Films tells us about his highly portable, airline friendly interview kit.
This is the outfit I put together for doing interviews while traveling and working as a one-man band. I went with the GH5 because it has very nice colors, a decent codec, user friendly menus, and enough pre-sets. The 4/3 sensor presented the biggest challenge in getting shallow depth of field. I finally selected a Voigtlander 35mm f1.2 Leica M mount. This lens is very sharp wide open and is a 70mm full frame equivalent. I have the Voigtlander 42.5mm f.95 (85mm equivalent) but that lens keeps me too far away from my subject. I use that one on another body for second angle.
I do not use a variable ND filter, too many issues with those. I instead landed on Hoya ProND's. They are hard to find in the US. I like them because they are consistent from filter to filter and are metalized coated both sides. No dies = no color shifts. They are truly neutral, plus, they are bulletproof. These are the first filters that I am satisfied with after 25 years working in imaging. My kit includes the ND8, ND16, & ND32.
I typically take a Sony A7S2 as well for the low light stuff. I am seriously thinking about adding the GH5S so I don't have to lug two systems. I typically travel with two GH5's and the Sony A7S2. Using the GH5S would get me down to two bodies and less lenses.
The assembled kit
Audio
I sometimes do two-up interviews and take along two wireless systems to accommodate that. The Mix-Pre6 is the latest addition to my kit and worth its very little weight in gold. I use a Fotga DP500 battery plate to supply power to the monitor and camera body. I tried using the USB power off the Fotga battery plate to power the Mix-Pre6, but it introduced electrical noise into the camera through the mixer. I remedied this by added an independent USB power source for the MixPre6.
When traveling I leave the expensive shotgun mic behind and take a Sennheiser MKE600 which I think is one of the best bargains for a shotgun. I take a short (67") Koolertron Lightweight Boom Pole that fits in my carry-on.
The mount for the 2 wireless receivers is a piece of 1.5"x1.5" aluminum angle that I trimmed down to 1.5"x1" and drilled to match the cage hole pattern. I covered it with Gaffers tape.
Total cost of the kit altogether is approximately $13K.
Kit list:
Lumix GH5 body
Voigtlander 35mm f1.2 Leica M mount
Fotodiox Pro lens mount adapter
Hoya ProND: ND8, ND16, & ND32
Movcam cage
Video Devices PIX-E5 5" monitor
Small Rig articulating arm
Lectrosonics LR receivers
Lectrosonics MM400B waterproof transmitters
Voice technologies VT500 lavs & Countryman B6 lavs
Sound Devices Mix-Pre6 mixer-recorder
Miller DS20 tripod system
Fotga DP500 V-mount battery plate
Blueshape 100 V-mount batteries
Ravpower USB power source
You can see Ken's work at https://kenmartini.com/