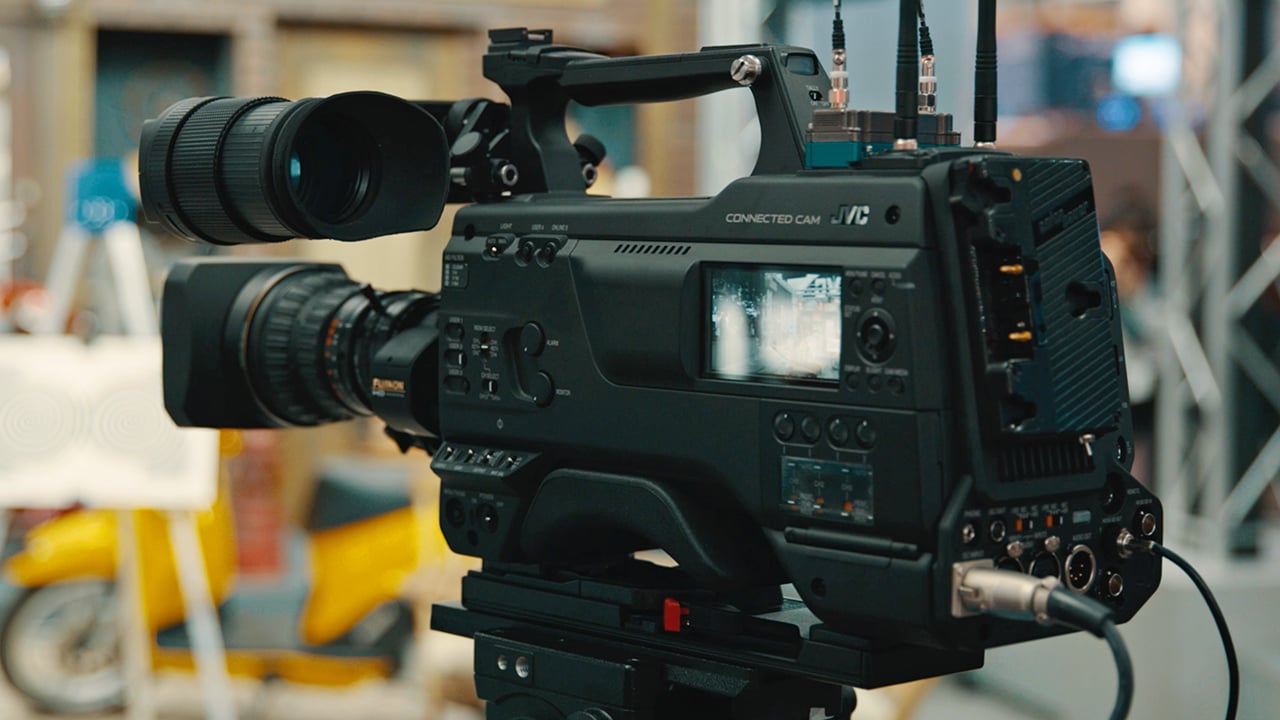 JVC's new GY-HC900 takes connectivity to a whole new level. It has a rather impressive picture performance too.
You could be forgiven for thinking that the whole world has stopped listening unless a new camera has at least a S35 sized chip on-board and a minimum of 4K resolution. However at RedShark we are fully aware that the world is still predominantly working in 1080 resolutions, and that for broadcasters in particular who need to cover live events, breaking news and current affairs, there is still a big market out there for cameras that record to that standard. After all in news your main concern is getting a story to air as quickly as possible, not whether your viewers can see the spot above a reporters top lip.
There's a reason why ENG cameras are still being made. There's a market for them. Not as big as it once was, but it's there. And if you are in the market for an extremely versatile news and EFP camera that will not only take all your existing B4 lenses while allowing full IP connectivity then you may not need to look much further than JVC's GY-HC900 'Connected Cam".
Designed for the latest advances in field production, the GY-HC900 is a solid state recording 2/3" 3xCMOS based camcorder that is designed with a rough and tumble lifestyle in mind. Rated to the IP2 water resistance rating, JVC are clearly expecting the camera to take some punishment.
The JVC GY-HC900 "Connected Cam"
HLG and HFR
The GY-HC900 is fully HDR ready with the ability to record with HLG gamma, or J-log gamma. It is no slouch when it comes to framerates either, being capable of up to 120fps at full HD resolution. An incredibly good 62db S/N ratio is claimed, which will certainly make for some very low noise pictures.
Recordings are made to SDXC cards available in two slots, with a maximum of 50Mbps using H264 compression in 10-bit 4:2:2 colour precision. The camera also recorded to Sports Exchange Standards.
Whilst the picture specs are impressive for a camera of this type, it is the connectivity that is the GY-HC900's main USP. As an example of what it can do, the camera "incorprates a new processing engine that enables recording and low latency streaming, and simultaneous decoding for return video and IFB".
In laymans terms this means that with an internet connection it is possible for a news reporter, for instance, to take part in a two way interview with the main newsroom without needing to add any more hardware or boxes to the camera. Although one simple additional box is available for LTE connectivity so that such functionality can take place wherever there is a phone signal, right from the camera.
Video is streamed at 20Mbps in H264 with a claimed latency of less than 500ms. Video can also be streamed over wired LAN.
Weight is specced at around 3.9kg without the battery, EVF and lens, while the power draw is rated at 35w.
It is all pretty impressive stuff. And while the camcorder has been designed primarily with news broadcast in mind, it would in fact suit a lot of other programming types such as television documentary, or multi-camera conferences.
It is all too easy to be fooled into thinking that everything needs a film look today, but the 2/3" camera is still going strong. And let's be honest, most of us who used to use such cameras extensively love the fact that using one again is like putting on a favourite old pair of shoes or jumper. There is something very reassuring and safe feeling about using a decent ENG camera, and personally I look forward to taking a closer look at this one.
Which brings me to todays video, an interview with John Kelly, General Manager EMEA JVC Kenwood about the GY-HC900 "Connected Cam". Enjoy!