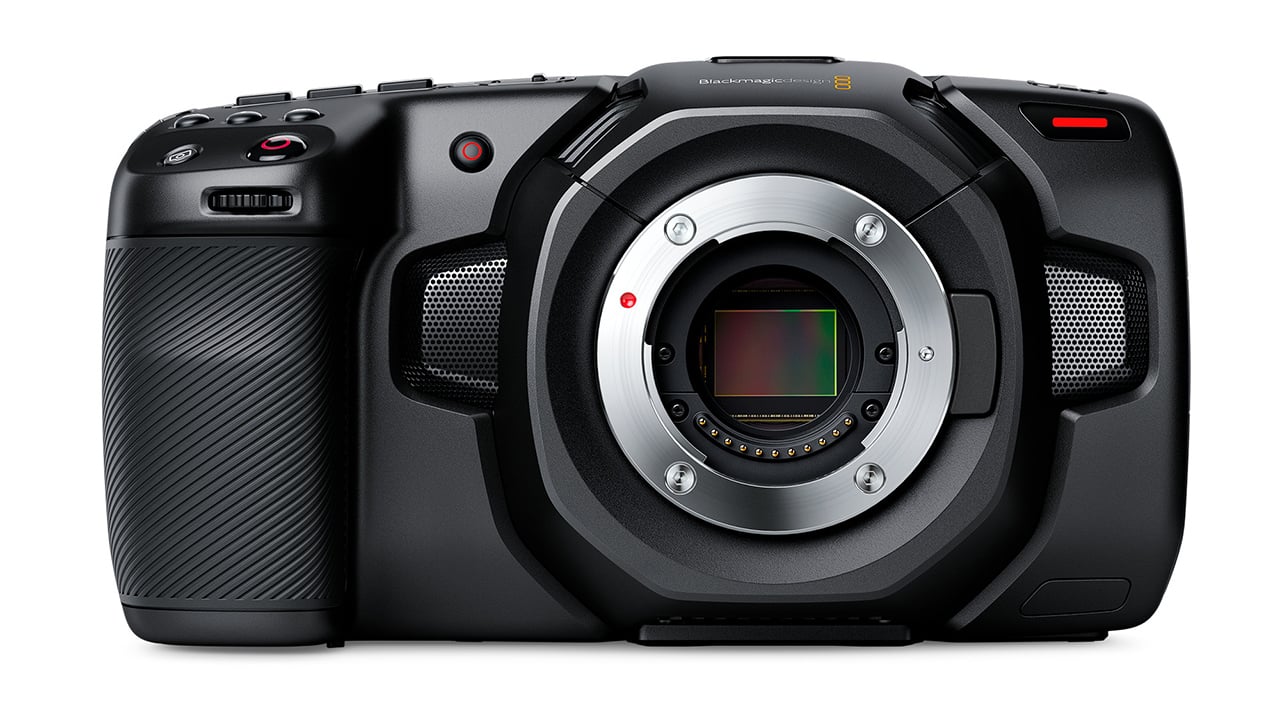 We get a first hands on with the new 4K Pocket Cinema Camera & DaVinci Resolve 15 from Blackmagic Design.
There is no other company like Blackmagic. It's different in so many ways. Its booth is the size of an airport terminal. It shows their prices. And today, it is announcing new hardware and software developments that are simply breathtaking.
4K Pocket Cinema Camera
First of all, there's a new 4K Pocket Cinema Camera. We've covered this in a separate article, but I just wanted to say that I've seen it, held it and there's no doubt that this thing is real. It works, feels polished, and just needs to go through the final stages of preparation for mass production.
The first thing you notice when you hold the camera is that it's bigger than expected, but in a good way. There's a very usefully placed grab-handle and the weight is so low that you can envisage shooting one handed for long periods with the camera.
The new 4K Pocket Cinema Camera is bigger than its predecessor
The word "pocket" now has a new meaning, which is "too big for most pockets". But this hardly matters when ergonomics have been improved so far virtually every aspect of this camera is better.
As far as I could tell there was a very quiet fan. Fans in cameras shouldn't be seen as bad. If you can keep the sensor cool enough, there will be less noise.
The new camera has dual native ISOs: 400 and 3200. I cranked the gain up to 250,000 and even then, very little noise was visible on the large, 5" viewfinder.
To me this seems like a skilful, attractive and effective industrial design. I almost hesitate to say how light it feels, because I don't want to give the impression that it feels "cheap". The opposite is the case. It's made from carbon-reinforced polycarbonate and is extremely tough.
At the price that's been announced, $1295, it's an absolute bargain and I suspect that if Blackmagic was to bundle them in six-packs, they'd sell loads.
Resolve 15
Last year at NAB I was surprised to see that only seven months after Blackmagic bought Fairlight, it was now, even at this early stage, a functional part of Resolve. Now the editing, grading and audio package includes high-end 3D compositing and effects in the form of Fusion. Astonishingly, Fusion is now included in the free Resolve package.
Even though the software is still in Beta (a public Beta is released today) it seemed pretty stable. Blackmagic's approach to including Fairlight and Fusion in Resolve is to ensure that they integrate perfectly. But what the Melbourne company doesn't do is radically change the way these applications work.
This is easily the best approach because specialist applications need specialist UIs and controls.
It's an almost unique situation and it will be fascinating to see how it develops. But whatever happens, It's probably fair to say that there's never been a single software application that's as powerful as Resolve is now.
There were dozens of other, smaller announcements and we'll cover some of these in the next few days, but, meanwhile, we have to say that we're absolutely blown by the amount of functionality now available in Resolve, and the Pocket Cinema camera 4K is bigger, bolder and better than any of us could have hoped it to be.