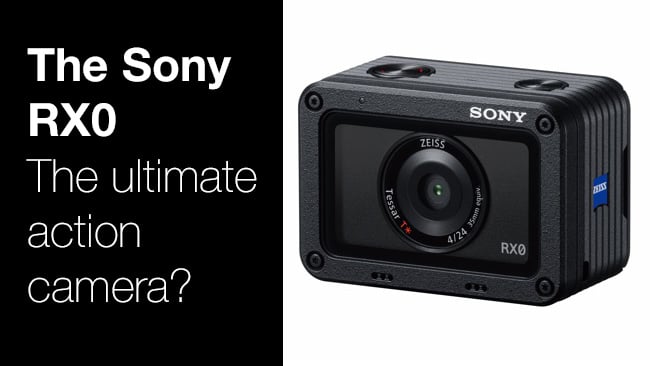 Is it a GoPro rival, or does it belong in a category of its own? It may be slightly ambiguous as to where the new RX0 is precisely aimed, but it could well be the answer that some producers have been looking for, marrying action camera capabilities with high quality 4K recording.
The RX0 offers the image quality of the Sony RX Series in a robust and ultra-compact housing. The camera offers photo and video capabilities and a waterproof, shockproof and pressure-resistant design. It can also be used in a multi-camera setup, which allows you to create photos, videos or super slow motion pictures from different angles.
With a weight of 110 grams and a width of 59 mm, a height of 40.5 mm and depth of 29.8 mm, the RX0 looks like yet another premium compact camera. But this one is different. It has an LCD monitor, and can be used to make pictures and videos in rain, underwater or in a sandy or dusty environment.
Sony isn't saying specifically that the RX0 is competition with GoPro's HERO5, but if it is, the RX0 is a GoPro on steroids. The RX0 features Sony's stacked Exmor RS CMOS image sensor with 15.3 megapixels. It is equipped with a BIONZ X processor and a fixed ZEISS Tessar T 24 mm F4 wide-angle lens. This lens is said to deliver high-resolution and less distortion for both RAW and JPEG photos as well as video. The camera's shutter is capable of speeds of up to 1/32,000, along with an 'anti-distortion' feature to eliminate rolling shutter effects on stills. It can also shoot still images at up to 16fps.
The camera is waterproof to a depth of 10 meters (IPX8 equivalent) and can be used with a new housing up to 100 meters in depth. You can drop it from a height of 2 meters or crush it under a 200kg weight and it will keep working.
Sony seems to concentrate heavily on multi-angle shooting with the RX0. The Wireless Remote Control FA-WRC1M can be used to control up to 15 RX0 cameras. The "PlayMemories Mobile" app connects up to five RX0 models wirelessly. A wireless solution that allows more than six RX0 cameras to be connected is currently under development and will be available in January 2018 through a firmware update. For users who want a wired connection, a special adapter will be available around the same time.
But the RX0 really becomes interesting as a video camera. It offers super slow motion, at up to 1,000 frames per second in 1080p modes - although we do not currently know if active resolution is reduced or not. MF-Assist and Peaking are available, as is S-Log2. You can also use clean HDMI output to record uncompressed video to an external monitor/recorder in a choice of formats and bitrates, including non-compressed 4K (QFHD/UHD or 3840 x 2160 pixels). Moreover, Sony claims its 4K images with suppressed moiré and jaggies can be delivered via data readout without pixel binning or line skipping.
The camera features low-compression XAVC S format while also offering the AVCHD format for easy sharing. Sensitivity goes all the way from ISO 80 to ISO 12800. For movie shooting, there even will be the ability to choose between manual focus or preset focus mode. In Preset Focus mode, the RX0 will automatically focus on a subject in the range further than about 1m.
The RX0 will be available from October 2017 and will cost approximately $699.