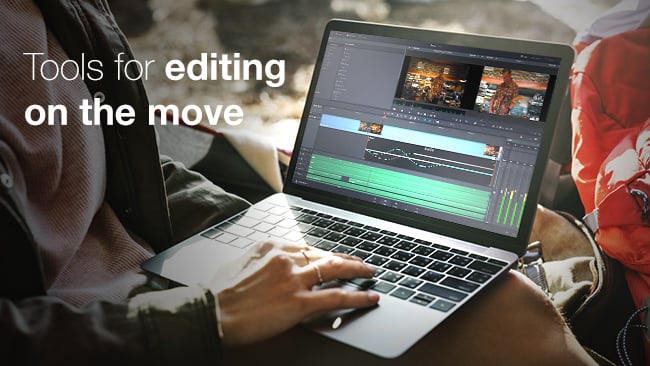 There are times when working in an office with the latest hardware isn't an option. It could be that you're being brought out to the field so you can begin editing as soon as possible, or maybe you're going on holiday but need to bring your edit with you. Peter Haas takes a look at some truly portable options.
I've thrown together a quick checklist that I find handy before packing for the road. Note that this is a list of some really handy tools for cutting on the road. It is not meant to be a beefy, uncompressed, full-resolution cutting solution, nor double as a DIT station.
The Laptop
Clearly, you won't be editing on the go without a laptop, but you also need to make sure that your laptop is up for the task. It's good to know the specific requirements for your project (or offline version of your project). For most modern editing, I highly recommend at least eight gigs of RAM and some kind of internal SSD.
You can't go wrong with Apple's MacBook Pro, even if it's used — OWC and Apple Refurbished are great resources for finding well maintained used Macs. I'm personally editing offline 4K projects on a 2013 MacBook Pro with 8GB of RAM.
In the realm of Windows-based PCs, you have a few more options, with the Dell Precision and HP ZBOOK series good options.
Portable Storage
When it comes to storage, I recommend looking at two different types of drives: The first, and most obvious ones, would be for media storage. Unless you're working with some seriously low-resolution footage, you'll need a relatively fast drive that can handle your media clips. The second drive (or drives) would be reserved for backups of both your computer, edit projects, and maybe even your media.
In both cases, my criteria for drives revolves around the fact that they must be relatively portable and if not "rugged," at least well built.
Sony Rugged RAIDs are a great place to start. These fast little units were designed with portability in mind and with both four and six terabyte options on a Thunderbolt chassis, you can't go wrong. I also recommend its one and two terabyte Professional Series Thunderbolt drives for secondary storage options. I have been working off a small library of these over the past year or so and they've been fantastic.
G-Tech offers relatively portable desktop RAID solutions, though based on the build I personally consider it more of a "luggable" RAID. G-Technologies also offers a variety of portable drives, including an extremely weather-proof (https://www.redsharknews.com/production/item/2393-g-technology-launches-new-storage) series that comes in both standard HDD and SSD.
LaCie Rugged drives, with their bright orange bumpers, are probably the most recognisable and popular rugged drives around. They come in all sizes and interfaces, as well a RAID version for demanding projects.
A Good Bag
The importance of having a quality bag on the road is something that is far too frequently overlooked. A well crafted bag is highly durable, protects your gear from the elements on the go, easy to carry, and will sit comfortably as well as ergonomically on your body. PortaBrace and Pelican are the standard go-to's and many folks have written about them before, so I wanted to highlight three less traditionally utilised bag makers who I've found to be exceptional:
Prometheus Packs — I have several bags from this company for both professional and recreational use. They're super-comfortable and supportive, and hold an insane amount of stuff. I've been able to fit an entire on-the-go edit suite in a single DEMETER pack.
Tom Bihn Bags — An excellent, American-made bag company that focuses on quality and portability. I dig the fact that many of their bags are designed to fit the security theatre of American airports. I highly recommend the Maker's Bag.
The Maxpedition Doppelduffel has saved me on a couple of projects, particularly those involving lots of hiking. It's another one of those really well-built bags that just magically seems to fit everything I need.
Misc. Odds & Ends
Just a few extra tidbits you might want to add to your checklist:
A Power Strip with converters — you never know when you'll be shy on outlets, or if you might need to convert three prongs to a two.
Monitor real estate on laptops is precious, and there are a number of small monitors available out there that are relatively portable. I've seen folks even pick up small 8" monitors for less than a $100 USD. Typically used for low powered computers like Raspberry Pis, these monitors aren't great for displaying picture but are fantastic bin monitors.
When it comes to headphones, the set that came with your smartphone is probably the most convenient, but aren't always going to cut it, so I'd recommend the classic Sony MDR-7506 studio headphones.
A Portable Table could be something simple that goes over your lap or even something that completely folds up like campaign furniture.
While it might go without saying, you should double-check to make sure you have any and all notebooks, flash drives, documents and project files you might need before as well as check to make sure you've activated any and all of your software licenses before you hit the road. You don't want to get to a Wi-Fi free zone and realise that your Adobe subscription just expired.
The last item is optional, but also one that I won't leave without: an analogue egg timer. I often find myself in the position of having to take my work with me on the road and admittedly it's not always a positive thing if that road trip happens to be a vacation. I bring an egg timer and set it for about 80 minutes. This reminds me to stand up, stretch out, and try to take in some of the benefits of not being stuck in an office on that particular day.
Title image courtesy of Shutterstock.