Why would an editor, colorist, or animator purchase a workstation from a custom PC builder, instead of one of the brand name manufacturers?
Puget Systems, a PC supplier in Washington state, loaned me a workstation to delve into this question. They pride themselves on assembling systems tailor-made for creative users. Not all component choices are equal, so Puget tests the same creative applications we use every day in order to optimize their systems. For instance, Premiere Pro benefits from more CPU cores, whereas with After Effects, faster core speeds are more important than the core count.
Puget Systems also offers a unique warranty. It's one year on parts, but lifetime free labor. This means free tech and repair support for as long as you own the unit. Even better, it also includes free labor to install hardware upgrades at their facility at any point in the future - you only pay for parts and shipping.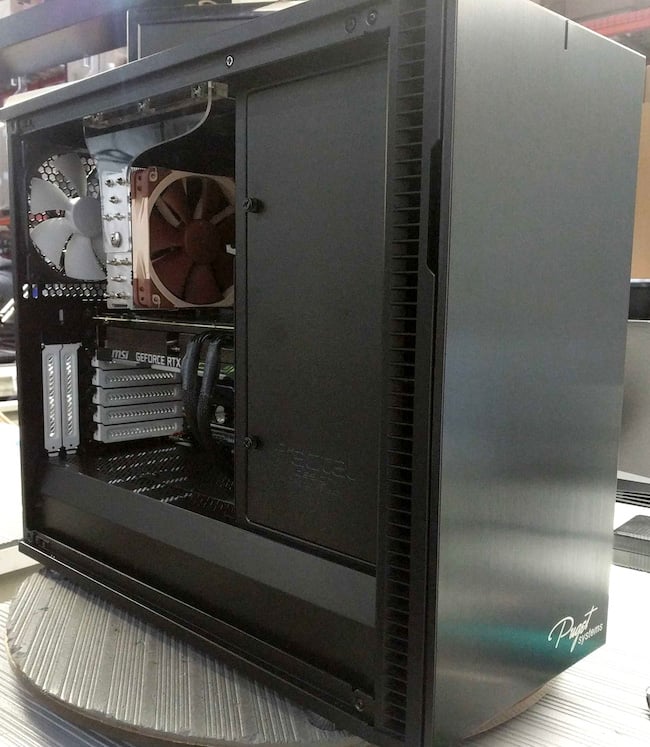 Built for editing
The experience starts with a consultation, followed by progress reports, test results, and photos of your system during and after assembly. These include thermal scans showing your system under load. Puget's phone advisers can recommend a system designed specifically for your needs, whether that's CAD, gaming, After Effects, or editing. My target was Premiere Pro and Resolve with a bit of After Effects. I needed it to be capable of dealing with 4K media using native codecs (no transcodes or proxies).
Puget's configuration included an eight-core Intel i9 3.6GHz CPU, 64GB RAM, and an MSI GeForce RTX 2080 Ti Venus GPU (11GB). We put in two Samsung SSDs (one for OS/applications, plus a faster one for cache) and a Western Digital Ultrastar 6TB SATA3 drive for media. This PC has tons of connectivity with ports for video displays, Thunderbolt 3, USB-C, and USB 3. The rest was typical for any PC: sound card, ethernet, wifi, DVD-RW, etc. This unit without a display costs slightly over $5K USD, including shipping and a Windows 10 license. That price is in line with (or cheaper than) any other robust, high-performance workstation.
If we follow Steve Jobs' analogy that PCs are like trucks, then this is the Ford F-350 of workstations. The unit is a tad bigger and heavier than an older Mac Pro tower. It's built into an all-metal Fractal Design case with sound dampening and efficient cooling, resulting in the quietest workstation I've ever used - even the few times when the fans revved up. There's plenty of internal space for future expansion, such as additional hard drives, GPUs, i/o card, etc.
For anyone fretting about a shift from macOS to Windows, setting up this system couldn't have been simpler. Puget installs a professional build of Windows 10 without all of the junk software most PC makers put there. After connecting my devices, I was up and running in less than an hour, including software installation for Adobe CC, Resolve, Chrome, MacDrive, etc. That's a very 'Apple-like' experience and something you can't touch if you built your own PC.
The proof is in the pudding
Professional users want hardware and software to fade away so they can fluidly concentrate on the creative process. I was working with 4K media and mixed codecs in Premiere Pro, After Effects, and Resolve. The Puget PC more than lived up to its reputation. It was quiet, media handling was smooth, and Premiere and Resolve timelines could play without hiccups. In short, you can stay in the zone without the system creating distractions.
I don't work as often with RED camera raw files; however, I did load up original footage from an indie film onto the fastest SSD. This was 4K REDCODE media in a 4K timeline in Premiere Pro. Adobe gives you access to the raw settings, in addition to Premiere's Lumetri color correction controls. The playback was smooth as silk at full timeline resolution. Even adding Lumetri creative LUTs, dissolves, and slow motion with optical flow processing did not impede real-time playback at full resolution. No dropped frames!
The second concern is rendering and exporting. The RTX 2080 Ti is an Nvidia card that offers CUDA processing, a proprietary Nvidia technology. So, how fast is the system? There are many variables, of course, such as scaling, filters, color correction, and codecs. When I tested the export of a single 4K Alexa clip from a 1080p Premiere Pro timeline, the export times were nearly the same between this PC and an eight-core 2013 Mac Pro. But you can't tell much from such a simple test.
To push Premiere Pro, I used a nine minute 1080p travelogue episode containing mostly 4K camera files. I compared export times for ProRes (new on Windows with Adobe CC apps) and Avid DNx between this PC and the Mac Pro (through Adobe Media Encoder). ProRes exports were faster than DNxHD and the PC exports were faster than on the Mac, although comparative times tended to be within a minute of each other. The picture was different when comparing H.264 exports using the Vimeo Full HD preset. In that test, the PC export was approximately 75% faster.
The biggest performance improvements were demonstrated in After Effects and Resolve. I used Puget Systems' After Effects Benchmark, which includes a series of compositions that test effects, tracking, keys, caustics, 3D text, and more (based on Video Copilot's tutorials). The Puget PC trounced the Mac Pro in this test. The PC scored a total of 969.5 points versus the Mac's 535 out of a possible maximum score of 1,000. Resolve was even more dramatic with the graded nine-minute-long sequence sent from Premiere Pro. Export times bested the Mac Pro by more than 2.5x for DNxHD and 6x for H.264.
Conclusion
Mac vs. PC comparisons are inevitable when discussing creative workstations. Ultimately it gets down to preference - the OS, the ecosystem, and hardware options. But if you want the ultimate selection of performance hardware and to preserve future expandability, then a custom-built PC is currently the best solution. For straight-forward editing, both platforms will serve you well. But if you need to push performance in After Effects or Resolve, then Windows-based solutions offer the edge today. Custom systems, like those from Puget Systems, are designed with our needs in mind. That's something you don't necessarily get from a mainline PC maker. This workstation is a future-proof, no-compromise system that makes the switch from Mac to PC an easy and graceful transition - and with power to space.
Tags: Post & VFX