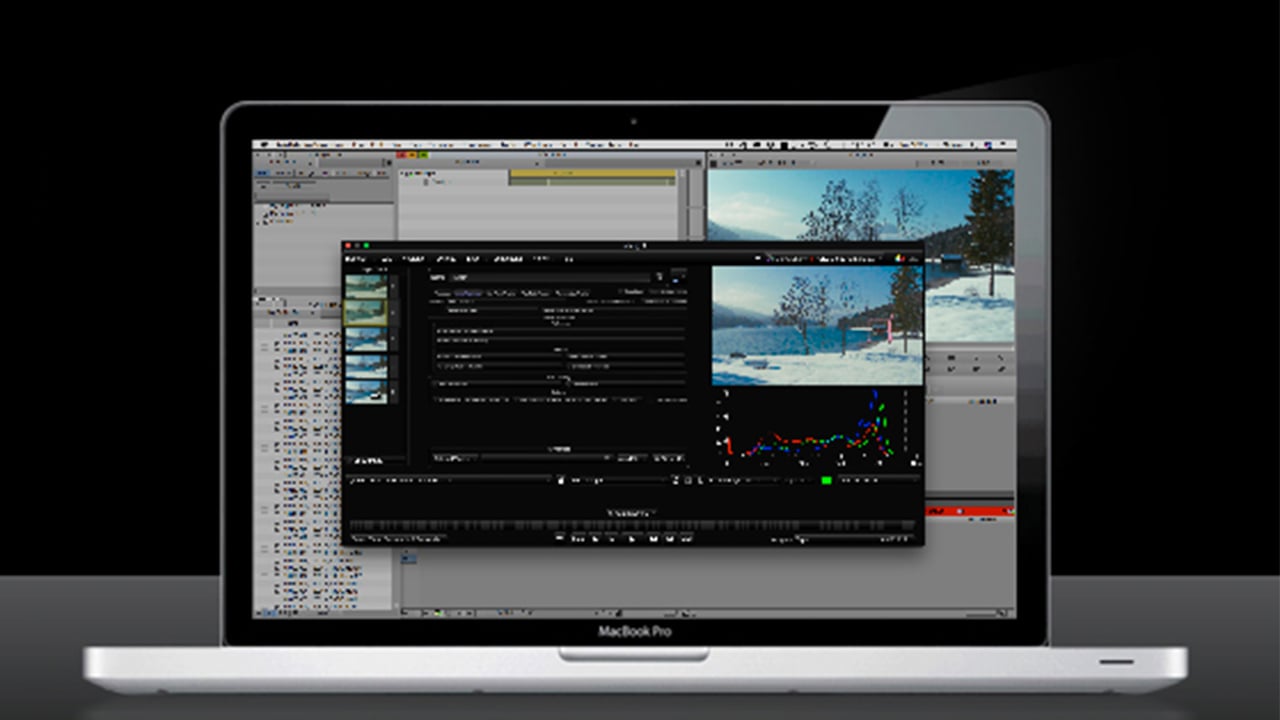 The powerful Baselight Editions V5 has just been released for Avid Media Composer, and it boasts some very powerful features.
Filmlight has just released Baselight Editions for Avid Media Composer version 5, a complete colour grading suite that runs within an AVX plug-in. If you currently do any colour work within Avid, roundtrip to another suite of tools, or use Symphony, Baselight Editions is well worth investigating. The software is fully compatible with all other Filmlight products including Prelight for onset colour monitoring, Daylight for dailies creation, Baselight for final colour correction, as well as Editions versions for Flame and Nuke.
At the heart of the Baselight workflow is metadata management, as well as the BLG interchange format. If you create dailies using Daylight you can connect your grades from dailies into your Avid edit by means of an AAF. Assuming all of your production media has unique filenames and timecode, Baselight Editions will automatically apply the corresponding dailies colour grade to the appropriate clips within your Avid sequence. These looks can then be sent to the full version of Baselight outside of the Avid as well, also via AAF. This can work the other way around too, starting with a full Baselight system the Colourist can set dailies looks, which can be sent to Daylight for dailies rendering, and then onto Baselight Editions for Avid to incorporate final looks within the edit. This allows DITs, Editors, and Colourists to all work with the latest versions of colour grades at every point in the post production chain, without the need to render media.
Using the plugin
Applying the Baselight Editions AVX plug-in is straightforward. You can either drag and drop the effect onto the clip you want to work on and enter the Baselight interface from the effects palette. The Baselight effect functions like any other plug-in in the effects palette, so you can drag and drop your Baselight grades into a bin, and then apply that preset onto any other shot. Alternatively, you can apply the Baselight Editions plug-in as an adjustment layer across multiple clips to quickly set a look for an entire scene.. Lastly, you can initially apply the Baselight plug-in as an adjustment layer, and then have Baselight automatically cut up the filler to align with each edit point in the sequence using a tool called subdivide, saving you from having to manually apply the plug-in in its own instance to each individual clip. Another new feature: you can now jump between shots within the Baselight window without having to jump back into the Media Composer timeline.
Once inside the Baselight plugin you will be greeted to a slick interface with a full set of colour grading tools including primaries, secondaries, waveform monitor, shapes, a new perspective tracker, and temporal noise reduction. Avid Symphony is quite long-in-the-tooth so it is not an entirely fair comparison, but within Symphony I cannot think of an easy way to draw a basic mask, track it, and apply a basic primaries colour grade. You can quickly and easily execute all of that very quickly within Baselight. Within the plugin you can use as many layers of tools as you need, the colour layers are independent of the Avid timeline, allowing you the ability to make grades as complex and intricate as you need. This is another defining feature, this isn't a primary colour corrector dropped into a NLE - this is a full-blown suite of tools.
Scratchpad
Reference images can be easily pulled, stored, and recalled using a tool called Scratchpad. This is essential for matching shots within a scene (and incredibly frustrating working with colour tools that don't allow this!). The system also supports the Avid Artist Color, and Tangent Element and Wave panels, JL Cooper, as well as Filmlight's own Slate control surface to offer hands-on control that is deeply integrated into the application.
What really strikes me as a unique feature in the Baselight ecosystem is the BLG format. All though the image format itself is proprietary, there are plugins available for both Avid Media Composer and The Foundry Nuke to read BLG grades, and even render out media with the grades applied, without the need to purchase anything. This would be useful if you worked in a small studio with three or four editors, and maybe one vfx artist. Only one license of Baselight Editions would be required to create colour grades, the results can be easily distributed to all other members of the team and have render access. Since BLGs are software based grades, you do not need to render graded media at any point in the chain to send looks between departments, effectively killing a "round-trip" workflow.
Baselight Editions has been available for a number of years now, but the new features found in version 5 offer a lot of additional functionality. Pricing is extremely reasonable at $995 USD given the high cost of the full version of Baselight, and especially considering the vast majority of tools are to be found in either platform.