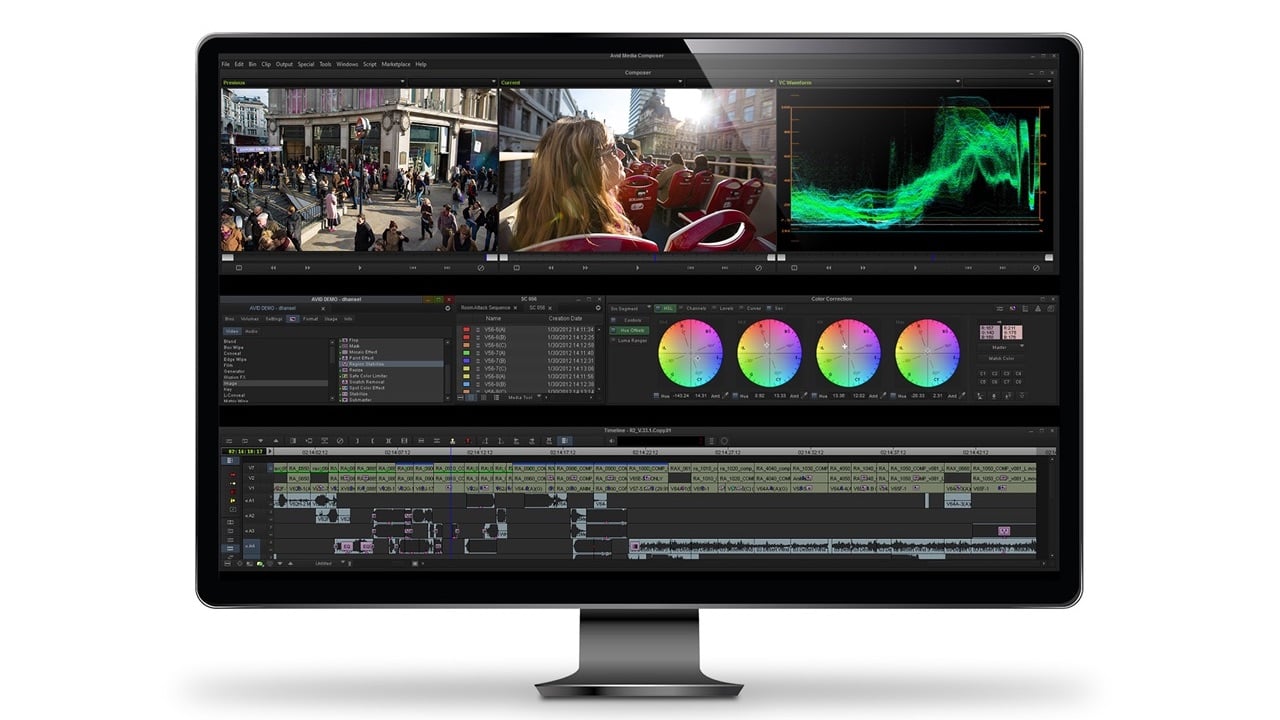 It was one of the original NLEs and it has industry support like no other. Avid's Media Composer is still a world leading editing system. Mark Andrew Job takes a look at its legacy, and how it has remained relevant in today's ever-changing media landscape
What has 29 years of innovation, 1 OSCAR, 3 Emmys, and thousands of independent filmmakers, television editors, and American Cinema Editors (ACE), as its users? There can only be one answer - Avid Technology's Media Composer has matured into a top industry editing application, which can scale up or down depending on the size of production requirements.
A Cross-Platform Application
Media Composer will work equally well on both macOS or Windows PCs. In my honest opinion as an end user, the convenience of being able to employ the exact same application on different computers running two completely different operating systems has many practical advantages. Many freelance independent filmmakers, like myself, don't just need to edit a production, then hand off the completed sequence to another department or facility for delivery – they require to perform an in-house delivery of the completed movie through a finishing process in what is often a multi-format and multi-media combination. The challenge in meeting this varied requirement is often having to switch between what may be a favourite third-party DVD authoring solution, which only works in a Windows environment, then via a network send another copy of the same edited sequence to a web encoding, or digital compositing application, which is set up on a Mac computer platform.
For example, I have often edited using Media Composer running on Windows, then exported the sequence to my iMac where I'm running Adobe After Effects, performing some vector text 2D and 3D animation title overlays and then round-tripping that modified edit output back into Media Composer running on the same Mac platform and tweaking the sequence further. Media Composer will even play nice with an edited sequence which is passed back and forth between two different versions of Media Composer – even if the different version is running on a different operating system. By being able to exchange sequences across Mac and PC platforms I have found the flexibility I need to work more efficiently.
The Performance of a desktop application running on the convenience of a laptop
When I began to use Media Composer in 2007, I came to the application from a large Windows-based desktop editing bay environment. As time went on, our needs evolved into quickly editing, finishing and delivering completed projects to customers located in different environments. I found the simplest way of addressing this requirement was to become portable and take the edit directly to the customer for final approval. Thus, I became a laptop editor. I remember, back in the day, I was getting chuckles and incredulity from my fellow editors, claiming I was sacrificing valuable editing application performance by choosing to edit almost exclusively on a laptop. I can honestly attest to the excellent performance I get from Media Composer while cutting on either a Windows PC or, now, on my Early 2011 Mac Book Pro 17 inch laptop. Media Composer has never let me down while cutting a production on a laptop – even if working with long timelines.
It is interesting to note the significant accomplishment by Australian editor Paul Machliss, who edited the action movie Baby Driver for Director Edgar Wright on his 15inch Mac Book Pro while on location as the movie was being shot! Not only do I consider my choice to edit almost completely on a laptop computer with Media Composer to be vindicated, but I also think taking the approach of assembling sequences while they are being photographed to be a novel approach to making a good and successful feature film. If the results are any indication, I believe we will be seeing many more editors interested in working daily on laptops in varying locations and production environments.
Ready for the Big Time
Perhaps one of the most underrated aspects of Media Composer is its ability to scale up or down depending on the size of the production which needs to be edited. In the strongest sense of the word, Avid Media Composer is an enterprise application. Whether you are a one-person boutique operation, a major television network, or a Hollywood-level feature film production, Media Composer will scale to the needs of the project needing to be edited. Many feature films are cut in collaborative environments, where the main editor is working in one location, while several other departments or related facilities are also working from multiple locations even located on other continents!
A typical example of such an edit would be a feature film post production whereby the editor's timeline is open and shared by the visual effects departments. The editor has open bins in Media Composer where effects shots are required to be inserted in various scenes being assembled on the timeline. During the day, as work is performed, new shots are suddenly appearing in the bins which are coming from the various different departments sharing the edit. The editor then simply inserts the necessary effect shots into the scene where required as they become available. Avid Technology's designs and sells extremely sophisticated solutions allowing such types of collaborative post production editing environments if the client's needs require it.
An editing application that reads the script
Unlike most other digital content creation software out there, Media Composer has the ability to actually import a script, read it, and automatically present all takes associated with a specific scene or even a specific line of dialogue in any one scene! Therefore, television editors can rapidly automate the assembly of a new episode and present a cut to the director, often within a matter of hours, on a half hour or one hour episodic TV series. The amount of time, money, and anxiety saved by using an editing application with such an ability simply cannot be overstated.
Media Composer accomplishes this amazing feat by using a patented phonetical indexing technology, called "Script Sync." Script Sync can function, based on a particular scene number, page number, or dialogue line as a reference. Script Sync is an option which can be purchased and added to Media Composer if needed.
The bottom line from one editor to another
Avid Media Composer is a mature product, which has directly evolved out of the need for editors to put together feature films, documentaries, episodic television and news magazine programs. Anyone interested in working as a professional editor with TV or Cinema needs to have a working knowledge of the Avid Media Composer application. I have used Media Composer for over a decade. I can honestly say it is a mission-critical stand and deliver editing tool, which has made me money and helped me establish an independent freelance production and post production multi-media boutique operation. Never a day goes by where I don't find a new way to use a feature in Media Composer and in the process become a better communicator through film and digital multi-media.
Tags: Post & VFX