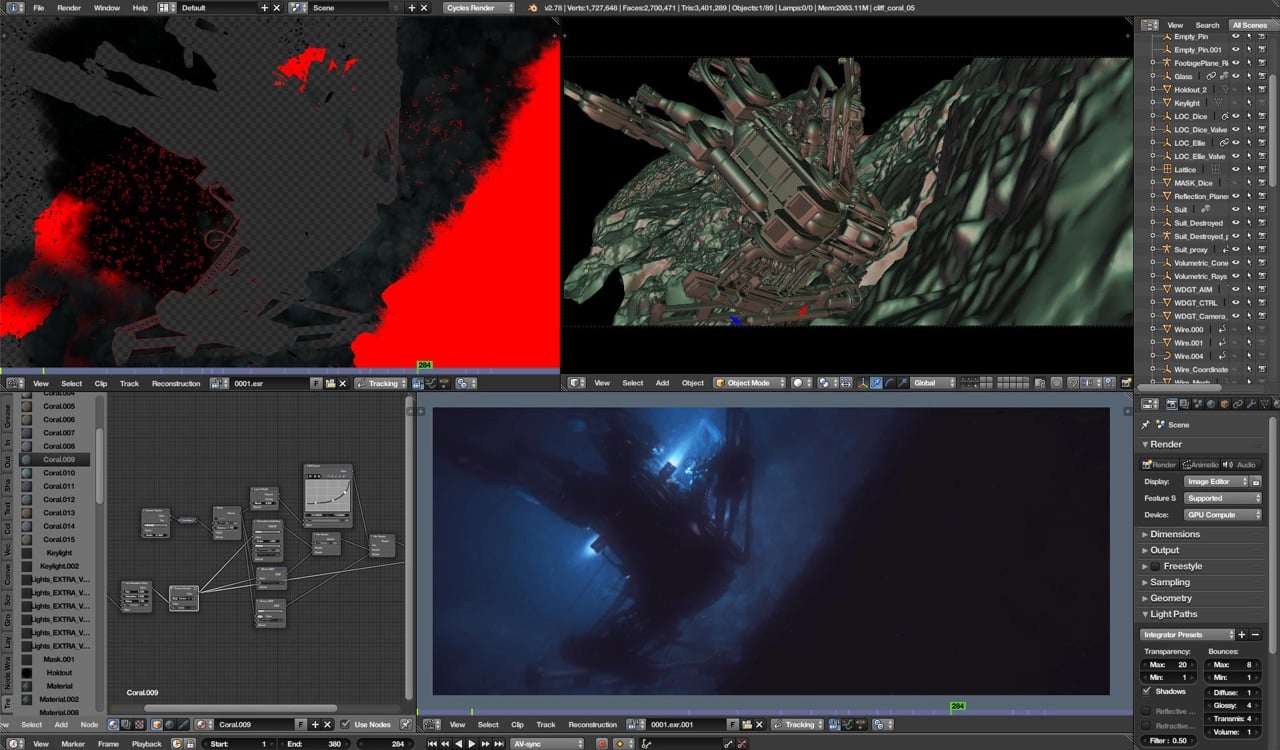 The open source 3D content creation application Blender has reached another milestone. Version 2.79 will be the last in the 2.7x series and thus the current stable release for months to come. It features a shadow catcher, denoiser and the "Disney BSDF" for Cycles, lots of fixes for Alembic, Grease Pencil improvements and much more. By Gottfried Hofmann.
When rendering still images with Cycles, the new denoiser can help you get away with way fewer samples than before. That translates into much shorter render times, but not yet for animations. A denoising algorithm that takes the previous frames into account and thus works for animations without flicker is planned for a future version, though.
The shadow catcher makes integrating real-world footage with CG elements rendered in Cycles a lot easier and the "Principled BDSF" (also know as "Disney BSDF") allows Cycles to dock right into existing PBR workflows.
The OpenCL backend of Cycles, which is used when rendering on AMD cards, got support for Subsurface Scattering (SSS) and volumetrics and optimisations for transparent shadows, which means it is almost on par with CUDA now. The most common bugs have also been fixed and the optimal tile size gets computed automatically now. The tiles also show up when rendering and lots of optimisations resulted in a big speed boost.
The new 3D OCIO configuration "Filmic" combines the ACES colour space with a film-like desaturation of colours when brightness increases. For most artists, it's the new de-facto-standard when lighting photorealistic scenes.
Quite a few bugs have been fixed regarding the import and export in the Alembic format which allows Blender to integrate better into workflows featuring Houdini and other programs with Alembic support.
The interface now automatically scales when the display device has a high resolution like 4K. On Windows, the automatic scaling also works when several devices with different resolutions are used. Yet, it is still possible to manually tweak the scaling of the interface.
For users who make drastic changes to the Blender interface, the new concept of "Templates" allows storing all those changes in one folder that can be loaded in another instance of Blender, applying those changes while keeping the original configuration intact. This includes add-ons, which means that via templates, Blender can be changed into a completely different program.
The video encoding panel got an overhaul and clearly separates codecs from containers now. When encoding into H.264, the interface exposes more options than before like, for example, encoding speed.
The Grease Pencil tool, which is used to draw strokes directly in 3D space, got support for interpolation between frames. It supports both the interpolation curves that can be used for regular animations and user-defined ones.
The surface deforming modifier allows to deform the surface of one mesh based on another one. The main use case is a cloth simulation where a low detail proxy mesh can be simulated first. In a second step, the result of the simulation can then be applied to the high detail one using the surface deform modifier.
Since Blender 2.79 will be the last release before the 2.8x series, which is still in the early stages of development, a big chunk of add-ons that were awaiting integration got in. In total, a whopping 22 new add-ons are shipped with 2.79, including gems like Dynamic Sky which creates a procedural sky with clouds for Cycles and Magic UV to boost the UV unwrapping process.
In addition to the aforementioned features, Blender 2.79 features a lot of smaller improvements and workflow enhancements and more than 700 bugs have been fixed that existed in previous versions. It is available for Windows, Mac OS and Linux at http://www.blender.org/download/.