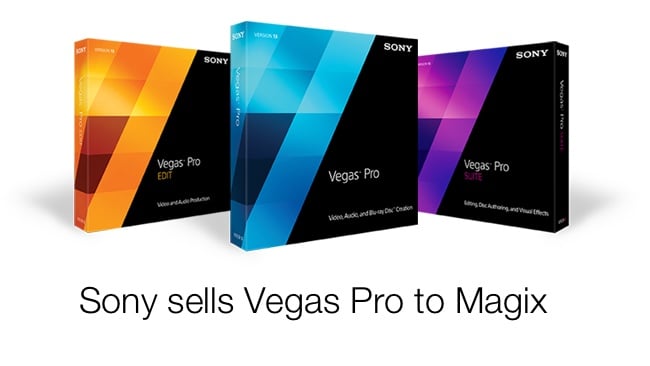 Well, this is a surprise, but with hindsight, maybe not so much. Sony has sold its suite of media products (Sony Vegas, Movie Studio, Sound Forge and Acid) to German software developer Magix.
There's been no sign of activity with the Sony products for long enough now that something had to change: either the products were going to be dropped altogether or sold, as part of Sony's ongoing simplification of its business units.
Vegas has a fiercely loyal user base, and in a sea of similar-looking NLEs, it stands out as something genuinely different.
Unusually, it started out as a multi-track audio editor - a very good one - alongside the legendary Sound Forge. Developed originally by Wisconsin-based Sonic Foundry, and bought by Sony in 2006, its initially tentative transition into a video editor gathered pace. The current version is an extremely powerful video editor that retains its unusually good audio talents.
Vegas is popular for many reasons, not least of which was that it is completely agnostic to video formats. Often, the quickest way to see whether a video file is valid is to drop it onto a Vegas timeline.
Vegas's new owner, Magix, says that it will continue to develop the product, but we have to wonder how they're going to do that, because it's a very mature piece of code now and one suspects that one of Sony's reasons for moving it on is that it might have become difficult to maintain. Sony's new Catalyst suite of software has a much younger code-base which works very well with modern cameras and formats, but which will take a while before it reaches Vegas's level of virtuosity.
Vegas' resemblance to an audio editor eased the transition for many audio specialists into video. It is the most "drag and drop" of all NLEs and making a video dissolve is as simple as overlapping two clips - just like with audio.
Also included in the sale is Sound Forge - the seminal Windows-based (and latterly Mac too) audio editor, and Acid, which can lay claim to being the first ever loop-based compositional tool. Acid developed into a very comprehensive DAW and will be sorely missed too.
Here's Magix's press release in full below, and we have updates with further comments from both Magix and Sony here: Update on the sale of Sony Vegas to Magix (Further update: Sony's own statement).
----------------------------------------------------------------------
MAGIX Acquires Sony Creative Software products
Berlin, May 24, 2016 – MAGIX Software GmbH, a German software and app provider, is acquiring a majority of the Sony Creative Software (SCS) products.
MAGIX Software GmbH is a leading creator of video, music, and photo-editing software and apps in Europe and is already well established in the US market. By purchasing Sony Creative Software products, including the full Vegas Pro, Movie Studio, Sound Forge Pro, and ACID Pro product lines, MAGIX is further cementing its position in the market and accelerating its international growth. The SCS Catalyst Browse and Catalyst Production Suite will continue to be developed by Sony for professional broadcast and production applications.
"These products from Sony Creative Software are the perfect addition to our portfolio. We have already strengthened our presence in the United States in order to propel development and sales. This autumn, we plan to release new versions of the video-editing programs Vegas Pro and Movie Studio, which are heavily oriented toward the customer requirements of today," says MAGIX CEO Klaus Schmidt.
MAGIX will continue to support all current SCS customers who purchased products from Sony to ensure a seamless end user experience.
About MAGIX
MAGIX is a global provider of software, online services, and digital content for the use of multimedia products and services for general and business communication. Established in 1993, MAGIX offers private and professional users a technologically sophisticated and user-friendly range of products for designing, editing, presenting, and archiving digital photos, videos, music, documents, and websites.
Based on retail sales figures, MAGIX is the market leader in multimedia software in Germany and the other most prominent European markets and is also one of the most successful market players in the United States.
Tags: Post & VFX