The new JMR "Lightning" LTNG-XQ Tower series is the ideal choice for Apple Mac Pro users having only Thunderbolt expansion available, but who want to connect to PCIe peripherals widely used in the digital video, digital cinema, corporate video and production/post production industries.
The LTNG-XQ series is the only four slot Thunderbolt 2 to PCIe desktop and rackmount expander with optional 8-bay RAID storage in the industry that provides:
Two independent Thunderbolt 2 circuit bridges
Quad 20Gb/s Thunderbolt 2 I/O ports
Internal mass storage with its on-board 8-drive RAID subsystem and internal SAS hardware RAID controller.
The JMR "Lightning Tower" provides so much operating bandwidth that applications can utilize all of the 20Gb/s bandwidth available from each Thunderbolt 2 port.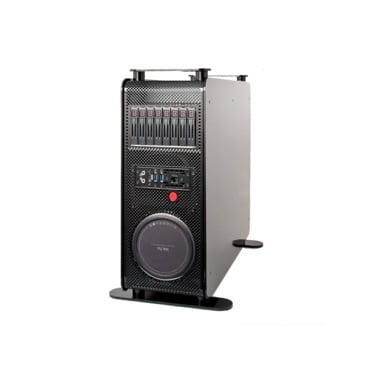 Easy Installation. Flexible Configuration. Extreme Performance.
The model LTNG-XQ-DTMP is a desktop/deskside tower, which quickly and easily converts to a rack mount using an optional rack mount conversion kit.
Installing the Mac Pro computer into the tower can be done in a few minutes, using only a Phillips screwdriver. All connections are internally routed to a Breakout Box (BoB) which is prewired, and provides GbE, USB3, HDMI, speaker and headphone connections to either the unit's front or rear panel.
The tower provides a 4-slot PCIe expander internally for installation of up to four Thunderbolt-compatible PCIe cards of any manufacture, and the PCIe expander is serviced by a Thunderbolt bridge with four Thunderbolt-2 I/O connections. Two of these connect to two separate Thunderbolt 2 bus ports on the Mac Pro (thus using two out of the three Thunderbolt 2 buses the Mac Pro provides, so you have two separate 20Gb/s data paths and not just one, like in competing products) It also provides two Thunderbolt 2 bus expansion ports at the rear panel for daisy-chaining Thunderbolt devices.
A big advantage of using two Thunderbolt 2 20Gb/s buses is that each internally connects to two PCIe slots, so peripherals in all four slots don't need to share the limited available bandwidth of just one Thunderbolt 2 bus. This allows peripherals to run faster and more efficiently.
The internal PCIe ports are easily accessed by sliding off the side cover of the tower which reveals all the internals. At that point, installing, removing or exchanging PCIe cards is just like in a computer or server: Plug in the card, install a screw in the bracket, and you're done.
Besides the dual-Thunderbolt 2 bus support and the speed that provides, and the ease of installation of the Mac Pro, other unique features and user advantages are:
The four PCIe slots are full-length, full-height, and can accommodate any Thunderbolt-compatible card. 

The tower has a standard internal "boost cooling" fan mounted right behind the Mac Pro's air outlet, and presses up against the computer (rubber gasket to protect the finish) to increase the air flow through it without adding any noticeable noise.
The power supply is powerful at 460 Watts and is independent of the Mac Pro itself, which has its own power supply. The 460W unit provides power to the Thunderbolt controller, the four PCIe slots, and the optional 8-drive RAID storage subsystem.
Once the Mac Pro is installed, you really never need to touch it again. Its on/off power switch is controlled by a front-panel button on the tower, and all connections are internal but very easily accessed via a sliding side panel (which becomes a "top" panel if rack mounted).
Converting the tower to a 4U rackmount takes two minutes. Once converted, unlike the old Mac Pro towers (5.1 and earlier), it actually does fit horizontally in a conventional 19" rack cabinet. Perfect for machine rooms, D.I. carts, and mobile processing labs.
This unit is also available with an 8-bay "disk ready" RAID subsystem, as model LTNG-XQ-8-DTMP. The eight disk drive bays fit all 2.5" disk drives up to 15mm high, either rotating or SSD (or hybrids) of any make. The RAID model includes a built-in ATTO 6Gb SAS RAID controller, pre-configured, occupying one of the four PCIe slots. This model, then, has three more available PCIe expansion slots. Using 8 installed SSDs results in R/W data transfers of up to 1,800 MB/s.
Its construction is aluminium with a glossy black powder coat finish, exactly like the Mac Pro. It's not heavy, easy to carry about, and very quiet in operation – suitable for on-set use. Light Iron, a division of Panavision, uses this very product in their new OUTPOST mobile processing lab, as pictured.
Available from JMR ELECTRONICS INC. and authorized resellers. See the Lightning product line at the upcoming NAB SHOW 2016, Las Vegas Convention Center booth #SL11517 (Post Production Area).