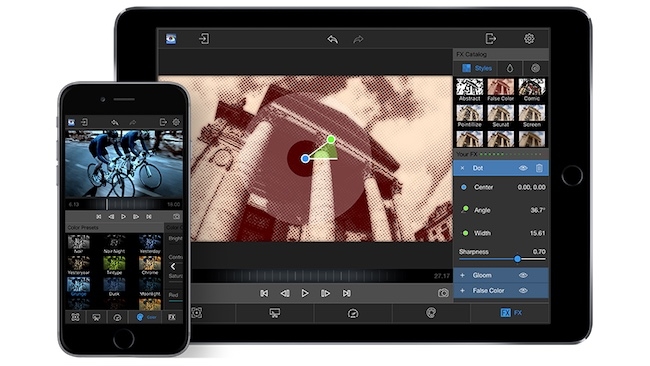 A new app from Utah's Luma Touch promises some interestingly powerful vfx layering and colour correcting capabilities to iOS. The price? How does $4.99 strike you?
We've written before about the rather dramatic change in software prices over the past few decades and how we've gone from an era where a seat of, say, Maya would cost the price of a family car to one where it's Pro version is now available on yearly subscription for the price of a fairly top-end racing bike (£1170 since you ask — and if that's too much, there's also an impressively full-featured LT version for £185 a year).
The changes in the industry and the changes in the business models underpinning it have been profound as a consequence, and the world of grading has not been immune. A lot of it is Blackmagic's fault. It purchased DaVinci in September 2009 and suddenly a product that was corralled jealously by high end post houses was available to the mass market for, well, for free.
Luma Touch's LumaFX is not quite that cheap, but the company's second suite of apps does extend what can be achieved on iOS by adding colour correction as well as infinite combinations of blurs, distortions and styles to the features already found in the company's first app, LumaClip (which provided aspect ratio cropping, straightening, trimming and slow-motion/ fast-motion in both forward and reverse).
There might be more of this sort of thing to come too, the company pointing to the capabilities of its Spry Engine framework for powering video apps on iOS and OSX. Spry includes a full object model, powerful compositing runtime with multiple effects per clip, and a large complement of fully customizable UI components for building audio-video applications. And it's available for licensing by third parties looking to develop video apps speedily.
Terri Morgan, the co-founder of Luma Touch and Designer of LumaFX, has the money quote relating to all of this. "This App is proof that it's no longer about whether you are a professional or a beginner in the world of video," she says. "We've reached a technology threshold where everyone can understand and benefit from a well-designed set of powerful and stable features."
And everyone can afford it too.