2015's Sight, Sound and Story conference at the Manhattan Edit Workshop provided some real nuggets of wisdom that can be applied to every edit room.
Building upon previous years of success, Sight, Sound & Story returned to New York; its mission to explore the art of visual storytelling and create, as Manhattan Edit Workshop owner Josh Apter puts it: "A familiar enclave for the creative exchange of ideas and a celebration of the collaborative process of making movies and television."
Two new panels covering unscripted television and documentary films were big additions to Sight, Sound & Story this year. In total, there were four distinct panels, as separate panels on narrative television and feature films rounded out the list.
The moderated question and answer panels offered a unique glimpse into the world of big-budget editing rooms. Multiple versions of the same scene were screened at various points in the editing process, starting from the first assembly to the final version that made it to air/screen.
While a wealth of information was presented (a majority of it dealing directly with improving the initial edits), we were able to assemble some golden nuggets of wisdom out of the proceedings that apply to every edit room.
1. "Sometimes you have to make something out of nothing."
This was mainly discussed as an issue most commonly encountered when editing reality television: a scene falls flat due to a general lack of energy or drama or, even worse, nothing happens at all.
Unscripted/reality TV editors Alanna Yudin, Joe Schuck and Julie "Bob" Lombardi discussed their methods of solving this problem by "fixing reality" in the edit.
While each editor handled the approach differently, there was an unspoken consensus that in order to fix these problems...
2. "Good pacing comes from your characters colliding with the intention of the scene."
Narrative Television Panel at Sight, Sound & Story 2015
The biggest take away from editors Fabienne Bouville, Sidney Wolinsky and Jesse Averna centered around balancing several factors of a dramatic scene: action, pacing, subtext and timing as required by network.
This is a much deeper subject than can be fully explored here, but the core of it comes down to exploring the dramatic relationship between the character(s) at hand and the action of the scene. The speed of edits, depth of sound mix or choice in music all should build towards the intention of the scene through the lens of those experiencing the events.
3. "Projects take unexpected turns: Embrace it."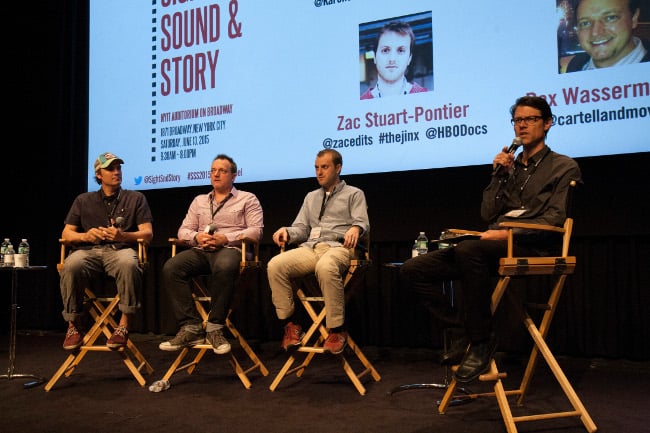 Documentary Feature Panel at Sight, Sound & Story 2015
The feature documentary panel had fascinating examples of a film taking on a life of it's own and how the filmmakers embraced the wild turns.
Editor Andy Grieve discussed his time working on not one, but two films about cyclist Lance Armstrong directed by Alex Gibney. The first film featured a 'come back' theme regarding Armstrong's return from retirement entitled The Road Back.
Although completed, the film was quickly shelved as issues of Armstrong's doping came to light. Gibney and Grieve opened up the original film, shooting additional interviews and re-contextualizing scenes already cut for The Road Back. From this, they created The Armstrong Lie, a film documenting the doping scandal that left Armstrong stripped of his Tour de France titles and banned from the sport of cycling.
This is a radical departure from the filmmaker's original intent. The lesson here is not only to keep your eyes and ears open to what you're film is trying to say, but that flexibility is an incredibly strong ally in the editing room.
4. "In order to speed up, slow down. You have to forget about all the pressures around you. Take it one cut at at time."
[L-R] William Goldenberg and Bobbie O'Steen - Narrative Feature Panel at Sight, Sound & Story 2015
The narrative feature block offered an interesting double-feature. Bobbie O'Steen, acclaimed writer of Cut to the Chase and The Invisible Cut, interviewed Oscar Winning editor William Goldenberg.
Goldenberg offered the earnest advice above, to which there is not much more to add.
While it certainly applies to creating a stalwart approach to cutting, there's a little subtext here as well. It's easy to lose sight of the big picture and not just the one on the big screen.
Editing (or making a film in general) is a complex, collaborative task that often invites a fair amount of chaos, which can often lead to strains in both personal and professional relationships.
"One cut at a time" is a wonderful reminder of the patience involved in the creative process.