Guest author Daniel G. Roberts breaks down the value of a new iMac 5K against a Mac Pro system, in terms of Geekbench scores and specs.
Apple has unleashed their first iMac with Retina 5K, and while we hope the company will give us a 5K Thunderbolt display at some point, we're getting a powerful all-in-one computer, with an ultra high definition display, at a reasonable cost. And compare that to the monster Mac Pro, which comes with a hefty price tag that could break the bank.
We already discussed what's inside the new 5K iMac and, starting at $2499 U.S., it can give pause to users, including filmmakers, editors, animators, and graphic artists who were hoping to jump into a powerful Mac Pro. Even the base model, quad-core Mac Pro starts at $2999 U.S., and if you're an editor, add a $2500 Dell 5K monitor. That setup already tips the scales at close to $6000, not including upgrades, AppleCare, taxes, and more.
What caught our eyes here at RedShark News was a recent 64-bit Geekbench 3 speed test by Primate Labs' John Poole, that highlighted the speed of the base model, whose features include:
3.5 GHz quad-core Intel Core i5 processor, Turbo Boost up to 3.9 GHz
8 GB RAM
1 TB Fusion Drive
AMD Radeon R9 M290X with 2 GB video memory
The results were impressive, getting a single-core performance test score of 3883, and a multi-core test score of 12421. It wasn't quite as fast as the late-2013, higher-end iMac 21.5-inch and 27-inch models, and the number one spot was an upgraded (via Apple) 2014 iMac, featuring a4.0 GHz quad-core Intel Core i7 processor, Turbo Boost up to 4.4 GHz.
Here are the full test scores, courtesy of Primate Labs:
The RAM, drive, and GPU of the i7 4.0 GHz iMac are unknown, but the results are astounding: A single-core performance test score of 4438, and a multi-core performance test score of 16407. Those Geekbench 3 scores actually beat out all of the Mac Pros tested in single-core configurations, and, more importantly, it beats $2999 quad-core late-2013 Mac Pro in the multi-core test, courtesy of Primate Labs: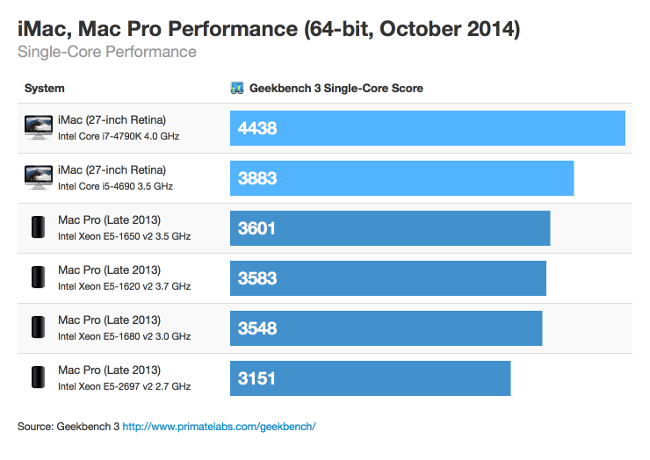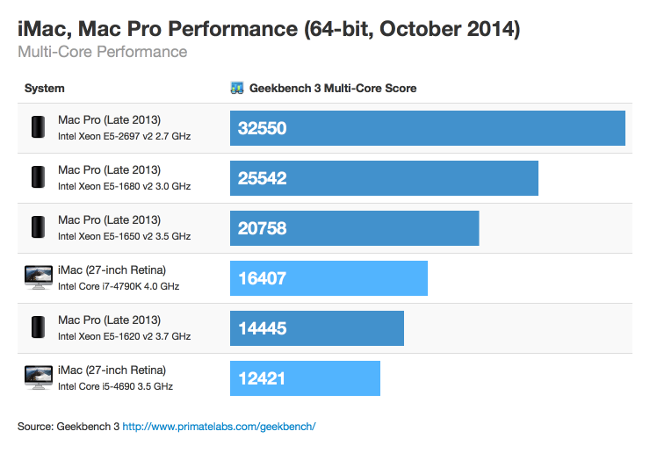 What Does This All Mean?
Fancy numbers are great and all, but what does this mean for a filmmaker or editor, looking to upgrade their Mac, but not bust the bank? Well, consider the 4.0 GHz i7 iMac with 5K Retina display; even though we don't know anything else about the system, it could be nearly-maxed out with 32 GB of RAM and an AMD Radeon R9 M295X with 4 GB video memory. The 1 TB Fusion Drive doesn't get upgraded in this instance, and the total price, not including taxes, AppleCare, and possible shipping costs? $3599 U.S.
That's a little bit faster performance, per Geekbench 3 speed tests, than a base model Mac Pro (3.7 GHz Quad-Core Intel Xeon E5 processor), 12 GB RAM, Dual AMD FirePro D300 with 3GB VRAM each, and 256 GB PCIe flash, priced at $2999. Add in a 4K monitor from Dell priced at $699, and it's about the same cost as that i7 iMac we priced out above, $3599. Of course, being editors, we'll want more CPU and GPU power, RAM, and that 5K Dell display, and the Mac Pro (with monitor) could easily approach $8000 U.S.
Though non-linear editing (NLE), graphics, and animation programs can take better advantage of more processors ( like the monsterous 12-core Mac Pro), a filmmaker's bank account will take a much bigger hit. Even at $2500, the base model iMac with Retina 5K display gives a lot of power, and the RAM can be easily upgraded from a third-party company. And a 1 TB Fusion drive is pretty good as a system drive, as most editors will store video and graphics on a separate, external Thunderbolt drive.
What saving money with a powerful iMac with Retina 5K display does is gives you a fast machine to edit HD via Premiere Pro CC, Lightworks, Final Cut Pro X, and Avid, plus all the great graphics and animation apps, like Photoshop and After Effects. And with the money you saved not going the Mac Pro route, you can use it to buy software and even a new camera, too.
You can read John Poole's blog about the Geekbench 3 test results HERE.
Tags: Post & VFX