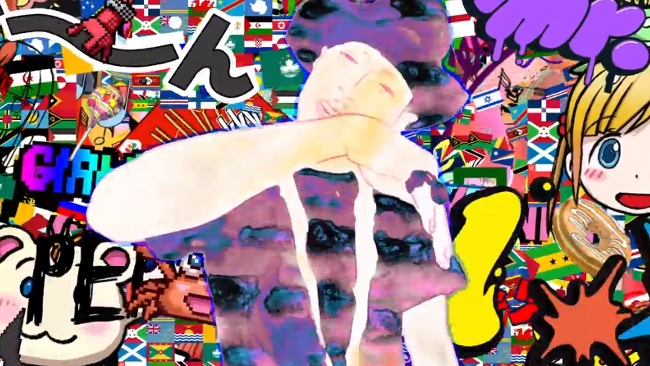 Superstar Pharrell Williams pushes boundaries with his music, so it couldn't come as a surprise that he would call on the talents of Takashi Murakami and Edgar Wright for a recent spate of lush, epic, and thoroughly entertaining music videos.
It seems that Pharrell Williams is everywhere these days, and with good reason. Formerly one-half of the hip-hop producing duo The Neptunes that dominated the scene in the late 90s and early 2000s, Williams has branched out as of late, building a tremendous solo career as both a producer and a singer. The trademark inventiveness of 'The Neptune Sound' is on full display in Williams solo work, as his blend of rap, R&B, and odes to old school performers that blend seamlessly, and in fact, joyfully with an ecstatic collage of crisp electronica and soulful instrumentation.
These past couple of weeks have seen Williams release two music videos, which isn't really news, but when you look at the all-star talent behind these wonderful little gems, it's enough to sit up in attention and hit the play button (more than once).
The video for It Girl, which was released in support of Williams' recent full length album G I R L, was produced by famed Japanese contemporary artist Takashi Murakami, who is one of the most influential figures in the development of the anime style over his 20-plus year career. Murakami articulated the Superflat theory, which eschews the separation of foreground and background that is typical of Western art for the layering of two-dimensional graphic panels, an artistic trait that runs through the entirety of the Japanese artistic tradition, from early illustrations to the manga and anime of today. Superflat, as conveyed by Murakami, has a political dimension as a response to post-WWII Japanese society, as social classes had literally become flattened, erasing the distinction between high and low culture. This intermingling and juxtaposition of high and low art is on full display in the video for It Girl, as it effortlessly marries dense, graphically complex sections with an 8-bit video game aesthetic for a visual presentation that is nostalgically playful yet fresh and alive, as if it's communicating that nostalgia is an occurrence of the present, not the past, and something that can be built upon and made into something entirely new.
Gust of Wind places Williams and his collaborators on the track, the French electronica dynamos of Daft Punk, in a live action world that is just as fanciful as Murakami's vision in illustration. The brainchild of Edgar Wright, the director behind such films as Shaun of the Dead, Hot Fuzz, and The World's End (three enormously entertaining and visually inventive films), Gust of Wind evokes Robert Palmer's classic 80s video Simply Irresistible, with its assembly-line of models, but transports the action to the forests of Crouching Tiger, Hidden Dragon (albeit without the swords). Edgar Wright is known for his over-the-top, gory brand of black humor; here, his work is more restrained, yet carries through his sense of whimsy that makes the blood and guts of his films palatable. Gust of Wind may not be the most fun you can have in the woods, but it comes close while remaining suitable for kids.

Whatever you think of Pharrell Williams the musician, as a reader of RedShark, you have to admire his willingness to experiment with how his work is communicated visually and the talent that he attracts, which is nothing short of genius.
Check out the music video for Pharrell Williams' 'It Girl', produced by Takashi Murakami, below. And don't miss the music video for 'Gust of Wind' directed by Edgar Wright on Page Two!
Gust of Wind, directed by Edgar Wright