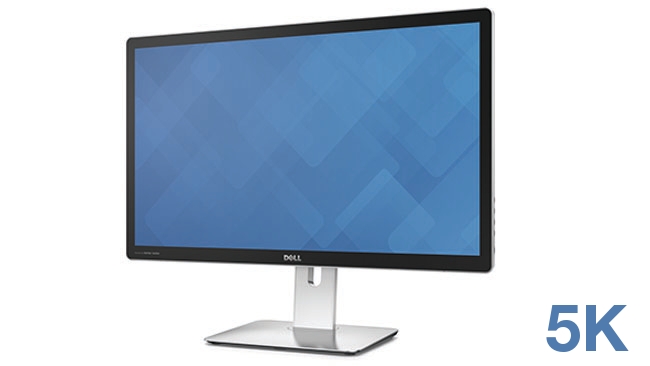 Guest author Daniel G. Roberts reports on Dell's upcoming display made with video editors in mind: the Dell Ultrasharp 27-inch 5K Monitor.
After successfully introducing 4K monitors, ideal for editing ultra high definition video and graphics, and making video games look even better, Dell has now announced an Ultrasharp 27-inch 5K monitor, at 5129 x 2880 resolution, and nearly 15 million pixels. Owning, renting, or looking to buy a 6K RED camera with a DRAGON sensor is starting to sound pretty good.
Pixels Galore
What's interesting about Dell's 5K Ultrasharp display, measured at 27 inches, is that it has almost twice the number of pixels that a UHD monitor has (14,745,600 pixels vs. UP2414Q [24-inch] and P2815Q [28-inch] at 8,294,400 pixels, 3840 x 2160), and about seven times the pixels of an 1080p HD monitor. According to tech site AnandTech, Dell's new Ultrasharp monitor is likely two 2550 x 2880 displays titled to achieve the 5K horizontal. Suffice to say, 5129 x 2880 resolution on a 27-inch UHD monitor will provide some of the clearest images around, but text may be particularly small, as many have reported.
Refreshing?
Details are scarce, as the company mentioned this Ultrasharp monitor during a special Modern Workforce livestream event, but we're hoping the refresh rate at 5K resolution will be better than the 30 Hz featured in the more-affordable $699 Dell P2815Q, which some users say can be tiring while editing video or working on graphics and animation.
Premium Audio
What we have heard from PC Perspective is that the Dell 5K Ultrasharp monitor will have built-in 16W speakers from Harmon Kardon, though editors may want to have separate speakers they can place in specific areas in their edit room. Also, at this resolution, potential buyers will need some serious graphics horsepower, something the new Mac Pro and high-end workhorse Windows-based computers can provide.
When and How Much
The new Dell 5K 27-inch Ultrasharp will debut in the final quarter of the year, at a pricey $2500, so if you're interested, you may want to start saving now. We're going to safely assume other monitor makers who have released 4K monitors, such as ASUS, will announce 5K monitors at some point, perhaps at CES 2015.
As more official details from Dell emerge, we'll update this story. We'll find out more, we expect fairly soon, from Dell directly through Dell.com. If you want to wait for a monitor that surpasses 5K, Sharp has an 8K prototype ultra high definition television at 7680 x 4320 resolution, with just over 33 million pixels. If and when that monster drops, you can bet there will be 8K computer monitors following soon after.