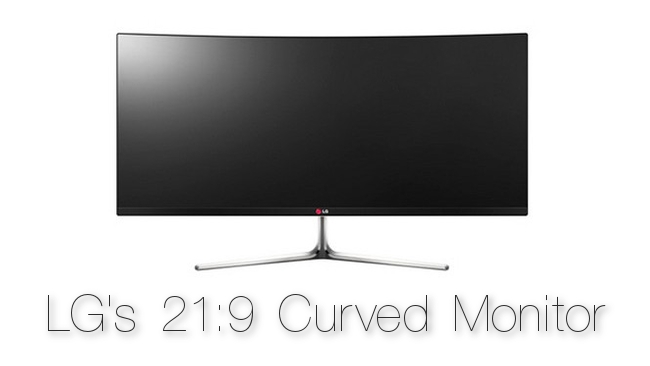 Lately, South Korean electronics giant LG has been on a roll of 'World's First' product announcements. This week, LG expands its ultrawide monitor offerings with the world's first curved 21:9 display.
We first profiled LG's groundbreaking ultrawide monitors back in May (in an article sponsored by LG). The company touted its new 21:9 displays as ideal for video and audio editors, and its easy to see why, as all that horizontal real estate could nullify the need for a second monitor. But having an ultra wide, flat display might be less than ideal, as even multi-display set-ups usually angle the monitors so they can be more easily viewed without much head turning.
Then, LG dropped the world's first curved OLED 4K television, permitting its retail partners to sell the 65" unit for $6995 at launch, $2000 below its MSRP.
It seems the LG has taken these two previous 'World's Firsts' and mashed them together to create yet another. LG has announced a curved, 21:9 ultrawide 34" display. Sadly, like the non-curved version, it falls short of 4K resolution (3440 x 1440), and doesn't feature an OLED screen (opting for IPS LCD instead), but the cost of a similar OLED unit would likely put it out of reach for most freelance editors. And that gentle curve should at least save some editors from neck strain.
In addition, LG is set to unveil it's new Digital Cinema 4K monitor which crams 4096 x 2160 pixels into its 31-inch screen, which is not a world's first, but should be of interest to anyone in the market for a high quality 4K monitor.
Check out the full press release after the page break.
Full press release:
SEOUL, Aug. 18, 2014 — LG Electronics (LG) will be unveiling its newest IPS 21:9 Curved UltraWide Monitor (model 34UC97) and other compelling monitor offerings at IFA 2014 in Berlin, Germany. The world's first monitor to incorporate a curved IPS screen with a 21:9 aspect ratio, the eye-catching 34-inch monitor provides remarkable picture quality and a range of convenient connectivity options. Also to be introduced at IFA 2014 will be the stunning Digital Cinema 4K Monitor (model 31MU97) and the feature-packed Gaming Monitor (model 24GM77), both combining superior performance with modern style and versatile functionality.
LG's flagship IPS 21:9 Curved UltraWide Monitor is a complete monitor solution, equally suited to the needs of professional users and home entertainment enthusiasts with extra screen real estate so users can get more done in less time. By adding a gentle curve to a 21:9 aspect ratio monitor, LG has created a unique product that delivers a more immersive experience. The Quad HD resolution display with 3440 x 1440 pixels gives digital photographers and filmmakers the level of detail and accuracy that their work demands. Compatible with both PCs and Macs, the LG 34UC97 monitor easily handles heavy graphics and videos with ease on either system and supports Thunderbolt™ 2 for high-speed data transfers — four times faster than USB 3.0 — and allows multiple devices to be daisy chained together. The monitor also features MAXXAUDIO® and 7W stereo speaker system guaranteed to deliver peak audio performance across all frequencies.
In addition to the world's first 21:9 Curved UltraWide Monitor, LG will be unveiling its Digital Cinema 4K Monitor for the first time at this year's IFA. LG's Digital Cinema 4K Monitor meets the Digital Cinema Initiative's standard for 4K resolution displays, squeezing 4096 x 2160 pixels into a 31-inch screen, for resolution equivalent to four Full HD monitors. The 31MU97 model allows professionals such as movie editors to watch original 4K content the way it was meant to be seen. The Digital Cinema 4K Monitor employs an LG IPS 4K display that provides ultra-sharp images with a wide viewing angle. Able to reproduce 99 percent of the Adobe RGB color space, this monitor is an ideal choice for film professionals as well as for those working in design and photography. The Digital Cinema 4K Monitor comes hardware calibration-ready and also features Dual Color Space and LG's exclusive True Color Pro calibration software.
Gamers will especially appreciate LG's 24GM77 new Gaming Monitor which is specifically designed to handle the fast-paced action of the latest first person shooters (FPS). A refresh rate of 144Hz ensures that even the most intense action appears smooth and flicker-free, while LG's Dynamic Action Sync (DAS) Mode drastically cuts input lag, enabling the player to respond faster to what's happening on the screen. Other notable features include Black Stabilizer for consistent blacks across different scenes and Game Mode, which offers three optimized settings that can be applied quickly by pressing a hotkey on the monitor, with the option to create customized presets. And Motion 240, developed exclusively for the Gaming Monitor, helps minimize motion blur with a fast response time of less than 1ms.
"Many people spend more time in front of computer monitors than they do in front of TV sets and yet the industry's biggest monitor manufacturers don't seem to innovate at the same pace as TV manufacturers," said Hyoung-sei Park, head of the IT Business Division at LG Electronics' Home Entertainment Company. "At LG, innovation in display technologies isn't just limited to our market-leading TV products but are actively being implemented in our advanced PC monitors. And that's why we're particularly proud to be introducing at IFA the world's first 21:9 Curved UltraWide monitor with a curved IPS display which delivers a wide 178-degree viewing angle for an immersive viewing experience."
LG's next generation advanced PC monitors will be on display at IFA 2014 in Hall 11.2 of Messe Berlin from September 5-10.
Tags: Post & VFX