Keen observers of Blackmagic's camera line might have asked two questions of late: First, where's an improved broadcast camera, and second, where's the 6K URSA Mini Pro. We might just have seen answers to both those questions, with the URSA Broadcast G2.
The background to this new announcement is worth exploring, because in some ways the new camera looks, from published information, like a unification of the company's existing camera lines which offers a significant improvement to both at once. Blackmagic's existing offering to broadcast users has a 4K sensor not found on the company's other cameras. The built-in mount converter includes optical components to mediate between that sensor and B4 lenses built for 3-chip broadcast cameras, creating an option which has found a lot of use in small studios dedicated to streaming and as-live production, and particularly in education.
URSA Broadcast was always a really inexpensive way to allow people to get some experience with remotely-controlled studio cameras with proper broadcast-style CCUs, and it was supported by a type-specific lens, the Fujinon LA16x8BRM. The downside was that the performance of that 4K sensor was sometimes felt to fall a little behind the company's other work in terms of sensitivity and noisefloor, with perhaps better results available from putting a B4 mount converter on an URSA Mini Pro. At the same time, Blackmagic had released the 6K pocket cameras, with a sensor that sacrificed only a little dynamic range for a lot of extra space. Anyone interested in shooting 4K results on lenses with smaller coverage, or leveraging the extra look-around space for Fincher-style post reframing, might have looked on with envious eyes.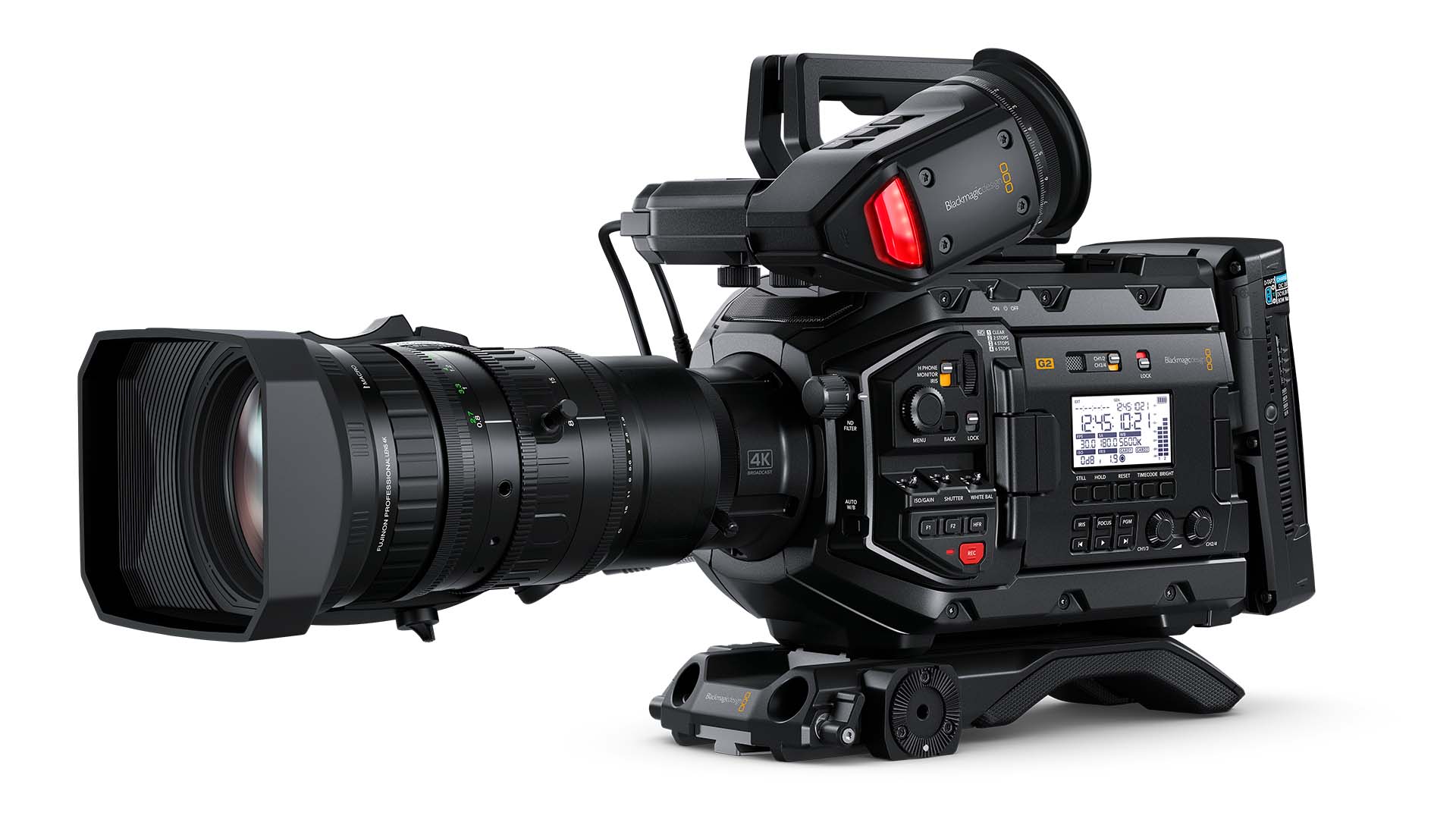 Blackmagic Design URSA Broadcast G2 features
In that context, Blackmagic's newly-announced camera might be called the URSA Broadcast G2, but it also looks very much like something that might have been called the Ursa Mini Pro 6K. That relies on the assumption that the sensor is the same as that in the Pocket cameras; the resolutions match. This is, to put it mildly, a good thing. The chassis of the URSA line has never been the smallest or lightest around, which affects its usability on smaller gimbals, but within that it's a good ergonomic solution that doesn't require a ton of Meccano to turn it into something someone could happily use to shoot a globetrotting travel show with either B4 or big-chip glass. This looks to be able to do both, with a lot of flexibility to choose virtual sensor sizes on a moment to moment basis and still resolve 4K to the satisfaction of more or less anyone.
As befits the camera's broadcast designation, the B4 lens mount, with its correcting optic, is included, as is the EF mount. PL and Nikon F mounts are optional; the latter seems to be an interesting if tacit admission that lots of old F-mount lenses are being used in cinema-style applications, often with rather average eBay-purchased mount adaptors. Putting a proper mount on the camera is a welcome idea. If there's anything obviously missing it's the option to mount lenses with shallow flange focus distance mounts, things like micro four-thirds and Sony E, which generally have a significant price-performance ratio advantage. The Sirui anamorphics we liked so much would be a match made in heaven for the Ursa series. As it stands, the two can't be friends.
Perhaps most significantly, the URSA Broadcast G2 gains the dual ISO capability of the Pocket cameras, with a high 3200 ISO sensitivity that goes a long way to satisfying the demand for more; the 4.6K is great at 400 and OK at 800. The camera retains the general layout of the URSA Mini Pro, as well as all the LUT and monitoring options, recording codecs and flash card formats, so it'll record H.265, ProRes or Blackmagic Raw to CFast or SD cards internally, or to external USB-3 storage, or to SSDs in the optional recorder module. The codec choices, in particular, make the camera capable of anything from extremely low bandwidth logging and observation work right up through broadcast to raw files for cinema exhibition. None of that's new, but it's a pretty unusual amount of flexibility which always feels worthy of a thumbs-up in passing.
Conclusions
This release is evolutionary, not revolutionary, though the meeting of the Pocket's sensor and the Broadcast's facilities is such a big step forward it's hard not to be enthusiastic. People will ask questions about the focus behaviour with EF lenses, the tradeoff of noise to sensitivity, and awkward things like power consumption which has always a little on the high side with many similarly-shaped cameras. Those are things we'll look into when we can get our hands on one in person; until then, the Grand Unified URSA holds much promise.
For more information visit Blackmagic Design's website. The URSA Broadcast G2 is priced at $3,995 ex taxes.
Tags: Production News Cameras