High-quality. Design. Performance. The ZBook Studio G7 crams powerful technology for creative professionals, designers, and architects into a slim, beautiful, solid design.
If you are a creative professional, or a product designer, or an architect, then HP wants you to look at their newest HP ZBook Studio G7. It's 22% more compact and 14% thinner, yet it's packed with NVIDIA Quadro RTX 5000 graphics and 10th generation Core i9 / Xeon processors.

This combination delivers a powerful set of technology. Let's look at the usability and the performance benchmarks.
Small and beautiful mobile workstation
The design is excellent. The weight starts under 2 kg. Ample ports are available. The touchpad is smooth and responsive. The keyboard has a light touch and a high-quality feel. The styling might make you want to hug your workstation when you're alone in the office.

The Quadro RTX 5000 adds a new level of power. The previous generation offered a Quadro RTX 3000 GPU. The CPU is Intel's 10th generation CPU.
Light, powerful, and a beautiful design - that's the HP ZBook Studio G7
Power for new rendering and AI technologies.
Thanks to the faster GPU, higher-quality, real time rendering is possible.

This includes real-time raytracing using NVIDIA's RTX architecture. The RTX architecture includes RT cores for raytracing and Tensor cores for AI inference performance. Both are used in real-time raytracing.
RT cores generate the initial image and Tensor cores perform de-noising to generate a final image. Tensor cores are also used in several video-processing effects including features using Blackmagic Design's Neural Engine.

This mobile workstation uses the latest generation Intel processors. Faster processors are essential for feeding more powerful GPUs.
Why is the ZBook Studio great for product designers, architects, and creative professionals
Product designers require 3D CAD, good to great rendering, and product simulation capabilities. If the focus is exclusively on 3D CAD, then a Quadro T2000 will do the job.

If the workload includes highend rendering or simulation, then the ability to configure this workstation with a Quadro RTX 5000 will work well for real time raytracing in applications like VRED and real time simulation in applications like Ansys Discovery Live.

Architects also need fast 3D modelling for BIM applications. Like product design, real time rendering is often used in architectural workflows. Architecture also leverages virtual reality visualization for design reviews and walk-throughs.
The ZBook Studio G7 targets creative professionals and their toughest applications
Creative workflows range from the graphics arts to special effects and highend video. HP's DreamColor display for the HP ZBook Studio makes color-accurate workflows possible from creation to delivery of content regardless of the final deliverable format: print, digital, or film. For 4K or 8K video, high performance GPU power is essential. In special effects, a powerful processor and a fast GPU are essential.
Where did HP compromise?
At this point, it might all sound too good to be true. And there is a nugget of truth to that feeling. Two compromises might be knock-outs for your workflow. The most significant limitation is the 32 GB of RAM limitation. The other is a 2 TB SSD storage limitation.
If you are a power-user, then you might not be comfortable with less than 64 GB of RAM. Personally, 32 GB in a powerful, mobile workstation is just the starting point for me.

With the storage limits, it is possible to get by with 2 TB of SSD storage. Options exist for adding high-performance external SSD storage via the available Thunderbolt port.

If you can live with 32 GB of RAM and 2 TB of SSD storage - and for a workstation this beautiful, I probably could - then the rest of the workstation is perfect. With its fast GPU, CPU, and 4K DreamColor display, the ZBook Studio makes for a heck of a powerful mobile workstation.
The design is beautiful and this workstation has a high-quality keyboard and a responsive touchpad.
How is the performance?
The test unit uses an Intel Core i7, an NVIDIA Quadro RTX 3000, 16 GB of RAM, a 512 SSD, and a 1920x1080, FHD display. The performance results are compared to a mobile workstation with a very similar Core i7 processor and a Quadro T2000 GPU that is one step down from the Quadro RTX 3000. Both use 16 GB of RAM and a fast SSD for storage.
Our first set of benchmark is the new ddViewperf 2020 from SPEC.org. Additional benchmarks include Octane Bench for CUDA / GPU computing performance, and Premiere Pro for video processing performance.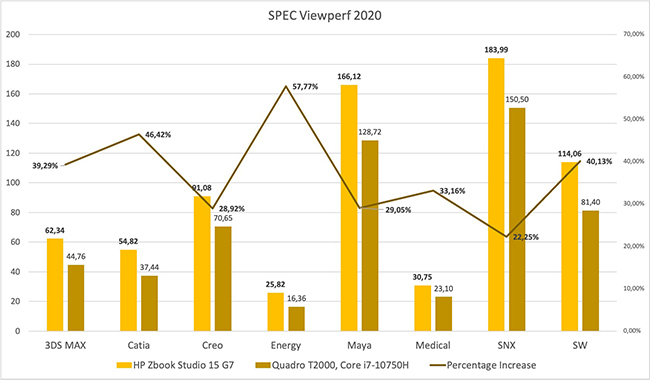 SPEC Viewperf 2020 was released during our testing. The Energy data set has the highest performance advantage for the Quadro RTX 3000 in the HP ZBook Studio.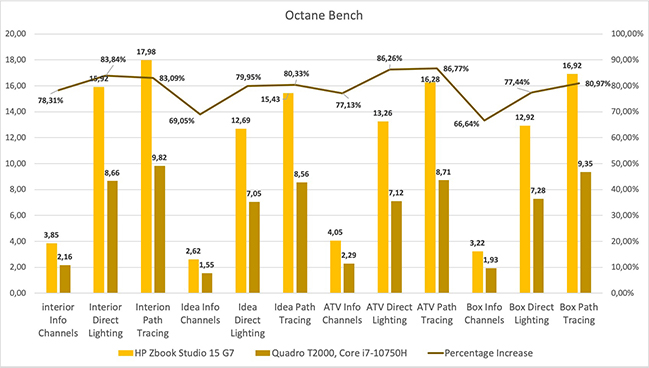 Octane Bench is a CUDA-based rendering benchmark. It is useful to show GPU computing performance differences. In short, Octane Bench shows relevant GPU computing performance differences for NVIDIA GPUs.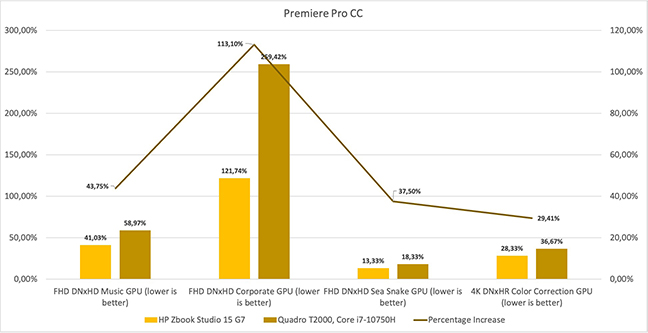 The primary application test uses Premiere Pro CC. The performance difference lies in GPU performance. Lower scores are better in these results. These rendering test result are normalized to a percentage of real time playback. A result under 100% means that the rendering output is finished in less time than the duration of the video sequence.
A Final Perspective
The HP ZBook Studio G7 is incredibly light, mobile, and powerful. With the ability to select a 4K display, an eight-core CPU, and most notably, a very powerful Quadro RTX 5000 GPU, this workstation can handle very demanding tasks.

Two critical limitations stand out: memory and storage. The storage limitation can be overcome with a fast external SSD. The 32 GB RAM limit could be a critical knockout for some customers as 64 GB is a minimum for many power users today.

The bottom line: with a decent configuration, this is a beautifully designed, powerful, mobile workstation.
Tags: Technology Review