8K is here right now, and its use is growing year on year. Here's why you can't afford to ignore it, and how you can make the move to the new standard.
Content producers have historically always chased the next big innovation to keep ahead of a growing consumer appetite for more dynamic content. With each shift towards more advanced formats, however, it becomes more challenging to look back and regress to previous production standards. Following the first major shift to HD, SD content, for example, soon seemed unwatchable. Next, 4K/UltraHD and HDR emerged onto the scene, and now 8K/UltraHD2 is making its first foray into production workflows and high raster viewing displays. 8K and UltraHD2 are used interchangeably to describe large video resolutions of 8192x4320 and 7680x4320. Of the two terms, UltraHD2 is more commonly used and represents 33,177,600 pixels in a 16:9 aspect ratio. The hype surrounding UltraHD2 or 8K has been building in the last year, with preparations for 8K production and delivery for the upcoming 2021 Summer Games already underway.
You may be thinking, "I just started working in 4K, so why make the move to UltraHD2?" 4K and even HD are perfectly suitable for production, but the benefits of UltraHD2 cannot be ignored for long and the tools exist to bring UltraHD2 and 8K into your workflow with minimal disruption, so the question really should be "why not?" Diving in early, learning all that you can, and embracing technology that supports 8K/UltraHD2 not only future proofs your workflow, but provides a competitive advantage. With the new Apple Mac Pro, powerful machines available on the Windows side from HP, SuperMicro and Dell, plus solutions from other manufacturers like AJA, it's simple to get started.
Why 8K/UltraHD2?
Starting with 8K/UltraHD2 content, the maximum possible resolution will always ensure the highest quality result – regardless of the final delivery format or destination. It benefits a wide range of applications across industries from post-production to VFX, proAV and beyond. 8K/UltraHD2 footage, for instance, can be used to provide high quality masters for downsampling to 4K/UltraHD or 2K/HD, and the original 8K master can be used to extract specific 4K or HD images to provide creatives with additional shots and more flexibility in post-production. VFX artists can also use the expanded resolution to deliver high quality background plates, while broadcasters can leverage it to expand virtual sets without compromising detail. For proAV users, 8K shows off a greater amount of detail and higher quality output via digital signage that can improve how information is shared to attract more attention from target audiences.
Working with the highest possible raster size also future proofs content, facilitating delivery of a high quality, downsampled 4K movie today, with the opportunity to release an 8K version later without the need to redo any editorial. Furthermore, 8K cameras and displays are quickly becoming more accessible and offer the image detail and fidelity that consumers have come to expect. For all these reasons, 8K knowledge and experience can make you or your company more marketable.
Where to start
Getting started with 8K requires a few initial considerations, including whether or not you'll be using a Mac or PC system and your preferred mode of signal transit. 12G-SDI workflows, for instance, enable high quality transport of 8K/UltraHD2 content via four 12G-SDI cables, whereas HDMI v2.1 or DisplayPort v1.4 12G-SDI are capable of carrying 8K/UltraHD2 over single cables for shorter distances. It's also important in the early stages to determine whether you'll be working with solutions that natively support 8K/UltraHD2 or if your workflow will include 4K/UltraHD HDR products that can be grouped and used in tandem to handle 8K/UltraHD2 video signals. These decisions will ultimately impact the products you choose and your overall workflow.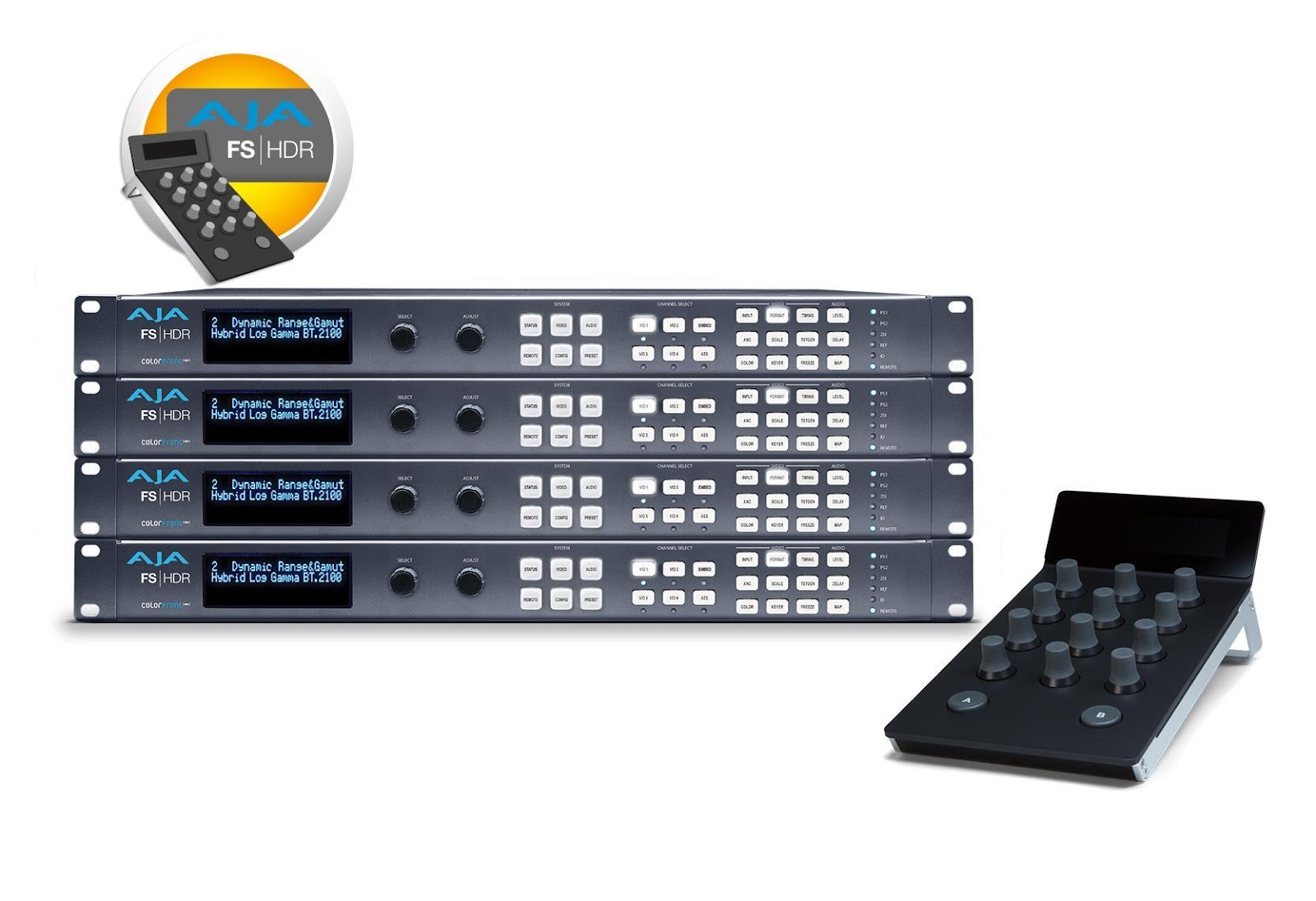 8K Workflow Options
Whether developing an 8K workflow that requires 8K capture and monitoring, 8K HDR monitoring, analysis and conversion, or signal conversion to 8K displays, there are a host of solutions and tips available to get up and running.
8K Capture and Monitoring
Video and audio I/O cards, like AJA's KONA 5 for instance, are capable of powering 8K capture and monitoring via four bi-directional 12G-SDI ports. Out of the box, KONA 5 supports 8K monitoring or playout with 8K compatible NLEs, including Adobe Premiere Pro, Apple Final Cut Pro X and Avid Media Composer, in addition to full support for 8K acquisition from an external 8K camera, deck, router, switcher or other source.
Working with KONA 5 in 8K requires a 2019 Mac Pro, HP Z8, Supermicro X11DAi or Dell Precision 7920 workstation, alongside software like AJA Control Room (with macOS Catalina/Metal and Windows 10 compatibility) for ingest of uncompressed or compressed material for editing or effects work with 8K/UltraHD2 capable software packages. For those who might not have access to an 8K monitor, it's also easy to downsample to 4K via KONA 5's SDI or HDMI outputs in realtime.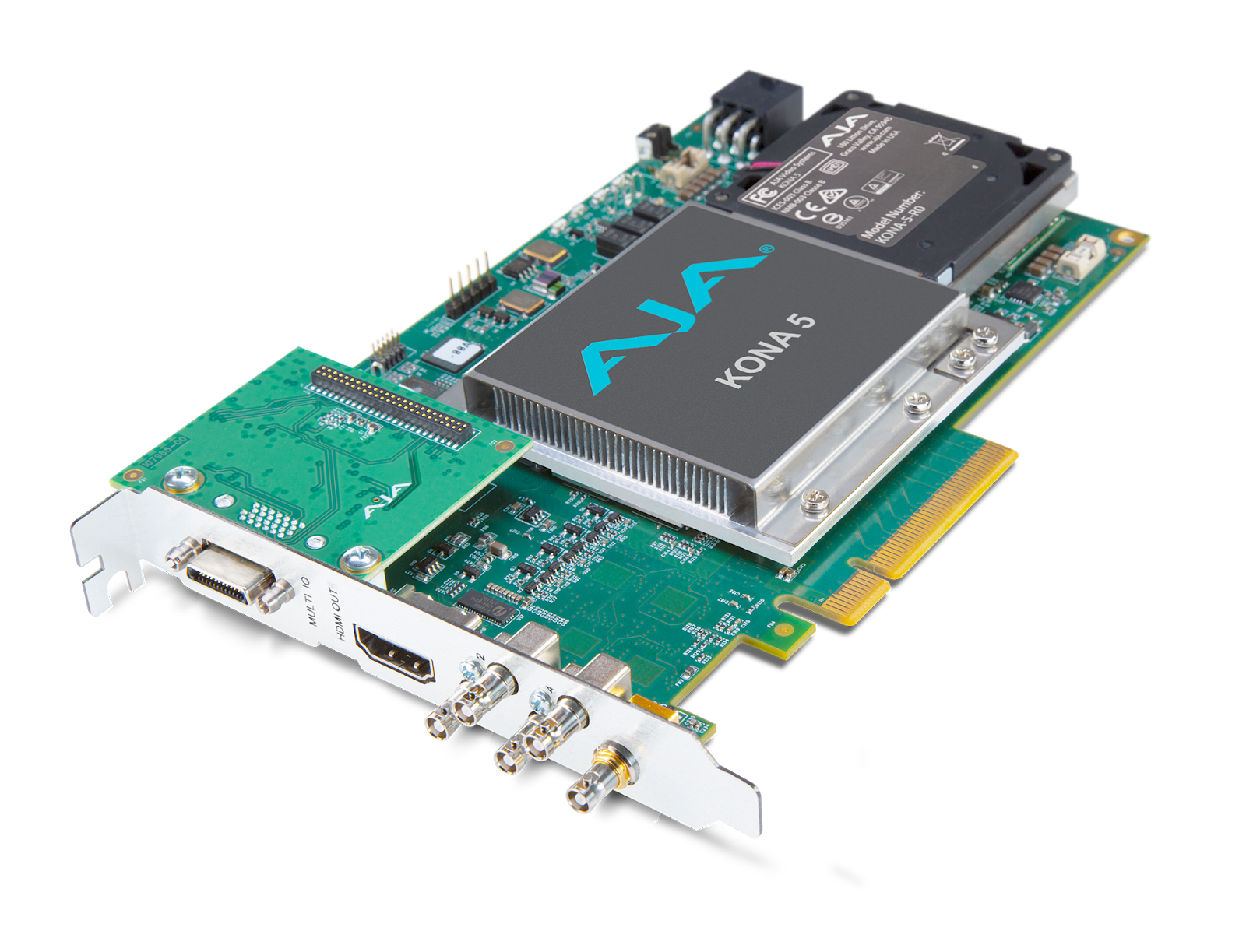 Before diving into your project, determine whether you'll be working with compressed or uncompressed media. Uncompressed media tends to generate larger file sizes but uses less system resources, while compressed media saves on storage space at the expense of heavily taxing the host system CPU and GPU. KONA 5 uses ATX power in PC platforms and requires a third-party ATX cable for use with the 2019 Mac Pro.
Installation is straightforward. Seat the KONA card in one of the manufacturer's recommended computer 8- or 16-lane PCIe slots (find details for Mac systems here and PC systems here), load the appropriate bit file to the card and test playback to ensure host system performance; a system incapable of playing 8K will not be able to capture it. To set up 8K input with 2SI, select "Auto" of "8K-2SI" under 8K Transport. If using Square Division, set I/O configurations manually using the frame buffer in AJA Control Panel. Remember to only select Level-A for 8K, as Level-B is only relevant to HD signals.
8K HDR Monitoring, Analysis and Conversion
8K HDR monitoring and analysis is crucial on-set and in post to ensure that the quality of the image is never compromised throughout various stages of production and post. Realtime toolsets for analyzing 8K/UltraHD2 video can help productions achieve this. A number of solutions are available on the market to address this demand, such as AJA's HDR Image Analyzer 12G which features four 12G-SDI ports, connectivity that supports the required bandwidth needed to handle an 8K workflow.

Four AJA FS-HDR frame synchronizers/converters can also be used in tandem to power HDR and wide color gamut conversions to 8K. To easily set up 8K HDR conversions, use FS-HDR's SFP expansion ports with the appropriate 12G-SDI SFP connectors and gang 4x FS-HDR's through ethernet connections to a computer. You can control the four units through the FS-HDR's webUI on a standard web browser and/or utilize AJA's free FS-HDR Control Link software if you prefer a tactile control device, like the Tangent control panel. AJA'sFS-HDR Control Link can be run on a local PC or Mac to provide communications between the Tangent panel's USB interface and an Ethernet LAN, and ultimately connect to the FS-HDRs. Using FS-HDR v2.6 firmware or newer, Colorfront Engine parameters can be controlled across four FS-HDR devices simultaneously for 8K needs.
Signal Conversion for 8K displays
Using four AJA Hi5-12G Mini-Converters with an appropriate HDMI v2.1 converter from Socionext or Astro Design, you can easily convert 8K 12G-SDI signals to HDMI v2.1 when needed. This simple set up can be used with the KONA 5, HDR Image Analyzer 12G and also the ganged 4x FS-HDR 8K Mode. Four HA5-12G Mini-Converters are also capable of supporting conversion of 8K carried via 4x HDMI v2.0 to 4x 12G-SDI as needed.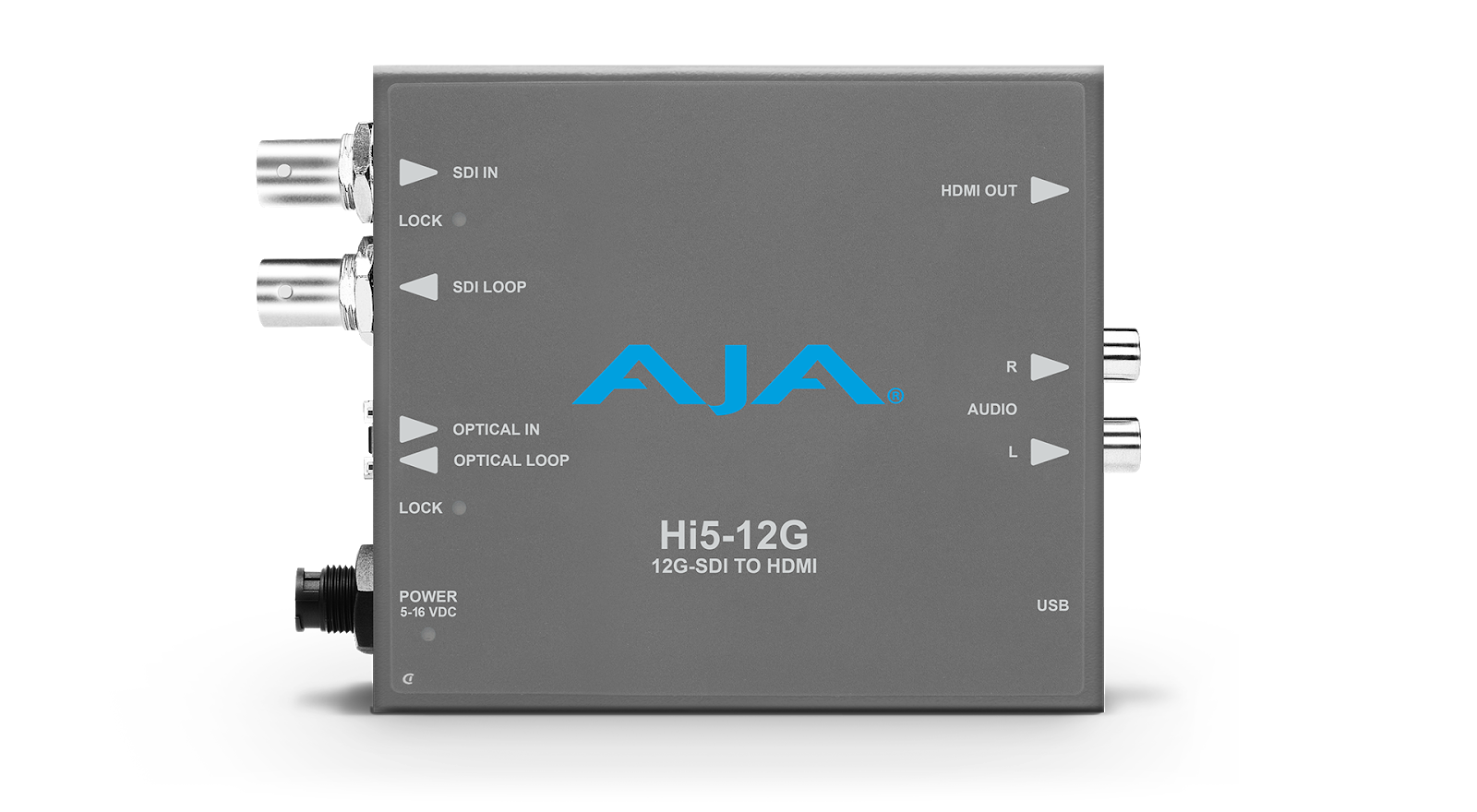 Although 8K is still an emerging format, new hardware and software developments for UltraHD2 workflows are rapidly advancing, so it's important to stay ahead of the curve, and evaluate how you can get your company and production capabilities up to speed in the near future. Embracing 8K early on will not only provide a competitive edge, but allow you to play a part in shaping the evolution of 8K workflows. The more you research and dabble in 8K, the more you'll be better positioned to handle the influx of 8K work that will arise as 8K content becomes the consumer expectation. For more information about the 8K solutions AJA offers, visit https://www.aja.com/solutions/8k
Tags: Post & VFX