Whether it's to embrace the full-on digital nomad lifestyle, quickly sketch something out while on the move, or just because you need something simple for a simple job, cloud-based NLEs are growing in popularity and can be extremely capable.

Content creation is outgrowing the entertainment industry and is expanding, bringing in a lot of new participants. Today, various cloud-based non-linear editing (NLE) platforms enable content creation without transferring footage or downloading software. Apart from reducing costs, these solutions also help reduce the carbon footprint of content creation.
This article will cover Canva, Adobe Express, WeVideo, Atomos Edit, and Blackbird. Some are built for short-form digital content, while others are built with the idea of genuinely competing compete with professional-grade editing software, such as Adobe Premiere Pro, Avid, Final Cut Pro etc.
Let's look at the benefits, features, and pricing of these cloud-based editing applications in turn, starting off at the TikTok level and ending up with the broadcast/movie quality contenders.
Canva
Canva is primarily a web-based graphic design tool. Users can create anything from flyers to posters to social media posts. Since 2021, it also offers basic video editing tools for videos up to ten minutes long.
Users don't require any prior editing experience or technical know-how, as Canva offers simple drag-and-drop tools to create designs. Its best attributes, by far, are the editable video templates and designs. Users can also use pre-built effects, transitions, animations, and motion graphics to build the structure of a video in seconds. It also allows for seamless collaboration between team members as projects can view and edit files in real-time. Canva Pro offers access to AI tools such as Background Remover, Beat Sync, Magic Write, and more to enhance videos. There is a time limit of ten minutes per video, however, and its worth knowing that the application tends to get slower as the video gets longer.
Canva offers a free plan that allows users to test drive the platform. It comes with 5GB of storage in the cloud library. However, the free plan is definitely at the restrictive end of the scale in terms of the templates and download settings available. Paid plans for Canva Pro begin at $14.99 monthly for one person. This includes access to the full suite of templates and features along with 1TB in storage.
Adobe Express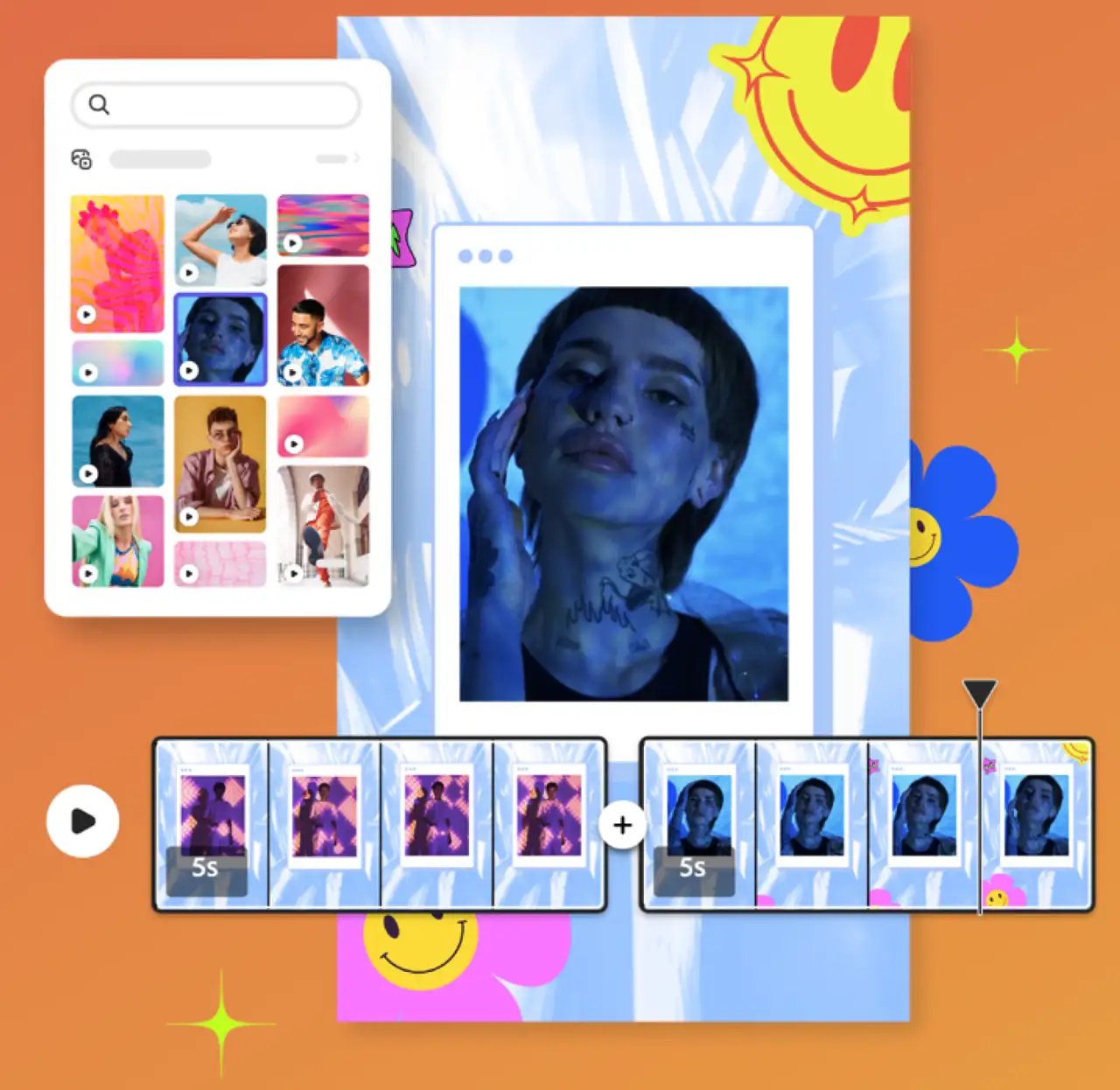 Adobe Express is a new line of browser-based editing tools released by Adobe. It was only recently released to the public and primarily caters to those creating digital content for the internet. The platform is a combination of basic features found in other Adobe products such as Photoshop, Illustrator, Acrobat, and Premiere Pro.
Adobe Express offers access to an extensive library of templates and animation presets. Users can easily create videos using templates while also leveraging generative AI tools such as Text-to-Image and Text Effects. Express also offers access to a large selection of Adobe's vast library of royalty-free stock images, videos, and music. Paid plans include access to premium features such as Animation Controls, unlimited PDF Quick Actions, and Remove Video Background. These elements allow for faster content creation and enable non-technical users to create high-quality videos. However, as it is a new entrant to the market it's fair to say that there are still some technical issues in regard to the speed and performance that need to be ironed out
Adobe Express offers a free plan with limited features, stock assets, templates, and presets. The premium plan costs $9.99 monthly per user an unlocks everything. This plan includes 100GB of cloud storage. Adobe Express is also currently free to use for Adobe Creative Cloud subscribers and bundled with certain other app plans such as Adobe Premiere Pro.
WeVideo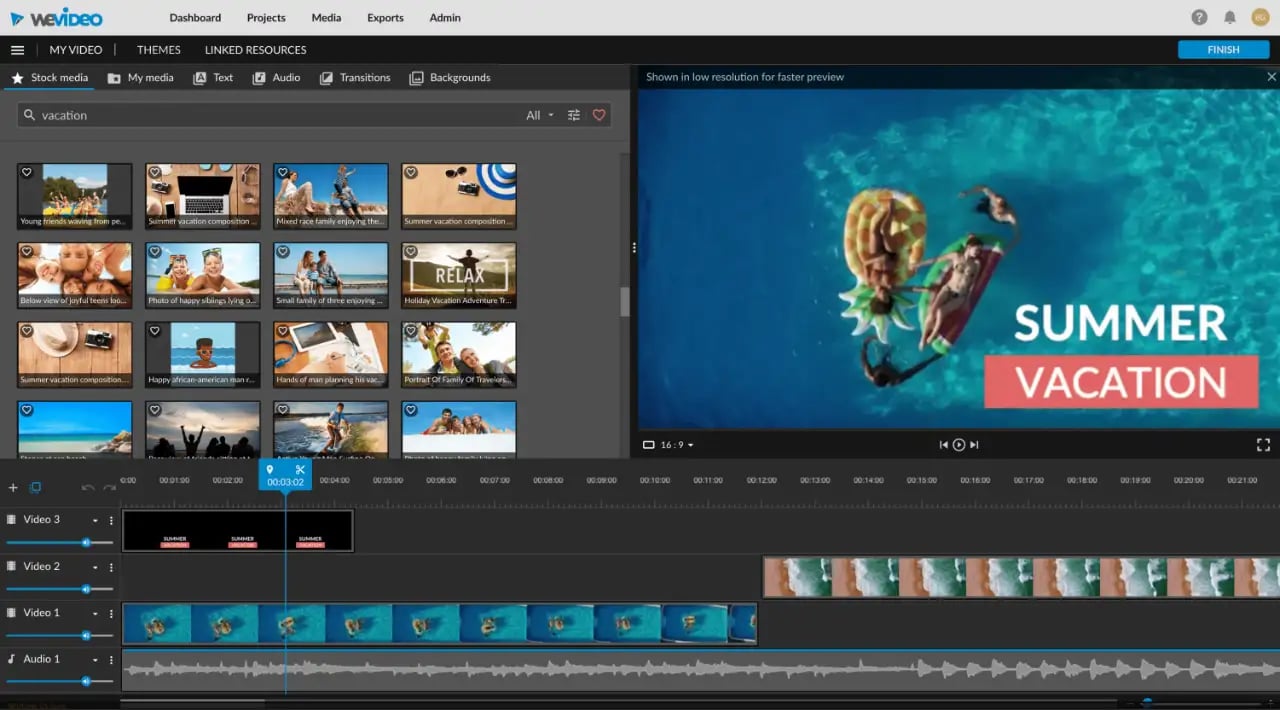 WeVideo is an easy-to-use editing software with a multitrack layout. Users can use the browser-based editor or download the WeVideo mobile app for iOS or Android. This is particularly useful for those who need to edit on the go. It is ideal for content creators outside the entertainment industry, such as entrepreneurs, podcasters, students, and teachers.
The multitrack layout allows users to trim videos while adding overlays, filters, and effects. Its stock content library, known as the WeVideo Essentials library, features up to one million copyright-free assets. WeVideo also offers features such as Screen Recording and Removing Green Screen Backgrounds. These effects, coupled with motion design templates and transitions, enhance a video's style and quality. Overall, this software is much simpler to use than professional-grade editing software, making it an excellent introduction platform for those new to making videos. This makes it a popular choice in schools, allowing students to develop their editing skills. However, as it caters primarily to students and business professionals, there is a limit to what you can create.
Wevideo does offer a free plan with limited features and capabilities. Its paid plans for individuals begin at $9.99 per month.
Atomos Edit
Atomos Edit is part of Atomos' cloud suite of products. You only need a web browser to access your footage and project files that would live on the cloud.
Atmos also brings a multitrack professional editor to the browser. The platform also uses drag-and-drop tools to add effects and transitions. These audio and video effects are rendered live with minimal playback lag. Through an integration with Pixabay, Atomos Edit contains a copyright-free stock media and graphics library. Unlike other web-based editing software, Atomos offers users a degree of familiarity and flexibility. Atomos Edit also improves post-production workflow with tools such as Review Links that speed up the approval process. Content creators can also publish to third-party platforms, such as YouTube, directly from the platform.
The beta version of Atomos Edit is currently free to use. This version is limited, with only 14 effects and transitions to choose from. However, it does offer a glimpse of what could be coming down the line. Atomos is bound to integrate its editor with its suite of cloud products. This would unlock features such as uploading footage from the camera to the cloud, which could significantly improve post-production workflow.
Blackbird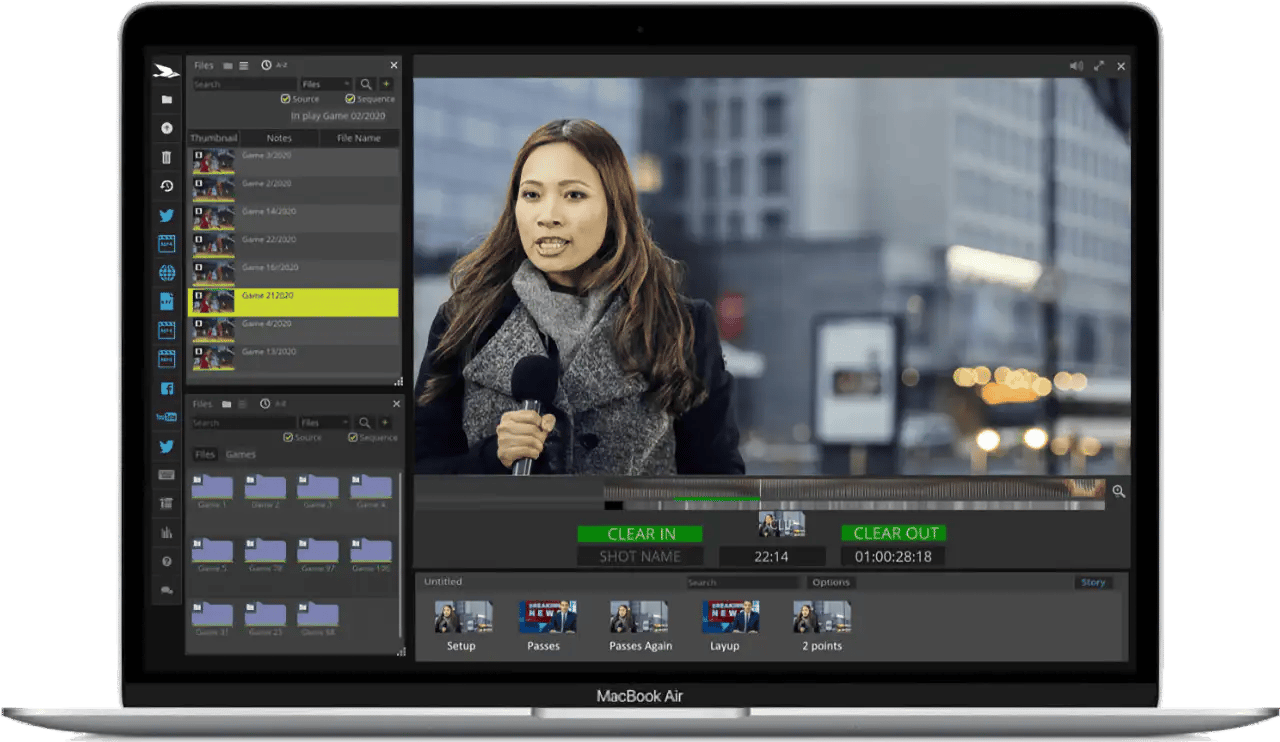 Blackbird is web-based editing software for users to edit and publish videos on the cloud, and is billed as a quicker and more sustainable alternative to native video editing platforms. Creators of The Voice UK and Gold Rush used Blackbird during post-production. The company has also partnered with organizations such as BT, Arsenal FC, and the Buffalo Bills.
The platform runs on any laptop through the browser and offers multi-track, frame-accurate editing control. It is ideal for recording live streams and editing clips or highlights quickly. Additional tools such as color correction, video effects, transitions, and closed captioning are also available. Blackbird can also support editing multi-cam footage. Blackbird offers not only speed and collaboration tools but also sustainability. Blackbird claims its platform generates up to 91% less carbon than its competition. It is a great tool for professional content creators who want to edit on the go. Users can build an assemble or rough cut, then export to traditional platforms to finish their videos. It is also helpful if filmmakers need to review daily rushes on set. On the downside? Some users have complained about their uploads taking longer than usual and, due to the nature of the platform, it will require more technical knowledge to navigate than the others.
To use Blackbird, users must schedule a demo with the company. Pricing is not listed publicly.
A cloud-based NLE for every niche
Content creation is becoming decentralized, so web-based, easy-to-use platforms will make it easier for more people to create high-quality content. These tools can also improve post-production workflow for professional filmmakers. They allow people to spend less time and create more efficiently. Furthermore, many of these solutions do not require expensive hardware (Blackbird reckons it can save organisations up to 75% on infrastructure costs). Therefore, cloud-based editing can legitimately and increasingly be seen as a cheaper, faster, and more sustainable alternative to traditional post-production workflow, and is rapidly expanding into pretty much every niche a filmmaker could want as a result.
Tags: Post & VFX Cloud