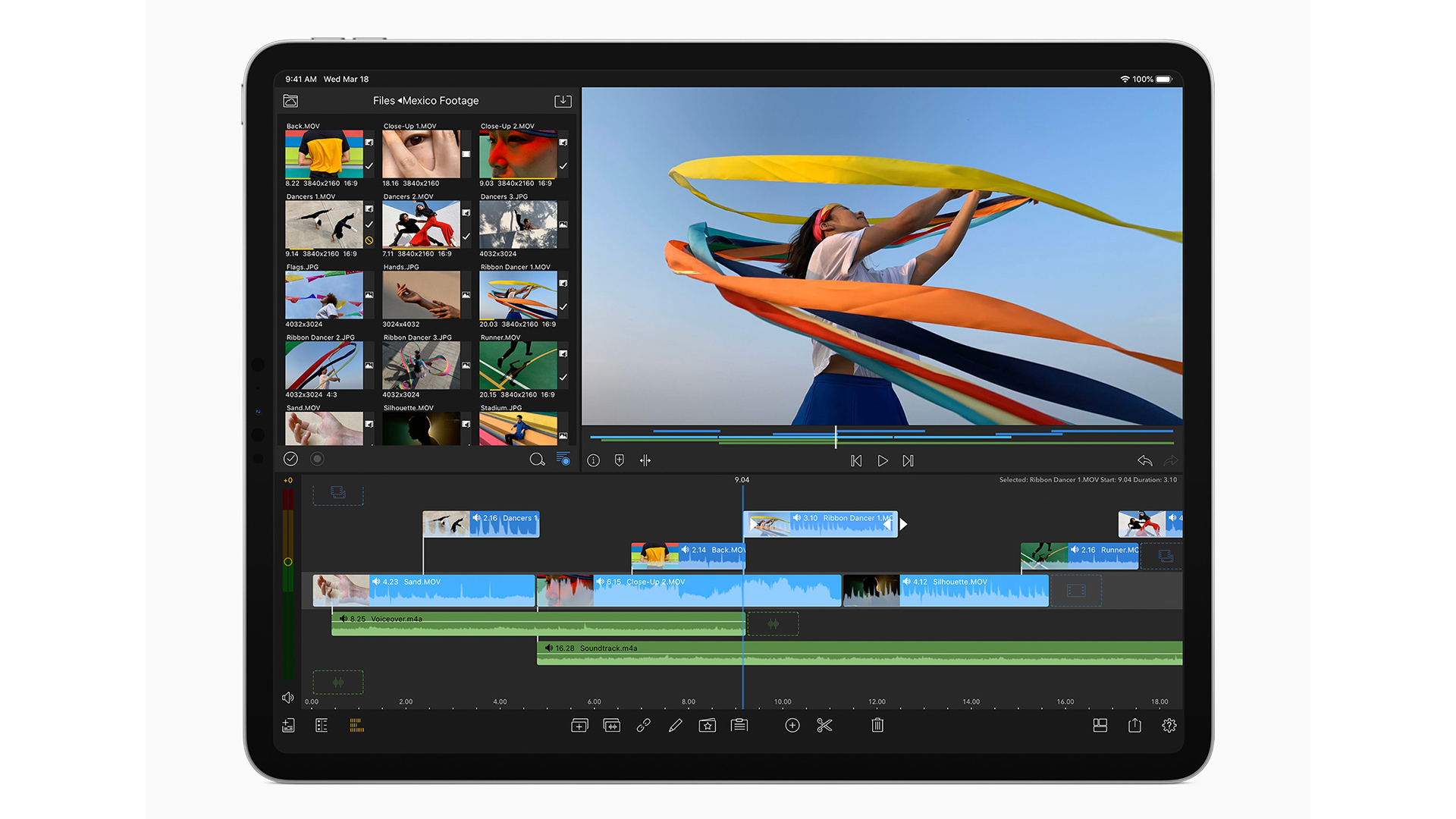 Apple's re-imagining of what it thinks a computer should be continues with the just announced 2020 iPad Pro.
After irritating some traditionalists with its 2018 iPad Pro 'what is a computer' campaign, Apple doubled down with its 2020 models promising to be 'your next computer' while offering in many ways modest advances. Advanced UI features in support of trackpads and mice, plus a new Magic keyboard overshadow the hardware.
Rumours of a next gen microLED or transitional miniLED display prove wide of the mark, while 5G is conspicuous by its absence.
Image: Apple
New(ish) hardware
The most obvious differentiator from the 2018 models is a main camera array which goes from a single camera to two - a 12 MP wide camera module and 10 MP ultra wide - plus a LIDAR 3D depth sensor. As LIDAR is widely expected to be a signature feature of this year's iPhones, the new iPads should be ideal for developers working on AR apps tuned to the depth precision offered by LIDAR.
Of course there's a new SoC, but it's not the one we expected. Rather than the traditional X upgrade of last year's A13 or even an A14X based on this year's monster iPhone chip, we get A12Z replacing the 2018's iPads A12X.
The CPU has four high performance, four high efficiency cores as before, while the GPU is modestly bumped from 7 to 8 cores. There's no boastful indicator of the performance leap, although thermal efficiency is improved. On the MacBook Pro 16 that meant bigger fans, a thicker casing, radically reducing thermal throttling. On an iPad Pro with the same chassis dimensions as in 2018, but a few extra grams weight, it's perplexing but likely indicates higher clock speeds.
Image: Apple
Given that Z is associated with the depth axis in 3D, the new A12Z name suggests custom functions in support of that LIDAR sensor. Which still begs the question, did a full-blown A13X or Z processor run into problems and the A12X is plan B?
RAM does appear to be increased however. The 2018 iPads shipped with 4GB RAM, apart from the 1TB model which required 6Gb to help with memory management. This year all models come with 6Gb.
For designers maxing out the layers in PhotoShop or Affinity Photo, multi-tasking with lots of apps and indeed gamers running Fortnite at max resolution, this should deliver performance gains.
The SoC also integrates the U1 location sensing chip introduced with last year's iPhones, so far we've seen limited exploitation of this feature but it will benefit AR and Apple's rumoured Tile competitor.
WiFi is bumped to Wi-Fi 6 as a future-proofing gesture and As with the MacBook Pro 16, Apple promote 'studio-quality' microphones. In fact, there's five of them to suit any orientation. In combination with the new camera module, the iPad Pro's are a pretty impressive all-in-one mobile studio.
The 2020 iPad Pro's are available to pre-order now and ship next week. Memory configurations are 128/256/512 and 1Tb with the 11-inch model starting at £769 WiFi and £919 with cellular and £969/£1119 for the 12.9-inch.
Image: Apple
Magic & Non-Magic Trackpad Keyboards
The original iPad launched with an impressively weighty keyboard / dock combination that was great for desktop work, but was in no way portable. For over a decade, manufacturers have struggled to provide an effective mobile keyboard. The first iPad Pro introduced a tri-fold origami-like keyboard / cover which lost a fold with the simplified 2018 design. They excelled in lightness above all else but let's say a functional typing experience.
The 2020 Magic Keyboard for iPad Pro is priced at the level of a cheap laptop (£299 / £349) so it's to be expected it's aiming a little higher.
The keyboard is backlit with a scissor mechanism and 1mm travel for 'best typing experience ever on an iPad.' For the first time from Apple, there's a trackpad which while notably smaller than on MacBooks offers similarly gesture-rich interface.
The make-shift accessibility cursor from last year is now a mainstream feature which adapts according to context. Notably, it's available across most iPads (not just the Pro's) and is shipping with iOS 13.4 next week (or in public beta) right now. It promises to be transformative in combination with the Magic Keyboard for iPad, but also supports Apple's Magic Mouse and Magic Trackpad for Mac, plus third-party mice. It should also be compatible with the Brydge keyboards shipping now with integrated trackpad.
Image: Apple
The Magic Keyboard for iPad also features its own USB-C port for pass-through charging, so the iPad's own USB-C port is kept free for other accessories such as external hard drives and displays.
The most notable feature, however, is how it magnetically attaches to the iPad's back with a cantilevered hinge. The iPad is lifted above the keyboard to 'float' with smooth adjustment of the viewing angle up to 130 degrees.
How well this performs in real life, how secure it is in laptop use or when tapping on the screen, we can't say right now. It won't ship until May, and that's quite a wait when the 2020 models aren't compatible with the older keyboards. Fortunately, the new keyboard will be compatible with the 2018 iPad Pro.
Logitech have also stepped in with trackpad equipped keyboards for the 10.2-inch iPad and 10.5-inch iPad Air which offer a backlit keyboard plus integrated trackpad for less than half the price of Apple's solution.
Image: Apple
Future delayed?
The iPad started out as the ultimate consumer oriented device, prizing simplicity and user-friendliness above all else. It's transformation into the 'future of computing' for professionals has been a long slog which isn't completed with these new machines.
External monitor support is there, but rarely exploited by apps other than LumaFusion and PowerPoint. The long hidden and opaque file system has its steadily improving Files interface, while multi-tasking can be convoluted but is powerful.
For many people abruptly forced into working from home, the idea of using an iPad may never cross their mind because they're unaware iOS 13 made Safari a surprisingly competent desktop class browser that can finally handle CMS and other pro web applications while incidentally shaming Google's iOS apps. Office365 shows Apple and Microsoft working better together for corporate applications than at any time since the launch of the Mac.
For most people, the 2020 MacBook Air (with scissor switch keyboard) is the cheaper and more practical option, but the new iPads offer more dynamic ways of working with high quality cameras, Pencil support and we don't know yet what might come with iOS14.
One other reason to push out these machines could as precursors of an ARM-based Mac, but if this hardware is an incremental advance the iPad eco-system is looking stronger than ever.
Tags: Technology