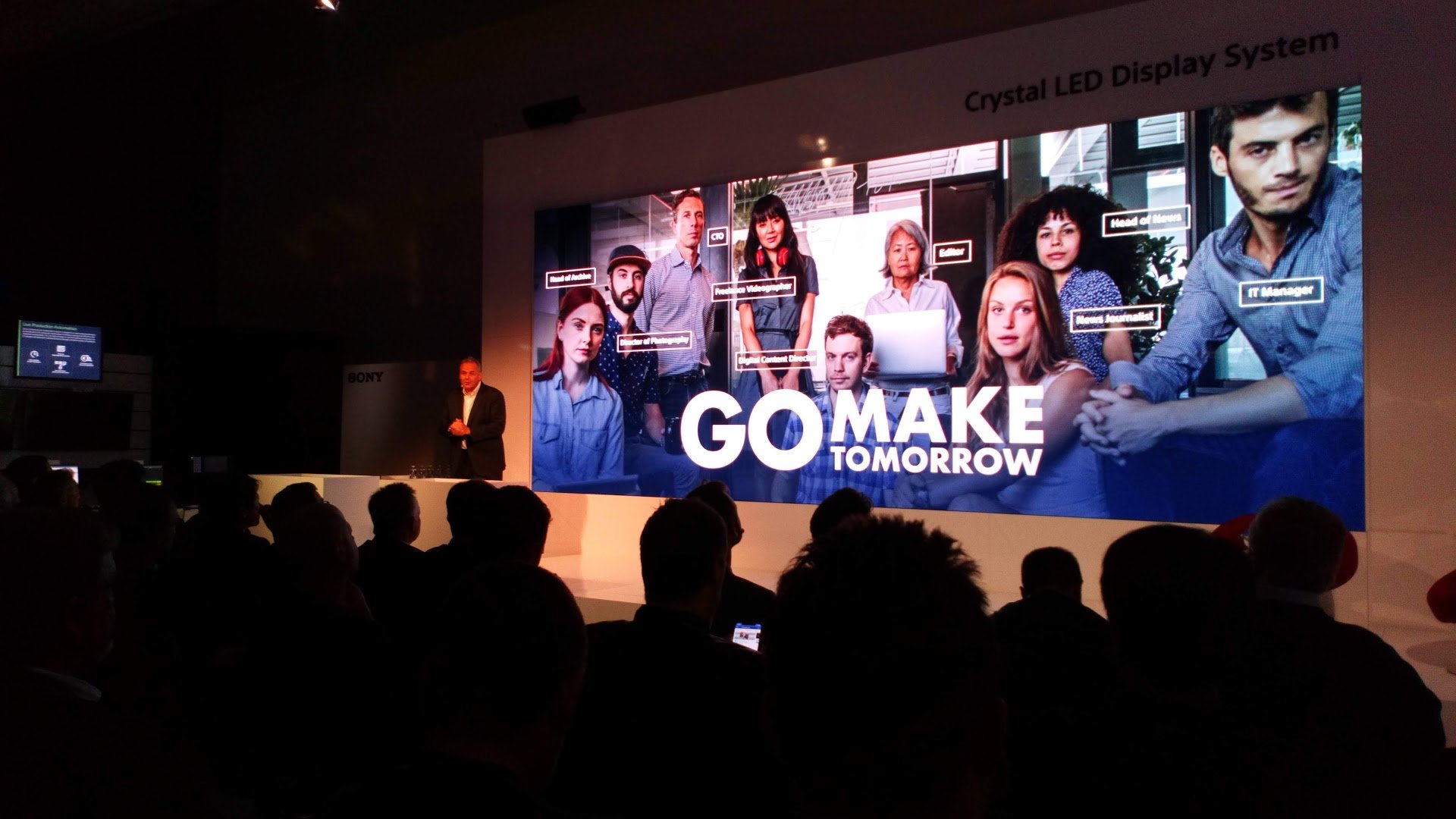 It is capable of fantastic colour and brightness, and can be used to make some monster screens. Despite being out resolved by newer competitors, is the Sony Crystal LED system the finest video display around? (Just so you don't think you're imagining things - this Sony technology has been known by two other names in the past: Canvas and CLEDIS).
It's been a while since we issued one of RedShark's entirely-unofficial Gear We Like awards, but our subject today has now been on the radar for long enough to qualify.
We've said lots of nice things about Sony's Crystal LED video wall display before. It's increasingly clear that it, and other LED video displays, have the potential to displace several existing technologies. It's not the only contender in the field: Samsung has been promoting a similar display it calls The Wall to particularly well-heeled domestic clients, Leyard has been showing the TWA series, and both of those actually outresolve Sony's Crystal LED Integrated Structure.
Each section of a Crystal LED wall is 403 by 453mm and has a resolution of 320 by 360 pixels. The pixel pitch is therefore something like 1.2mm, and the minimum width of an HD display is five and a third, and therefore really six modules, creating a pixel-for-pixel HD image a hair over eight feet across. Samsung's Wall does better, at 0.8mm per pixel, but Sony takes the crown because the company first showed Crystal LED, or something very like it, fully six years earlier at CES 2012. Visibility was intermittent at first – the tech didn't appear the following year – but the big screen at NAB 2017 promised much for the technology.
Other organisations seem to agree. Not only do we have directly-competing video walls from other places, the whole concept of making desktop, and even portable micro-LED displays has attracted the attention of companies including Apple, who reportedly have an internal department looking at it.
Very small - the penny is in contact with it - but perhaps not microscopic
To be scrupulously fair, the term "micro-LED" is not well defined and it's perhaps a bit of a stretch to use it to describe any of these video wall technologies. Typical LED video walls are, broadly, based on small LEDs assembled using more or less conventional, if miniaturised, techniques, and tend to achieve pixel spacing around a millimetre.
For comparison, the pixel pitch on a 50-inch 4K display is about 0.3mm per RGB cluster, or about 0.1mm per sub-pixel horizontally. Crystal LED is therefore not about to appear on anyone's desk. Entirely new manufacturing techniques with dot pitch down to 27 microns (about three hundredths of a millimetre) have been proposed, and we could refer to those as micro-LED much more enthusiastically, but it's not clear when they might be commercialised.
Competition. Notice the double image on the video displays as they updated during the exposure_ LEDs are very, very fast
Assuming they can, OLED might well look a bit nervous. Micro-LED, at any scale, is fundamentally different to OLED, and one of the benefits of that is that micro-LED can be much, much brighter. If micro-LED is developed to the point where it can achieve even HD images in desktop sizes, that might turn OLED into the 2010s version of the plasma display: great in many ways, but ultimately a technological route not followed.
For now, though, OLED is safe. Eight feet is too wide for most indoor displays, and the market for sixteen-plus-foot-wide 4K outdoor displays is really quite limited. Most advertising doesn't actually need that much resolution, and Crystal LED is likely too expensive for mass cinema adoption. Sony may see its role as a leading manufacturer to, well, lead, and to make a point of doing these things, which is laudable, but it's very much forging a path here. Boardrooms, perhaps?
LED video walls are now so ubiquitous they're being used for temporary advertising hoardings at exhibitions. Here being assembled in modules
Theatrical exhibition has, according to the head technical people at a major cinema chain, looked at LED video walls, which would provide a much more convincing HDR experience than current projection technology. 3-chip DLP has great contrast but can struggle to fire enough light at the screen even to achieve what TV has long considered standard brightness levels. Great though it would be, however, it doesn't seem likely that any cinema chain is about to start throwing hugely expensive Crystal LED walls into every auditorium in the world, at least not soon.
In the meantime, let's enjoy something solely because it is excellent. Crystal LED may have been out-resolved since its launch, but resolution in video walls isn't everything (Leyard offer the TWA in 0.8, 1.2 and 1.8mm resolution.) Otherwise Crystal LED may still be, in terms of geometry, brightness, contrast and colour gamut the finest video display in the world.