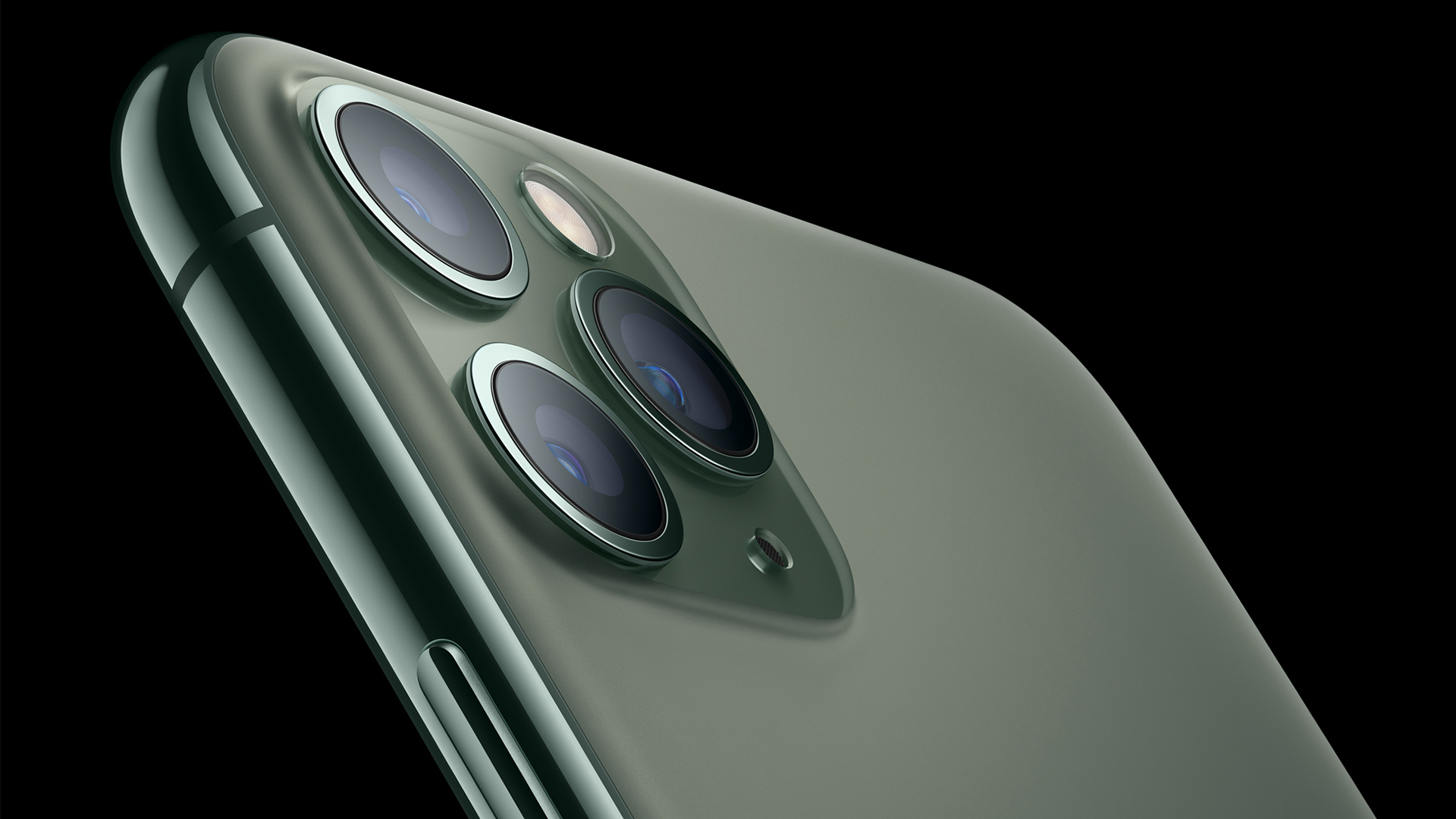 Apple's new iPhone 11 models contain the most powerful CPU in a mobile device yet, and the potential is huge.
This year's iPhone line-up thankfully jettisons the cryptic XS and XR nomenclature in favour of a simple iPhone 11 (6.1-inch) with premium iPhone 11 Pro (5.8-inch) and iPhone 11 Pro Max (6.5-inch) models.
Tim Schiller helpfully pointed out that while the 'Pro' model offers 'professional' performance but is also fine for anyone who just wants the best iPhone... That said, it was notable that it was the third-party app FiLMiC Pro that best showed off the high-end model in some fascinating videography scenarios.
The key defining feature of the Pro models is the widely leaked three camera set-up with ultra-wide (f/2.4 aperture), wide (f/1.8) and telephoto (f/2.0) 12-megapixel cameras. Wide and telephoto lenses both feature optical image stabilisation. From the standard camera, there's a 2x optical zoom in and 2x optical zoom out - the camera UI is now translucent to make the zoom out option more evident.
The new colourways for the iPhone 11 Pro. Image: Apple
We'd already seen some cool ultra-wide shots with the iPhone 11 reveal, but FiLMiC Pro really stepped it up a notch in a studio setting with Sean Baker, the Oscar-nominated director of Tangerine praising its potential.
Using the iPhone Pro, FiLMiC Pro can simultaneously record from two cameras with the viewfinder cleverly showing both views and enabling switching between them. For a low budget indie feature like Tangerine, a dual camera shoot with the secondary camera providing coverage has obvious appeal.
Even more remarkably, the system supports recording front and rear cameras at the same time with obvious potential for video journalism and documentaries.
While truly professional cameras are increasingly moving to huge full-frame sensors twice the size of Super35 and vastly bigger than any smartphone sensor, it's obvious that at the low end the iPhone Pro is only going to increase the threat to low-end camcorders thanks to price, smart features and massive investment in processing/computational photography.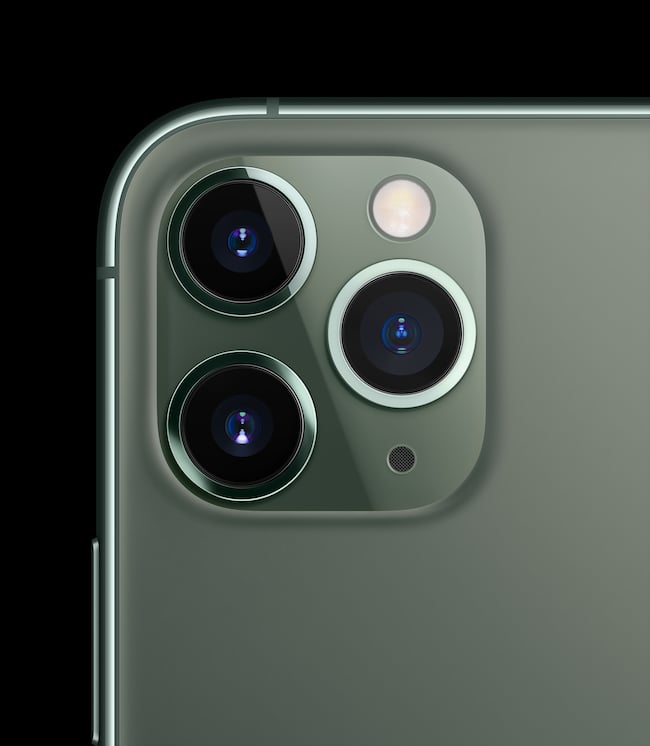 Look at the size of those cameras! Image:Apple
As part of the Pro demonstration, Schiller showed off something called Deep Fusion which will roll out later in the year and relies upon high-speed machine learning to combine nine different images into a single super high quality shot. The imaging pipeline now includes something called 'semantic' processing and Deep Fusion is manipulating 24 million pixels with over a trillion operations. The level of detail and low noise had Schiller in raptures, even if by then we'd seen so many stunning professionally shot iPhone imagery that it was difficult to be overexcited.
Apart from the additional camera, the Pro model is distinguished from the 11 by OLED screens that Apple promotes as Super Retina XDR supporting P3 colour space, Dolby Vision HDR and HDR10 with a notably peak brightness of 1,200 nits.
The new Night Mode on the iPhone 11 Pro. Image: Apple
The Pro also features a 'new' design which is really a modest refinement of the X design, stainless steel band with an upgraded tough glass front and back. The rear has matte finish with midnight green, space grey, silver and gold finishes while the camera bump is big but has a slick moulded glass cover.
There's no USB-C, just the standard Lightning port however the supplied charger is upgraded to 18W for faster charging. Battery life is significantly enhanced, 4-5 hours longer compared to equivalent models from last year due to efficiency improvements with the new A13 chip.
Pre-orders start on Friday 13th September and shipments begin on the 20th. UK pricing starts at £1049 for the 5.8 inch model and £1149 for 6.5-inch Max model, both at 64GB. Add £100 for 256GB, £200 for 512Gb. It's notable that the Apple Store app and the presentation itself highlighted trade-in and monthly payment options.
iPhone 11
OLED screen and extra camera apart, the iPhone 11 has many of the same strengths as the Pro model. A sequel of sorts to last year's XR, the 11 now has two cameras rather than one.
As with the Pro model, the key focus of the 11's introduction was its camera system, a dramatic step-up with the f/2.4 12-megapixel Ultra Wide camera with 120 degree field of view acquiring up to four times more of the scene in front of you. The wide camera is f/1.8 aperture and there's a 2x optical zoom with 5x digital zoom.
The iPhone 11 colourways. Image: Apple
As the 11 has two cameras, it can do the portrait mode by separating out image planes for depth of field effects using hardware rather than smart software alone. This means it can handle pets and objects, not just faces as with the XR.
Video performance now allows for 4K at 60fps across all cameras and demo footage of American muscle cars racing across salt flats was particularly impressive. There's also enhanced support for front-facing video highlighted with a slow-motion first person selfie video... The camera UI has also been enhanced and rethought to support these capabilities, while holding down the shutter allows for transition from stills mode to video.
The iPhone 11 features a "Liquid Retina" display. Image: Apple
Where smartphones most suffer is, of course, low light due to comparatively tiny sensors. As you'd expect, Apple's Night Mode has been overhauled to provide a transformational effect on low light shots that, from the demo at least, seemed comparable to the wizardry Google pulled off with their Pixel phones.
Aside from the Pro's triple camera, the 11 is differentiated from the OLED pro with an LCD screen that offers a 1400:1 contrast ratio, P3 support and 625 nits brightness - significantly below the OLED. However all this year's iPhones support a 'spatial' surround sound effect.
The stage presentation highlighted the power of the A13 as a key feature of the Pro model, but the specs sheets show it's the same chip across all the new models and its design goal seems to be balance, increasing performance across the board but also enhancing power efficiency.
Landscape shot with the iPhone 11's wide angle camera. Image: Apple
The A13 has the fastest CPU in any smartphone, the fastest GPU in any smartphone, the cores are 20% faster, but there wasn't so much focus on raw power specs this year. A quote was rolled out by Ben Thompson saying Apple chips were two-years ahead of the competition. Hyperbole aside, with power-hungry 5G modems and a possible AR headset on the horizon maybe it made sense to start optimising for battery life this year rather than raw power metrics. Unlike the Pro models, the battery life gain on the 11 is only about an hour - possibly due to the LCD rather than OLED screen. The chip itself is a 7nm design with a colossal 8.5 billion transistors and four efficiency cores.
As was widely expected, there's a new Ultra Wide Brand processor for enhanced spatial awareness - particularly useful for working with location-tracking tiles that Apple had been expected to launch but didn't, for now it's mainly hyped for more precise AirDropping of files more quickly and precisely.
iPhone 11 pricing starts at £729 for 64GB, £779 for 128GB and £879 for 256GB. There are six finishes, including (Product) RED and plenty of new cases. Pre-orders start on Friday 13th.
Conclusion
Both the standard and Pro iPhones feel like solid upgrades that will be appealing for iPhone users ready to upgrade, without necessarily being compelling enough to jolt anyone into an early upgrade. Last year's XR model at £629/679 for 64/128GB and the 4.7-inch iPhone 8 / 8 Plus £479/579 help fill out the range. In the States, the pricing is more aggressive, with the 11 below the XR's launch cost and repositioning Apple's focus away from the premium models.
2020 is when we expect 5G iPhones, but the challenges involved in the 5G roll-out mean its full advantages may not be immediately available.