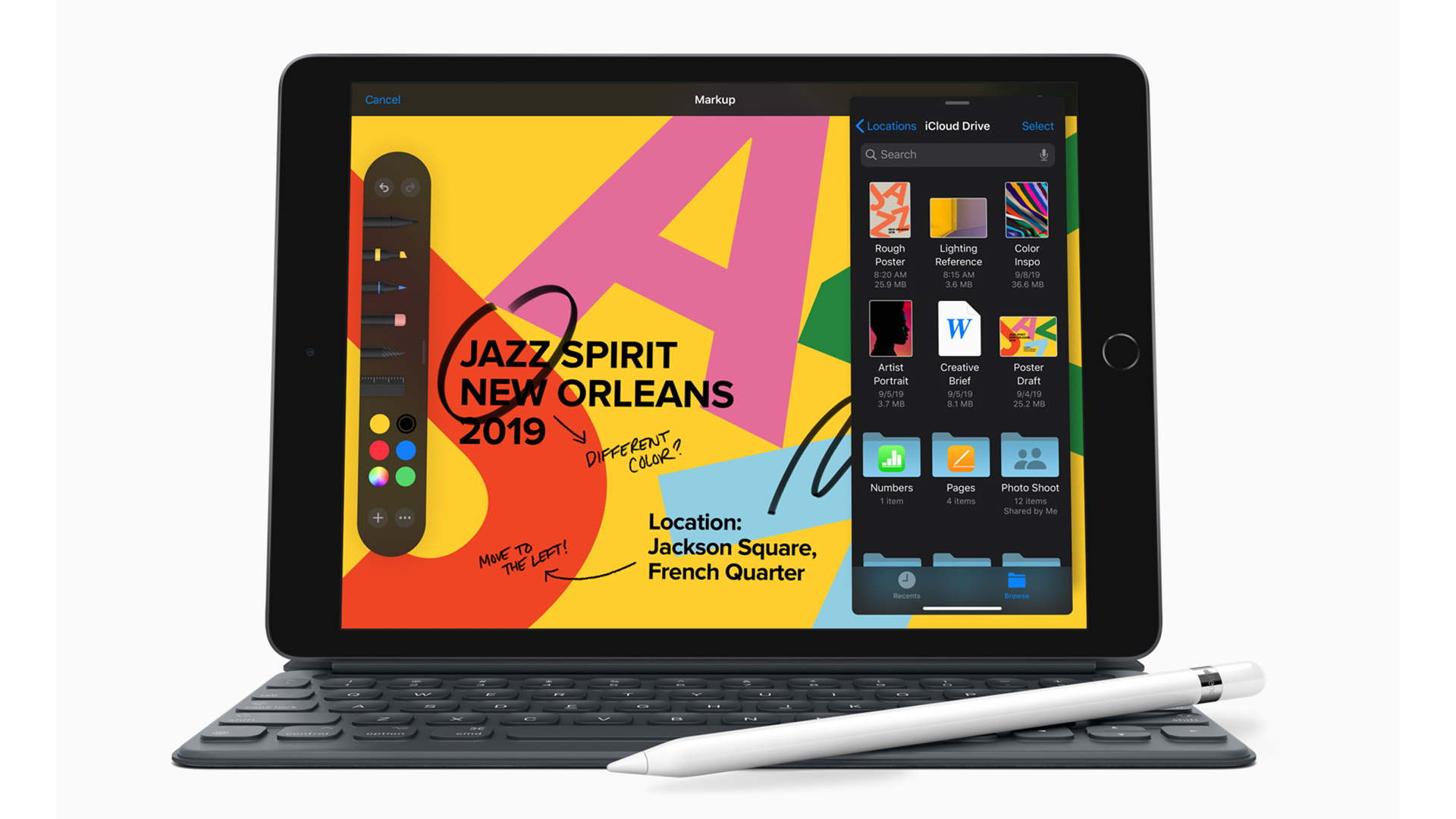 Although Apple's September events overwhelmingly focus on the critical iPhone reveal, there was still plenty of other news being made in a crammed if mostly surprise-free event.
7th Gen iPad
Tim Cook said Apple had never been more enthusiastic about iPad and this refresh of the entry-level iPad makes for an impressive line-up.
2018 saw the arrival of the most exciting iPad since the original model, the all-screen iPad Pro models with Face ID, USB-C and stunning, super-slim industrial design. Its true potential is only just beginning to be addressed with this year's iPadOS (out of beta on September 30th) which allows for a host of long requested features such as support for external hard drives, enhanced multi-tasking, true desktop quality web browser and even mouse-support. The lack of USB-C aside, the entry level iPad will run iPadOS perfectly fine.
The new entry level iPad. Image: Apple
The seventh generation entry-level iPad expands the screen marginally (10.2-inch rather than 9.7-inch), retains Touch ID rather than Face ID but adds the Smart Connector which supports Apple's Smart Keyboard. It also has support for Apple's original Pencil design - not the Pro model with magnetic attachment.
Apple had some fun comparing the new iPad to this year's bestselling PC - it has three-times as many pixels and twice the processing power (even with an A10 Fusion processor rather than the A12 Bionic used in the Pro models).
The new entry level iPad with the new iPadOS. Image: Apple
The starting price is an attractive £349, plus Apple notes there's an education discount, but 32GB is disappointing and 128GB costs another £100 while cellular adds £129. Apple's peripherals further jack up the price with the Smart Keyboard at £159 and Pencil at £89, however the essence of iPad is flexibility. It'll work with any Bluetooth keyboard and a simple plastic stylus provides a lot of functionality for those who don't need the Pencil's precision.
Pre-orders are open now with shipments on September 30th.
Apple Watch Series 5
Series 5 retains the new, larger screen format introduced with Series 4, but adds an all-new always-on LTPO screen with variable refresh rate from 1-60Hz. As a default, the watch faces will be on in low light mode so as to always be visible, with time being updated while third-part complications are frozen until the Watch is fully lit up by tapping the screen or wrist gestures as before. All the watch faces are tweaked to support the new screen display and it's such an obvious key feature, that Apple haven't seen fit to add much else new to this iteration.
The Apple Watch Series 5. Image: Apple
There's a new compass mode, and beautiful app, for increased accuracy in directions, plus plenty of new premium finishes. In addition to the standard aluminium models and premium stainless steel, there's two titanium finishes (matte and space black) starting at £799, plus white ceramic. In one welcome change, there's a new studio service online and in store where you can personalise your Watch purchase with any strap you prefer rather than Apple's preferred combinations. The entry level is aluminium model is £399 / £429 for 40 / 44 mm models, with cellular adding another £100.
The Apple Watch Series 5. Image: Apple
Also, the very decent Series 3 drops to £199/£229 for 38mm/42mm models. While it's got the older smaller display, the processor is very decent indeed and this is an excellent entry-level model.
Pre-orders are Open now and shipments begin September 20th.
Apple Arcade
Services are the future... and Apple's gaming service launches on September 19th in over 150 countries and will quickly build to over 100 games available for the entire family at just $4.99 a month.
Apple Arcade features titles like Skate City. Image: Apple
The price for an entire year is about equivalent to a single AAA console game and less than subscribing to online gaming services from Sony, Microsoft or Nintendo. Given the depressing pay-to-play ecosystem that dominates on mobile, the preponderance of in-app purchases and frequent demand for anti-piracy always-on connections in even Nintendo mobile titles, Apple should be applauded for trying something different but first impressions are unlikely trouble the competition.
Konami, CAPCOM and Annapurna are gaming heavyweights, but their on-stage promo's perhaps sensibly focused on taking existing mobile genres and adding polish.
Konami dusted off one of its oldest franchises with an all-new Frogger game that had obvious similarities with Crossy Road, a game it no doubt inspired. The game had a bright, 3D look comparable to Toy Story, right down to a menacing end-level baby, but for all that it was still Frogger. But at least now you can personalise the frog...
"Ballistic Baseball" from Gameloft. Image: Apple
CAPCOM had an original title, Shinsekai: Into the Depths, a 2D scrolling adventure game that looked like a classic 8bit sci-fi shooting/exploration game that had been beautifully updated with super-slick underwater graphics while still being, at heart, an 8bit type game.
Annapurna had perhaps the most technically challenging game, a 3D flight / endless running / music rhythm / combat game with psychedelic graphics. Saynora; Wild Hearts looked fun and entertaining, but unsurprising.
Apple Arcade will launch with a one month free trial and it's likely given the talent and budgets involved that it will be a good deal for mobile gamers. However, the most impressive game on show during the event was the iPhone 11 showcase Pascal's Wager which will be available for pre-order in October, suggesting it's not included with Arcade.
Apple TV+
'Stories with a purpose' was part of Tim Cook's pitch for Apple's new TV subscription service which will launch in 100 countries on November 1st at £4.99 per month per family. If you buy a new Mac, iPhone etc. you'll get a year's subscription for free which got a surprisingly strong reaction from the audience.
The pricing is at the low end of expectations but is at least realistically-minded given the existing Amazon and Netflix juggernauts, plus the imminent advent of Disney+. At Apple's last event, the flagship 'Morning Show' drama with a slew of stars including Jennifer Aniston made a much improved impression, adding texture and drama missing from its first reveal.
"The Morning Show" starring Jennifer Aniston on Apple TV+. Image: Apple
The same couldn't be said for SEE, a mega-budget post-apocalyptic drama starring Jason Momoa. The high concept is a world where everyone is blind and the birth of children who can see sparks conflict. The production values are exceptionally high, but the trailer was interesting without being engaging.
There was some expectation we might see an upgrade of the Apple TV hardware, but maybe that will come closer to the launch of the service or afterwards. Apple is aggressively pushing the service on third-party TVs and other streaming devices, so the high priced Apple TV is perhaps best downplayed for now.
What's next?
Apple typically holds an event in October and we expect 2019 won't be any different. For professionals a new top-end MacBook Pro with a larger screen crammed into a compact body with ultra-slim bezel is going to be top of the wish-list, alongside more on the Mac Pro / XDR Pro displays as they approach their shipping dates. Also expected, a spec bump for last year's iPad Pro line, maybe an AirPods update with noise cancelling and widely rumoured location tracking tiles supported by new U1 chip.
We might also get a preview of what all the AR code in iOS 13 is leading up to... Developer speculation suggests heavy emphasis on using the iPhone for processing, making the headset more of a satellite device and hence perhaps more closer to release than previously expected.