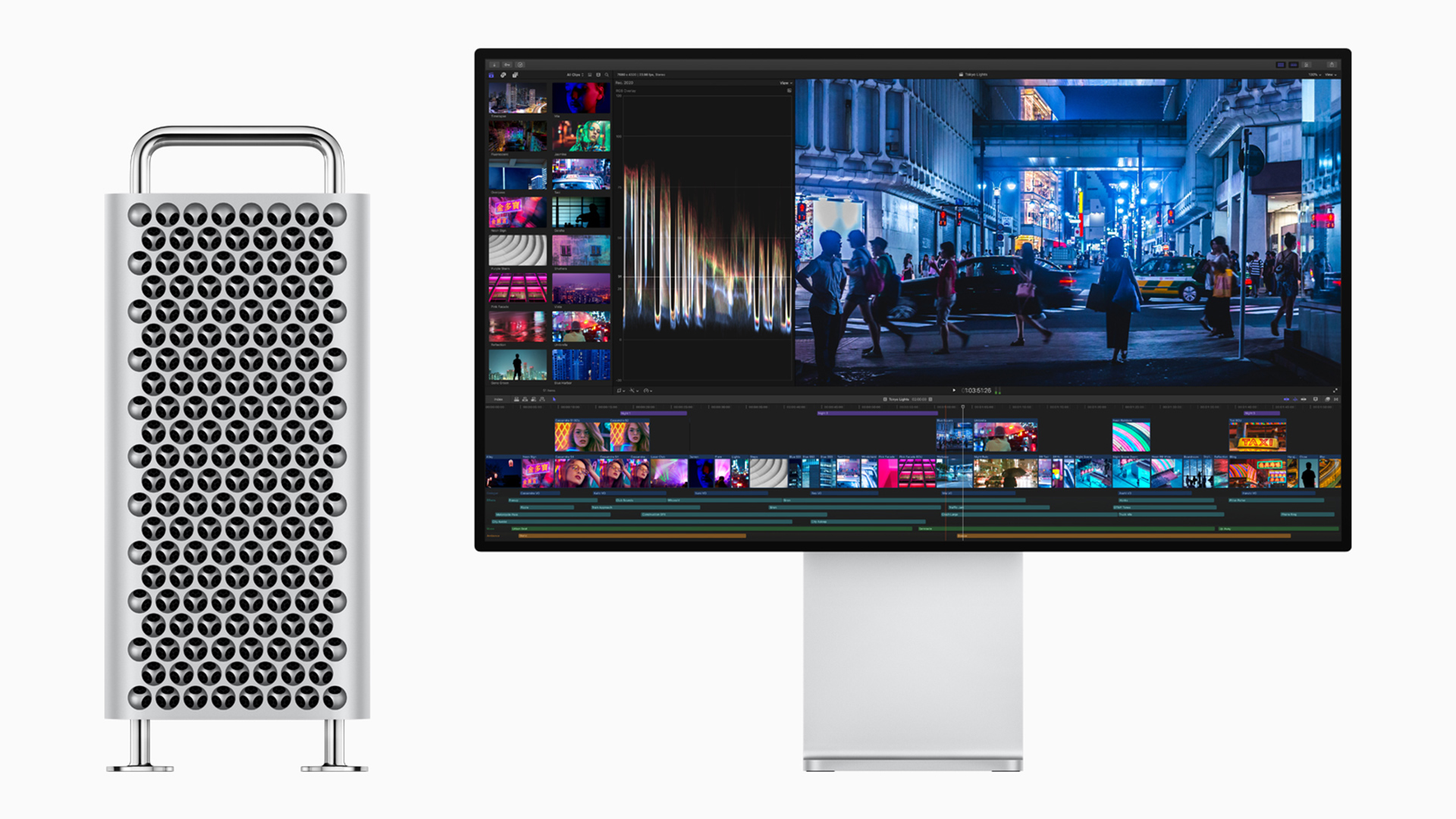 Apple flexed its trillion dollar value with impressive two and a half hour developers' conference and surprising new hardware.
Some Apple events you watch purely for the presentation of what's already been leaked days and weeks in advance. WWDC 19 wasn't like that with plenty of jaw-dropping surprises - particularly for creative professionals...
Monster Mac Pro 2019 offers 3x 8K ProRes RAW, 12x 4K
The Mac Pro reveal wasn't so much shocking as amusing. That super-shiny, muscular CGI update of the famous 'cheese-grater' Mac tower design was obviously a joke.
A parody of the dream machine old-time Mac users have so futilely been pining for.
The parody would, of course, soon disappear to be replaced by another innovative Apple design like the 'trash can' Mac Pro. Stacked modules perhaps. Maybe some ARM cores. An 'efficient' workflow full of elegant low-power trickery.
As the presentation proceeded, adding ever more fantastical elements of raw power, it slowly began to dawn this was the real thing. Apple went back to that much loved, open door Mac Pro and threw absolutely everything they had to modernise it as an absolutely uncompromising pro dream.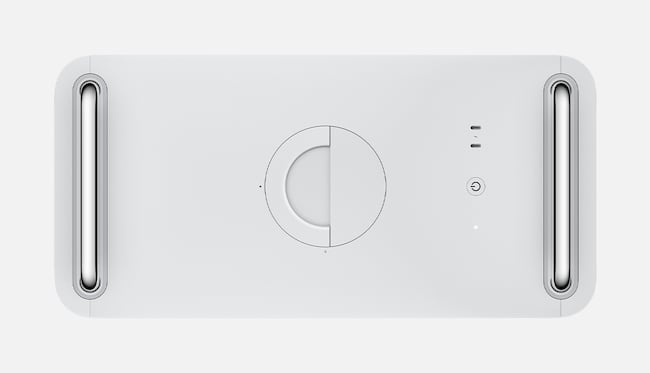 A brand new Intel Xeon CPU with up to 28 cores feeding off up to 300 watts of power and partnered with a massive heat sink, aluminium fins and three big impeller fans to deliver sustained performance and a quiet working environment.
The Xeon has a base frequency of 2.5Ghz, peaking up to 4.4Ghz in turbo boost and a handy 66.5MB cache.
There's six channels of high-speed 2933 MHz ECC memory with 140GB/s memory bandwidth and 12 DIMM slots supporting up to 1.5TB of memory. For expansion, there's double the slots of the previous tower with four double-wide slots, three single-wide slots and a half-length slot preconfigured with Apple I/O. There's four Thunderbolt 3 ports, two USB-A ports, two 10Gb Ethernet ports and, of course, a 3.5mm audio jack.
For graphics, Apple have developed something called the Mac Pro Expansion Module or MPX. It takes a standard PCI Express connector, then adds additional PCIe lanes to integrate Thunderbolt. This can draw on up to 500 watts power, more than entire previous gen Mac Pro. It can take two Radeon Pro Vega II Duo GPUs with an Infinity Fabric Link allowing for super fast transfer between the GPUs. Apple claims this Vega II Duo is the world's most powerful graphics card. The Mac Pro even supports installing two of these doubled monsters to deliver 56 teraflops and 128gb of high-bandwidth memory.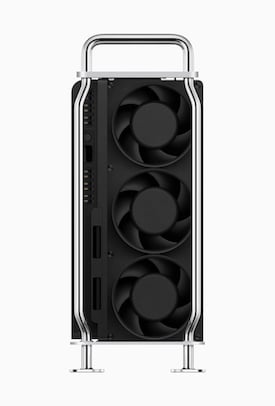 There's no fan on the GPUs, just a huge heat sink and integration into the Mac Pro's own cooling system. At backstage events, the MPX expansion system was also used to add a RAID.
Further muscle is available via the new Apple Afterburner PCI Express x16 expansion, a hardware accelerator card capable of processing up to 6.3 billion pixels per second. This provides the power to handle 3 streams of 8K ProRes RAW, 12 streams of 4K or 16 streams of 4K ProRes 422 all at 30fps.
This backbone processing is designed to avoid the need for proxies and enable real-time processing of effects while editing 8K.
The overall system comes with a 1.4kW power supply. There's a stainless steel frame, a removable aluminium housing allowing complete access to every component, a vast array of configurations including a rack-mount option and even, seriously, wheels.
Due this autumn, pricing starts at $5,000 but easily scales up to 10x that with monitor but Apple claims that it's more than price competitive with PC equivalents. Without a shadow of a doubt, it's serious statement of intent that Apple is truly back for creative professionals. For high end 8K / 4K video editing and AR/VR, these monsters will be drawing plenty of attention.
To demo the machine, we saw ProLogic running a 100-instrument orchestra and then doubling and on and on. Final Cut Pro showed 3x 8K streams running simultaneously. Equally important, Apple name-checked third party developers such as Blackmagic Design, Adobe, Autocad and more lined up to support the new machines.
XDR Apple Display goes beyond HDR
If you're a trillion dollar corporation getting back in touch with your creatives, why not develop the 'world's best pro display'? - the first 32-inch Retina 6K display with a million-to-one contrast ratio, super wide viewing angle and up to 1600 nits of brightness. A large array of blue LEDs in combination with custom lenses, reflectors and smart processing help deliver that exceptional performance which Apple claims goes beyond HDR to Extreme HDR...
The angular, cheesegrater look matches perfectly with the Mac Pro, but it's form following function with the entire back of the display being a vast heat sink so it can deliver 1,000 nits for hours on end.
10-bit colour depth, P3 wide colour gamut, individual factory calibration. There's an optional nano-coating on the glass to reduce glare. Using Thunderbolt 3, a single Mac Pro could drive six displays all at 6K resolution.
The mounting arm is counterbalanced to allow for flexible positioning, including portrait, and there's clever magnets to support easy disassembly for moving onto a production set. (The stand is a $1000 on its own.) There's also VESA mount options, while pricing is stunning; the base model is $4999 and $5999 (with anti-glare) coming in the Autumn. Then again, by way of comparison, a Sony 4K Trimaster monitor is around $43k and Apple specifically name-checked that model to claim superior performance. Previous Apple pro displays have been regarded by AV professionals as 'good enough' for some applications, but not seriously reference quality. The new XDR range is a true game changer - if it delivers on Apple's promises.
iOS 13
This year is dominated by the iPadOS, but iOS 13 isn't standing still for iPhone.
Refinements will mean Face ID will be 30% faster, download and update packages 50-60% smaller, while app launch speeds up to twice as fast as before.
Dark Mode for iOS 13 set the visual theme for WWDC invites and the stage. Initial impressions are that it's as polished as you'd expect from Apple, plus there's a ground-up rebuild of the reminders app that will seriously challenge Things and 2Do.
Photos is being further polished with yet more on-device analysis to better organise your photos. For example, on your daughter's birthday, the 'year' tab would surface photos from her previous birthdays. There's smart integration of video and Live Photo's, plus more photo editing tools and, for the first time, these will extend to video - so you can rotate, apply filters and manipulate video just as you would stills. With 2019 iPhones rumoured to come with four rear-facing cameras, the ground work is being prepared to make best use of the new hardware.
Maps is also being renewed with 4 million miles travelled by cars and aircraft using new LIDAR sensors for a vastly increased level of detail. The US is due end of the year, select other countries in 2020. A binoculars view is Apple's take on Google Maps Street View, a 3D photo stitched ground level experience with overlaid tags and very zippy movement.
Another strike at Google (and Facebook), came with a clear statement that Apple regards privacy as a fundamental human right that should be engineered in from the start, not enabled via an obscure toggle.
Apple will provide an equivalent of Google and Facebook third-party site login, but the amount of data being shared will be far more restrictive and it also offers to automatically provide a site specific email address rather than sharing your real email address. This got a big cheer at the event.
A new option will also enable one-time sharing of your location via an app, with any new request requiring confirmation. Plus Apple will prevent inferred tracking of your location via Wi-Fi and Bluetooth signals.
HomeKit is being enhanced with support for on-site analysis of video rather than cloud-based analysis, plus up to 10-days video recording is free without counting against your iCloud storage limit.
Although the headline features are limited, iOS 13 will not be available on iPhone 5S, 6 or iPad Air.
iPadOS
We had long anticipated iOS 13 would offer some major changes for iPads, but only the most optimistic speculated on a dedicated OS.
But that's what we got (at least in marketing terms) and it crossed off a massive stack of wish list items for iPad.
Multi-tasking is upgraded with support for multiple instances of an app's documents. It used to be you could only have one doc per app open. Now, we saw Notes running with two items side-by-side and a third running against another app. There's a Mac-style Expose mode to show all open docs. The system also extends to third-party apps, so we saw two Word docs side-by-side as well.
We've previously had the ability for an app to show in slide-over mode, running across another full-screen app. Now we get the ability to quickly move between slide-over apps, so you might have Excel as a slide-over and then gesture to flip to Numbers then back to Excel.
In Mail, we saw a message getting pushed to the side to allow browsing of previous emails and then dragging and dropping from one email into another.
The Files app now gets column view, quick actions, rich metadata. There's built-in support for SMB file sharing, thumb drives, local storage, zip and unzip. Finally, there's the ability to directly import photos into an app like Adobe Lightroom without needing to go through Photos first.
Desktop quality browsing is enabled as default in iPad Safari, so if you want the full Google Docs experience rather than the stripped down mobile version, that's there now. We haven't tested this ourselves as yet, but Apple seem very confident about it. There's also a download manager, 30 new keyboard shortcuts, plus better support for custom fonts.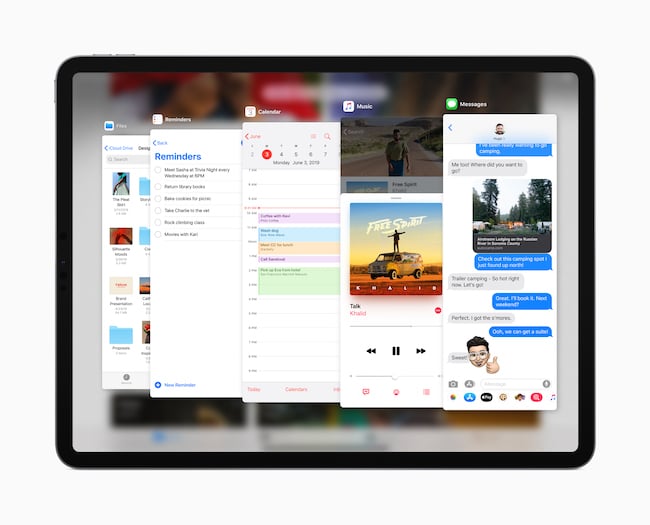 Text selection on iOS with the magnifying glass UI has grown tired without being particularly reliable. There's now some new gestures with three-finger grab and drop, plus a three-finger swipe to undo which promises to transform text editing, even if the on-stage demo had a momentary glitch at the start.
The Apple Pencil's latency has been dropped from 20 ms to 9ms, but perhaps even more significantly there's a new Pencil API with pop-up tool kit.
Particularly impressive is the ability to swipe up and screenshot a page for mark-up. This works on anything in iOS apparently, but in some apps there's also the ability to grab the entire length of long scrolling page. The snapshot image can then be marked up with a slick floating pen tools UI.
There's no major update of the iOS grid of apps and toolbar approach, but iPads do get the ability to pin widgets onto the home screen. Also, it's confirmed that hidden within Assistive Touch iPadOS gets support for USB mice - early reports suggests this low-key debut is for a reason; no support for dual screen or right-clicking, functional but not elegant interaction. It will be interesting to see if Brydge decide to update their acclaimed new keyboard to include a trackpad as they previously hinted - most likely could be something that will wait for iOS 14.
If wasn't for the Mac Pro's jaw-dropping debut, iPadOS would've turbocharged the rumours of Apple switching to iOS. It's a huge step forward.
macOS Catalina
The latest Mac OS got rather overshadowed by the Mac Pro, but it wasn't without significant features, most notably iTunes being split into Apple Music (still containing the ability to buy/play iTunes bought purchased music), Apple TV app and Apple Podcasts (with smart search of audio to text). Syncing with iPhones etc will in future be handled by Finder.
SideCar supports wired or wireless use of an iPad as a Mac's secondary display and/or an input tablet.
Voice Control was also revealed with a clever combination of voice recognition and numbered overlays, so selecting items within the OS was fast and intuitive. Catalina will run on a desktop Mac or MacBook Pro from 2012, or a MacBook from 2015. But also take note, Mojave is supposed to be the last app to support 32bit apps - double-check your apps before upgrading. Also, Aperture support is likely to end.
Catalyst support for crossover apps
Originally known as Marzipan, Apple has now made available to developers the ability to export iOS apps to Mac. Arcade iOS racing game Asphalt was up and running on Mac in a day, productivity web/iOS app JIRA was brought over in a few days and demonstrated that a single team could easily support iOS/Mac apps whereas previously a Mac option would've been thought uneconomic. Twitter is, thanks to Catalyst, back in the business of a native Mac app. In terms of customer benefits, the native Mac apps offers a much faster interaction than web.
Swift & AR/VR
There isn't time to go into detail on these developer focused innovations, but some of the loudest cheers came for these demos. The Swift programming language introduced in 2014 took a huge step forward here with SwiftUI, radically reducing the amount of code required to get apps running. Apple as a company is, in some sense, betting native apps against Google's web-based approach. At WWDC 19, Swift promised a major step forward in making it easier for developers. In tandem with this, AR frameworks showed impressive real-time body tracking and 3D animation. Mindcraft in AR made for a particularly impressive on-stage demo. Will Autumn 2019 see the reveal of Apple AR glasses? It still seems early, but Apple are taking major strides forward in the development tool chain to support their arrival sooner or later.
tvOS
Apple began its platform upgrades with this after a mildly intriguing preview of its 'For All Mankind' show by show runner Ronald D. Moore (Battlestar Galactica, Star Trek). There's a neat feature to switch easily between family member profiles, there's plenty of TV manufacturers coming onboard to include it and, surprisingly, support for Xbox One and Dual Shock 4 controllers for gaming, neatly illustrated by the Zelda-like Oceanhorn 2. This controller functionality also extends to other iOS devices.
WatchOS 6
Although somewhat overshadowed by other developments, this is a very significant release which adds an App Store for Watch OS, plus the ability to run independent apps without a companion iPhone app (including ability for in-app purchases). There's also a new UI framework which should make developing apps easier, plus new Apple apps including audio books, voice memos and a calculator app. Health and fitness is strengthened with a new trends app which reports on your progress and coaching to get back to closing your activity circles. There's support for hearing health, including warnings of a loud environment. There's also some new watch faces, including a cool solar face with a rotating inner ring. A headline feature for Watch is period tracking, which Apple regarded significant enough to be extended to iPhone.
Conclusion
This was a blockbuster developers conference for Apple which completely redefined the company for high-end creatives via cutting edge new hardware, while also delivering on almost everything that the iPad has been looking for to finally make it deliver on its computer replacement hype. At over two and half hours, the keynote still felt packed with content. As the iPhone's remarkable growth seems to have plateaued, this was a powerful commitment to Apple's ability to deliver big changes across all its platforms. Creative professionals burnt by the FCP7/FCPX transition and previous Mac Pro design have been given some powerful reasons to re-evaluate Apple.