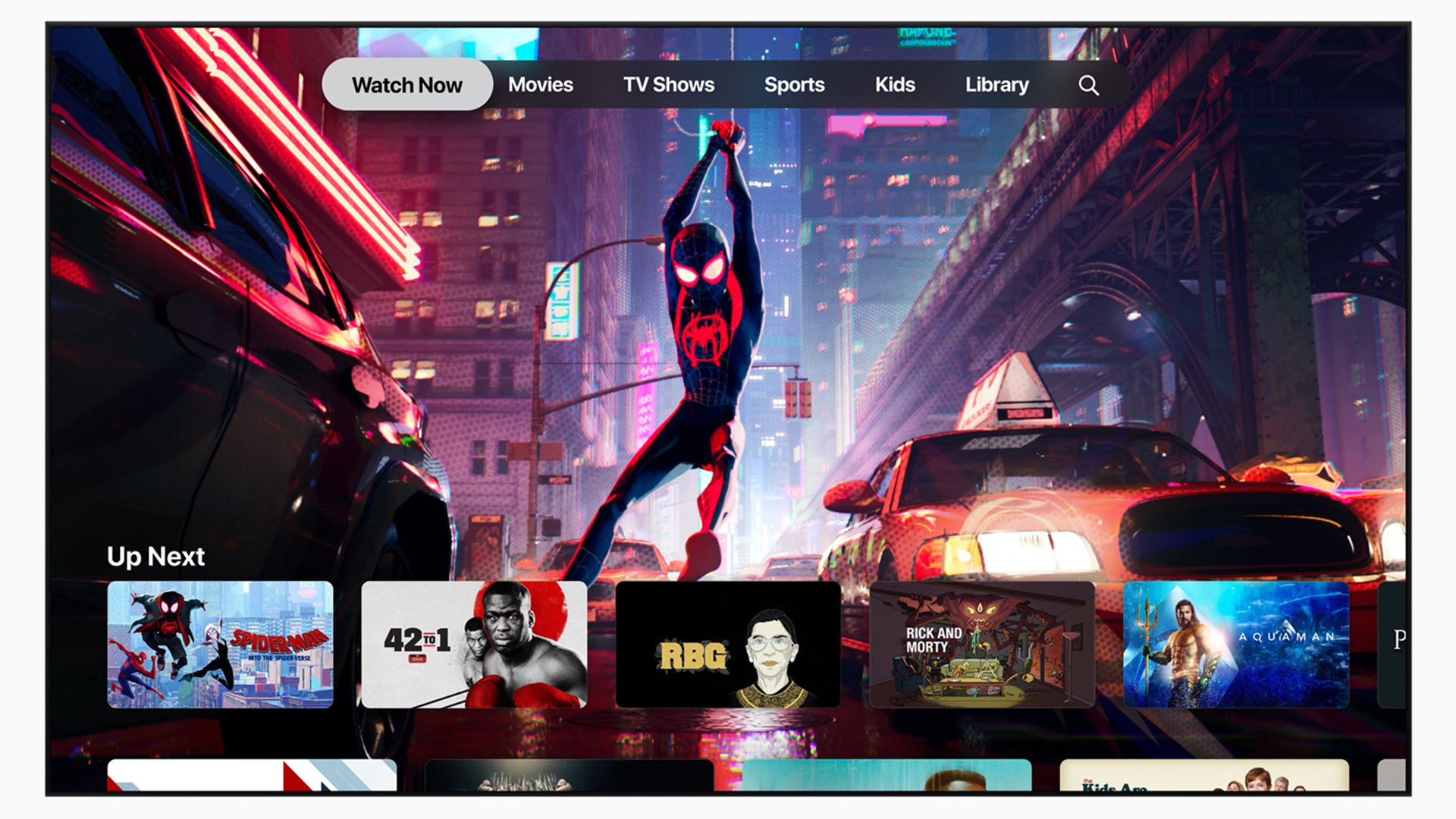 It's fair to say that Apple's Showtime event was a bit of an oddity. No new hardware was on show, but the long awaited Apple TV service was, along with an updated news service, and, bizarrely, a new Apple credit card. Wonders never cease!
In the week prior to this keynote, Apple spun out hardware announcements that could have headlined many previous Apple events. Refreshed iMacs, a new mid-range iPad, an iPad mini refresh, a long anticipated update for the smash hit AirPods. If these announcements weren't big enough to get stage time, how exciting could this Keynote be?
Not so much, was the answer, but it was an artful lead-in, buttressed by a witty 'live stream' of the empty Steve Jobs theatre before the event with intriguing glimpses of Chris Evans, Peanuts and more.
Once the curtains went up on the event, Tim Cook kicked off not with the anticipated blockbuster entertainment but a mildly surprising spiel about Apple's decades long strength in services such as Apple Pay, Siri, Apple Maps etc. Inevitably, privacy and security got name checked and, in the era of 'fake news', it provided a decent introduction into the first new subscription service.
Apple News+
In the States, iOS 12.2 (available now) provides a one-month free introduction to the $9.99 per month service with access to over 300 magazines, newspapers and other content providers including The New Yorker, National Geographic, WIRED and The Wall Street Journal. Notably, the subscription is per family not user.
The standard Apple News app launched over three years ago has become an impressive aggregator service with a focus on human curation to set it apart from Google News or Facebook. Apart from bundling in subscriptions, the new App includes an attractive magazine interface based on the Texture service it acquired in 2018. Live magazine covers, beautiful articles - it's a gorgeous offering. There's plenty of predictable touches for content discovery, similar to Apple Music, plus the option to download favoured publications' latest issues as soon as they're available. Impressively, over half the publications already use Apple's news format rather than simply exporting out a custom PDF.
If it succeeds, Apple News+ has the potential to transform media eco-systems that have been profoundly disrupted by the web. The migration of advertising to Google, the disappearance of small ads, the rise of Facebook. If you already subscribe to a magazine or newspaper, this should be a great deal (although it's a good idea to use the free trial and see how much access is granted). Apple's ability to bring in new customers is the pivotal question for publishers. European content producers will no doubt monitor US experience very closely.
Apple Card
Backed by Goldman Sachs and MasterCard, Apple Card will launch in the US this summer. The Apple Card app has obvious similarities to Monzo: rather than just listing your spending it provides a rich interface to help you see where all your money is going. On device machine learning will analyse each purchase, categorising it appropriate - food, entertainment, transport etc. Apple Maps will show the location of every purchase.
There's no fees whatsoever and when it's time to pay your monthly bill, the app highlights interest so as to encourage you to pay off in full (which is important given they're in line with typically high credit card rates). 2% cash back rewards appear immediately on every purchase, no complicated rewards scheme, but then again no discount points for Apple hardware which could have been a real game changer.
Coolest of all, the physical card is made out of Titanium... Hey Siri, in which year was a financial service the highlight of an Apple's Keynote...?
Apple Arcade
On April 19th, Google made a radical play for the games market with a streaming only service called Stadia, offering truly next generation 4K gaming - double the performance of a Xbox One X apparently - and very clever hooks into YouTube. While Google has a history of abandoning or sidelining many of its offerings, Microsoft promised to 'go big' at E3 with its own xCloud game streaming service. Sony has PS Now, of course, plus coincidentally or not on March 7th finally enabled remote PlayStation gaming on iOS...
Apple took care to introduce its Arcade service with a reminder that Apple has the world's largest gaming market on iOS. It is, in some senses, the market leader. It's also perhaps even more conservative than Nintendo. It was noted that all games will actually be downloadable so you can play anytime - no need to stream...
Apple Arcade is essentially a subscription service for the type of quirky mobile-only premium games that, by Apple's own admittance, have struggled to compete with the deluge of freemium games that dominate iOS and Android gaming.
The service will launch this Autumn in more than 150 countries with over 100 games. Apple will help fund some development, encouraging developers to contact them now to get into the programme. Paid exclusives and in-house game studios have long been the bedrock of successful game platforms, what's unclear is how far Apple will go. Oceanhorn 2, a beautiful looking indie studio Zelda clone, featured prominently as did Beyond A Steel Sky - a multi-platform sequel to a 1990's point and click adventure. Perhaps the most (mildly) interesting aspect was that the service will include macOS and hence almost certainly rely upon Apple's new Marzipan cross-platform technology.
Apple TV
It's part of the mythology of Apple that Steve Jobs had a vision of re-imagining TV, the whole widget, shortly before passing away. The reality of this is hard to say, but in its newest iteration Apple TV is essentially nothing more than an admittedly rather beautiful app that will be available on 2019 smart TVs from Sony, Samsung, LG and Vizio, plus Roku and Amazon streaming devices this Autumn. The usual iOS devices - Apple TV, iPhone and iPad will get the updated TV app in May - while for the first time Mac in Autumn. Gorgeous splash-screens and smart content discovery provide an attractive UI and the goal is unchanged: unify your TV experience into a single app as much as possible - Amazon Prime is in, Netflix chooses to be out. Where this multi-platform approach leaves the Apple TV hardware is hard to say. The 2015 HD-only Apple TV remains £150, while the 4K version starts at £180 for 32GB (with remote, without game controller). Microsoft's 4K streaming Xbox One S is about £210 with a cheaper disc-less version due at E3.
Hopefully when TV+ launches this Autumn, the hardware will be refreshed and the price cut.
Apple TV+
A few weeks prior to the keynote, rumours briefly circulated that the Apple's multi-billion dollar investment in content would be given away free, a loss leader included with all Apple devices or perhaps bundled in with other third-party subscriptions such as Starz or HBO. This rumour was soon squelched, even if the logic was strengthened by Monday's lacklustre presentation.
A basic rule of storytelling is show don't tell.
Apple ignored this and had a series of big name showrunners come out onto stage to apparently recap their original pitches to Apple about their worthy, optimistic TV show ideas.
Steven Spielberg talked up the rebirth of sci-fi anthology series Amazing Stories with one plot having a WWII pilot flying through a time shift.
Compare and contrast with Netflix's ultra-violent Love, Death + Robots sci-if anthology headlined by Deadpool director Tim Miller and executive producer David Fincher...
Reese Witherspoon, Jennifer Aniston and Steve Carell talked about a drama focused on a Morning TV show plus timely sexual politics. It's imaginatively called The Morning Show.
Aquaman Jason Momoa made a typically charismatic appearance, even if his sci-fi epic See about a world of blind people had echoes of Netflix's Birdbox hit.
Big Bird introduced new kids show The Helpsters with bratty side-kick kid promising to teach about coding.
Little America is another anthology show and is by the Big Sick writers focusing on the immigrant experience.
JJ Abrams is producing a singer-songwriter comedy drama with Sarah Bareilles
A brief showreel of content was slick but lacking thrills.
Oprah was the final reveal, delivering a speech about the need for optimism and the importance of Apple connecting people and two new documentaries, one about sexual harassment, one about mental health, plus a live streaming book club. Tim was moved to tears...
Songs of Innocence Revisited?
In 2014, Apple ended a keynote by giving away a U2 album to all iTunes subscribers. It resulted in law suits and apologies. It's way too soon to tell how Apple TV+ will turn out. Its wholesome, very worthy approach appears to put it clearly in the path of the upcoming Disney streaming juggernaut. Moreover, first run series on TV are notoriously hard to get right straight away. They almost always take time and other streaming services, such as Amazon and Netflix, mix original with licensed programming. Apple TV+ is something else and it will be surprising if it's not combined with other services rather than being a pure standalone at the time of launch. There's many more shows to come, including a sci-fi show from Battlestar Galactica showrunner Ronald D. Moore, but right now it's no Netflix killer. Apple's stock declined by 1.5% as the event went on.
Apple Arcade felt like a makeweight entry rather than a bold new vision. A holding action perhaps pending Apple's long rumoured AR glasses? But Apple News + is an intriguing proposition blended with a slick UI that deserves to do well. There was no 'one more thing' as regards hardware this time, although a Beats rival to AirPods has leaked in iOS 12.2 and AirPower continues to luck.
The next big Apple event is WWDC in June, which should provide a pivotal iOS 13 upgrade for iPad and, perhaps, at long last a preview of the Mac Pro re-imagining announced in 2017 and promised to ship this year.