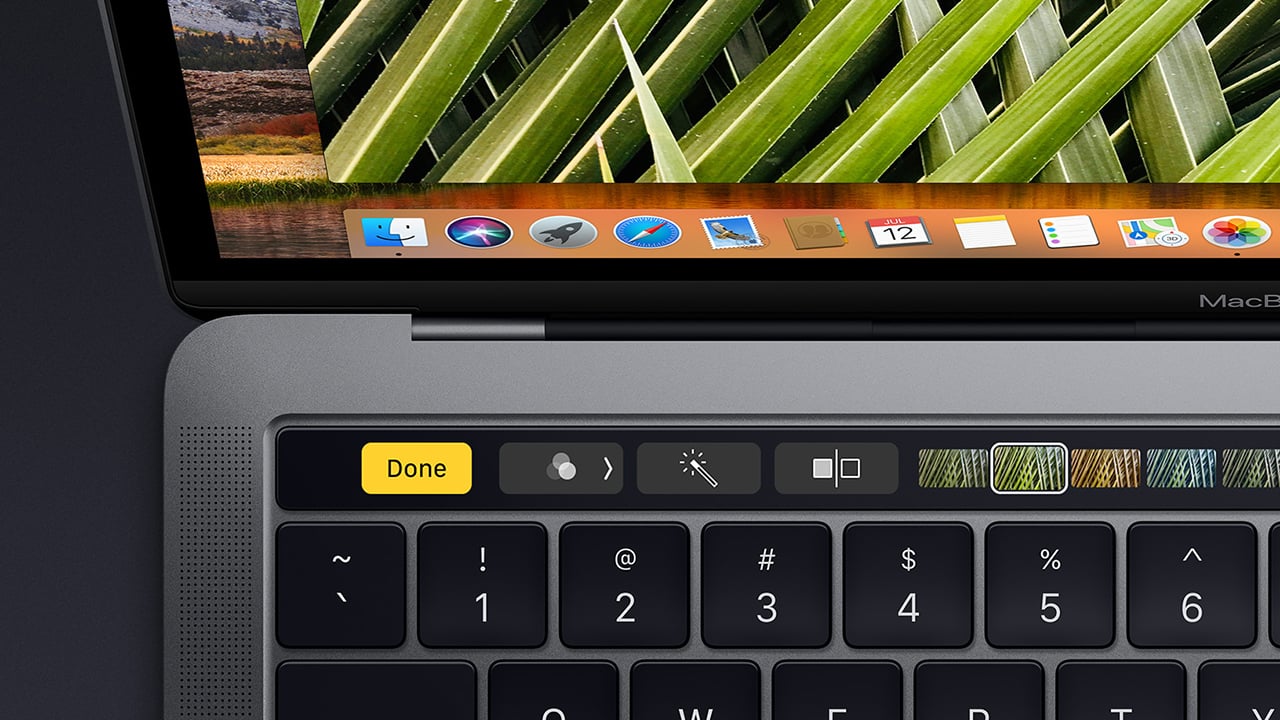 Review: We take a look at the 2018 MacBook Pro and try to answer the question of whether this is the mobile Apple workstation that professional users have been craving?
Now, when you upgrade to the 2018 MacBook Pro you will get a thin and light workstation with Radeon Pro graphics, a 6-core CPU, 4 TB of SSD storage, and 32 GB of RAM. Below, I look at the new MacBook Pro features, performance, and costs.
The 2018 MacBook Pro breaks the 16 GB barrier (finally!)
For many of us, the 16 GB RAM limit of the previous generation was a show-stopper. For many professionals today, it is not hard to imagine loading a mobile workstation with 64 GB of RAM and choosing 32 GB for our workstation is our initial configuration wish-list.
The MacBook Pro now supports 32 GB of 2400 MHz DDR4 memory and 32 GB RAM capacity is normal today for thin and light mobile workstations. This update is critical for the new machine.
The 6-core, Intel Core i9 CPU and the AMD Radeon Pro 560X GPU boost performance in applications like After Effects and Premiere Pro.
It also runs with Intel's Core i9-8950HK CPU that has a base processor frequency of 2.9 GHz and a maximum Turbo Frequency of 4.8 GHz. This six-core CPU is a blessing for performance in CPU-bound applications.
The latest generation increases the maximum SSD storage capacity from 2 TB to 4TB. Personally, I feel cramped on a 1 TB system and somewhat at ease on a 2 TB system. The ability to expand this to 4 TB of SSD storage is welcome.
This MacBook Pro comes with a Radeon Pro 560X GPU as well as Intel's integrated graphics. The GPU is critical for high-performance 3D graphics, and it is also critical for fast video rendering. I work with Adobe Premiere Pro and the rule of thumb is always the same: a faster GPU equals faster rendering.
Just as my testing was being completed, Apple released two new GPU options. These are the Radeon Pro Vega 10 and Radeon Pro Vega 20.
All four of the above technologies can be configured to meet your needs. Of these four upgrades, expanding the SSD storage will hit your pocketbook the hardest. If your work demands the top-of-the-line configuration, then the MacBook Pro with an Intel Core i9-8950 HK, AMD Radeon Pro Vega 20 GPU, 32 GB of RAM and 4TB of SSD storage currently costs right around £6500.
Beyond the specs, What's feature Number 1? It's a MacBook.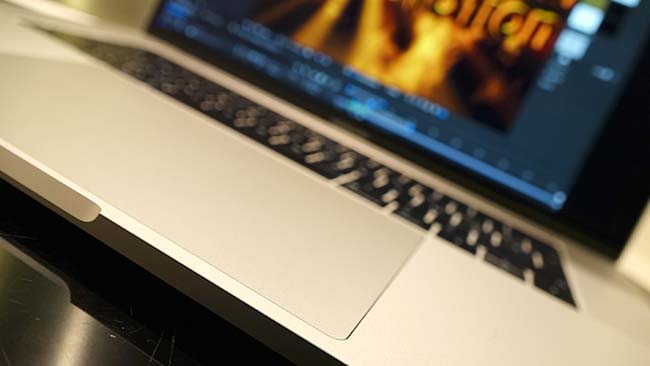 The touchpad is enormous with well-designed gestures.
One of the best features of this mobile workstation is being a MacBook. The integration of the hardware platform, operating system, and the remainder of the system software, and utilities allows Apple to deliver a handsome product. One that works smoothly and one that has unique features.
Take the Touchpad. It is large and responsive. It has excellent gesture control and pressure sensitivity. When you need to be productive while on the road, then the Touchpad is critical to your work.
The choice for connectivity is another feature that screams "Apple!" The MacBook Pro comes with four Thunderbolt 3 ports. No USB 2.0, no USB 3.1, no HDMI, no VGA, no DVI, no RJ11, etc. No, not even an RS 232 serial port. Can you believe it? Apple has moved on.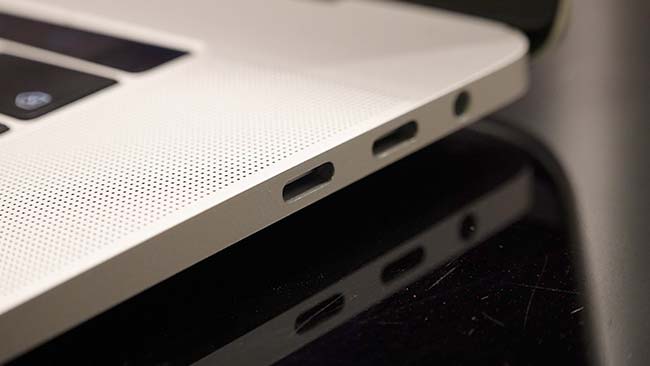 Four Thunderbolt ports provide 40 Gbps transfer speeds and Ultra-high-resolution external displays.
We could have a lively debate about connectivity options. In this case, I land in Apple's camp for the following reasons:
This is a thin and light mobile workstation where the size and number of connectors matters.
Thunderbolt 3 is clearly the fastest and most flexible connectivity option - it can charge my phone, drive a multi-monitor configuration, or connect me to fast external storage.
It is clean and simple.
Nor does Apple follow the crowd regarding displays. The company was years ahead in moving beyond Full-HD resolutions, yet today the MacBook Pro doesn't have a 4K resolution display. Nor does Apple give you 15 different options for displays. You get their 2550x1800 "Retina" display, take it or leave it. In any case, the display is bright, clear, and extraordinarily thin. Sometimes simplicity is a feature.
How is the performance?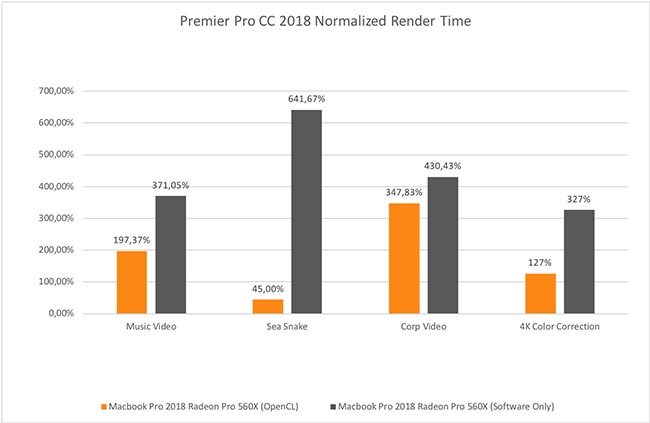 Adobe Premiere Pro gets a boost from OpenCL
Premiere Pro CC gets a nice boost from both the Radeon Pro 560X GPU and the core i9 CPU with 6 cores. I used four modified project files for performance testing. The first three are non-trivial FHD video tests. The fourth is quite straight-forward. It is a 4K resolution video with color correction. All of the results are normalized render times. The render time is divided by the video duration. A result of 100% means that the render time equals the video duration. Below 100% is faster, and above 100% is slower.
The Radeon Pro 560X using OpenCL provides a nice performance boost and saves you time. Rendering performance in Premiere Pro scales well with GPU performance. If your projects are similar, then it is worth the extra budget to take the fastest GPU possible.
Two tests could be properly compared to a desktop workstation using an Intel Xeon W-2125 which is no slouch, but has four cores compared to the MacBook Pro's Core i9 with six cores. Thanks to the extra cores, the MacBook Pro delivers faster performance.
The 6-core CPU boosts software rendering in Premiere Pro
Last but not least when considering performance in Premiere Pro is the importance of your video compression format. The performance tests here all use the DNxHR format. I compared these results to the rendering performance with XAVS S 4K which is a long-GOP format.
The long-GOP format saves space, but it adds computing overhead. In the relatively simple 4K with color correction sequence, the DNxHR format delivers much better performance - with and without the GPU acceleration. The performance difference increases with the complexity of the video composition.
In other tests, Cinebench turned in a GPU result of 103.13 FPS and a CPU result of 980 CB. After Effects rendered my 5 second green screen test in 168 seconds for a normalized score of 3360%.
Video formats make a difference in performance
A Final Perspective
Being a Mac is an important feature of this mobile workstation. The Mac OS is stable, and the user interface is well-designed and productive. Apple tightly integrates the hardware and OS leading to superior implementations like the MacBook Pro Touchpad.
This is a thin and light mobile workstation with excellent power. If you choose a high-end configuration, you will be productive anywhere you go. And in the office, the MacBook Pro supports extraordinarily high-resolution, multiple-monitor display configurations and very fast connectivity with its four Thunderbolt ports.
The 2018 MacBook Pro finally supports more than 16 GB of RAM. In 2018, a 16 GB limit is a show-stopper for professional users. In fact, it was a show-stopper in 2017, too. This, along with 4 TB of SSD storage and the update to Intel's 6-core processor, make this the upgrade professional users have waited for.
Tags: Technology