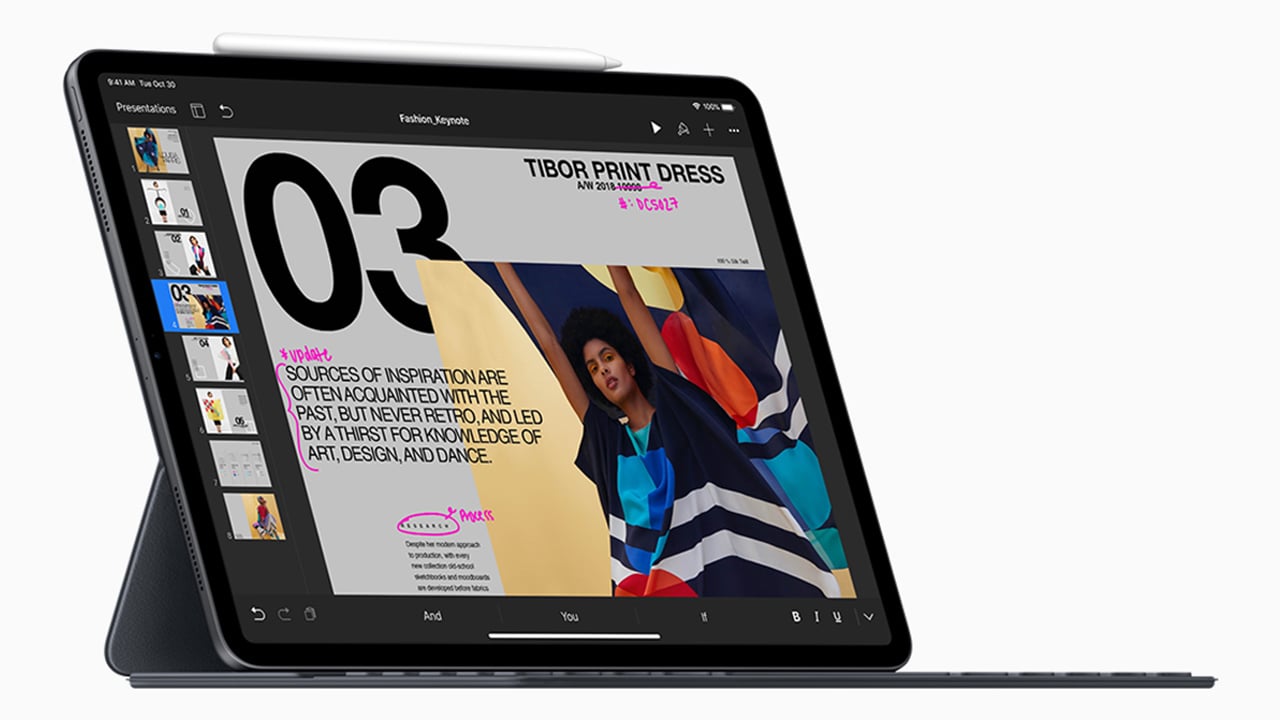 Review: Our comprehensive assessment of the new iPad Pro continues with a look at the hardware that makes the device tick.
Read the first part of this review here.
Editor's note: We think this is such an important development that we're bringing you an extensive three-part review of the iPad Pro, by K. Stewart, and a final part by me (David Shapton) which looks at how the change from Intel to ARM and OS X to IOS as Apple's main computing platform could happen. As a preview to our conclusion: try to bear in mind while reading this that we think Apple is likely to provide greater access to the iPad's file system for professional users. Indeed this might be what ultimately distinguishes iPad Pros from lesser iPads. We also think that when this happens, Apple will allow full access to external storage. The hardware is there now (although not, seemingly, Thunderbolt, yet).
Hardware
The best description of the iPad Pro 2018 is Marques Brownlee's comment about it looking exactly like one of the ridiculously perfect internet renders for a product that you know is to absurdly perfect to ever be real.The iPad Pro 2018 is exactly that. Used in its natural bare metal state, without the bulk and weight of the folio keyboard, it's other worldly. It's a sci-fi prop, something that should be barely functional with minimal battery life and dire performance. It doesn't make sense that it's got laptop humbling performance with standard iPad 10-hour battery life, simply amazing speakers, plus great front and rear cameras.
Liquid Retina Screen
It's so very Apple for so much marketing focus on a design detail many people may hardly notice. The edge lighting on LCDs make it difficult to get close to the edge of a device and, even more so, to curve. Apple got this to work on iPhone XR and has the same trick here, although the curvature at the corners of the screen is much more subtle on such a big device.
This trick aside, the 2018 iPad screens are significantly higher quality than the XR, which is also to say broadly the same as last year's superb screens. They're 264ppi IPS screens with a P3 wide colour gamut. They're not truly edge-to-edge of course, but the bezel is reduced to the point where it's the minimum convenient for holding the device without infringing the screen.
The iPad screens are also unique in the iOS space with the TrueMotion tech which varies the refresh rate to suit the task you're engaged with up to 120Hz making swiping through apps so blissfully smooth. On a screen as big as the iPad Pro, it really adds to the experience while also supporting the Pencil's drawing response.
TrueTone is on by default, but the set-up procedure clearly illustrates its significance, shifting the colour balance and brightness to match the local environment. It's much easier on the eyes, but the option remains to turn it off and whack up the brightness for the full eye-searing impact - or just to ensure accuracy when photo-editing.
The contrast ratio is enhanced over last year's models, but only marginally, and Apple no longer promote the screens as offering HDR. At 600 nits brightness technically, they do, but only by using the mobile standard for HDR, and they can't match the performance of OLED on the premium iPhones so Apple seems wise to drop this as a promotional feature.
We're accustomed to Apple delivering phenomenal mobile screens, but it's no less true this year than any other.
Face ID
In desktop mode, Face ID is close to magical. Simply glance at your screen and notification headings open to reveal their details, while unlocking the iPad can be via an iPhone X style upward swipe or simply double-tapping the keyboard. It almost never fails in this usage. Used handheld, it becomes more likely you might accidentally obscure the camera suite and, with no home button, it's harder to orient yourself to the camera which is invisibly hidden in the bezel. If you do obscure the cameras, an arrow indicates where it is and I imagine over time you'll get used to the subtle visual cues. On balance, I think it works better on iPad than iPhone, but depending how you use it there may be a learning period to get the best out of it.
One initial drawback is that Face ID's use of the home indicator at the bottom of the screen means both iPad Pros require updated apps to be truly full screen. The most actively maintained apps are obviously fastest to respond, with YouTube and Netflix leading the way. On the 12.9, the borders are narrow so with a black bezel it's not that noticeable. On the 11-inch model, with its new aspect ratio, the situation is much more noticeable. Any app that's frequently updated will be required to support the new models soon enough, but older apps could be problematic and some games suffer particularly.
Cameras
In 2015, iPhone cameras were already seriously capable but the first gen iPad Pro made do with a dated 8 Megapixel camera with no flash. On an otherwise high performance device, the camera felt like an afterthought. The second gen upped the quality significantly with iPhone 7 cameras, while this generation gets a custom model with a quad LED flash. A 12-megapixel camera with a five element lens it lacks optical image stabilisation from the second gen iPad Pro's but supports Smart HDR and Live Photo's, while capturing video at 4K at up to 60fps, plus 120 FPS slow motion at 1080p, 240fps at 720p.
An iPad Pro is no-one's first choice as a camera, but that huge Liquid Retina screen makes for a superb viewfinder when checking a scene and having a second or third camera this capable on a shoot is always welcome. It's for sure one thing that no conventional laptop is going to compete with an iPad over.
For the front-facing camera, you get the same superb camera array as in current generation iPhones and provides excellent selfies and works reasonably well for FaceTime (being on the left of the screen rather than top means it takes getting used to).
Stay tuned for the final part of this review where we'll cover accessories such as keyboards and the new Pen 2.
Tags: Technology